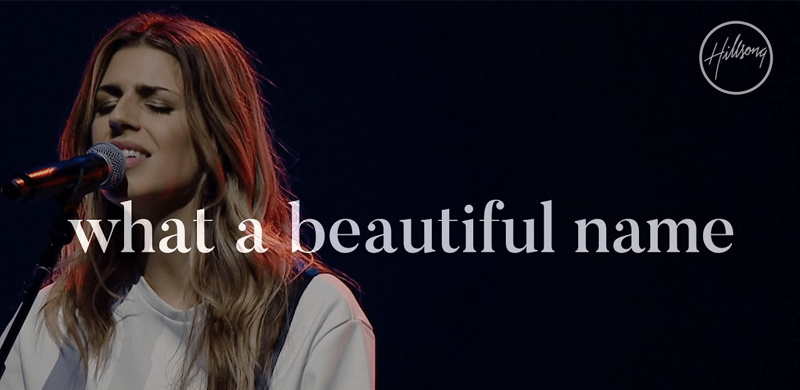 The Global Church's Beloved Worship Collective Sees Christian Radio's Fastest Growing Single in Church History; Releases Dedicated EP
LOS ANGELES (March 31, 2017)— Today, following their unprecedented rise to No. 1 earlier this week on the Christian charts, Australia-based Hillsong Worship released a 6-track What A Beautiful Name EP, now available in all digital music stores. Second only to Hillsong's own "Oceans" by Hillsong UNITED as the most-streamed worship track weekly, "What A Beautiful Name" continues to report over 16k units per week, on track to overtake the former by week's end. The influential worship band that has helped shape praise & worship over the last two decades continues to be sung by an estimated 50 million churchgoers worldwide with "What A Beautiful Name" in worship rotations across the globe.
"The reach and impact of "What A Beautiful Name" has been encouraging and truly humbling," says Brooke Fraser about the success of the single. Adding, "We seek to bring songs that can genuinely connect the hearts of believers with the heart of God through worship, and the connection this song seems to have made can only be by the grace of God. With the release of the What A Beautiful Name EP this week we are hoping churches from across denominations and stylistic sensibilities can discover a version that uniquely speaks to their context and can equip them to lead this song whatever their setting, whether they have a full gospel choir at their disposal, a DJ set up or simply an acoustic guitar."
The dedicated EP What A Beautiful Name features six versions of the hit single off Billboard No. 1 album Let There Be Light, including a gospel version and the original live recording from Hillsong Conference in Sydney.
"What A Beautiful Name" Track Listing:
1. What A Beautiful Name
2. What A Beautiful Name (Live)
3. What A Beautiful Name (Alternate Acoustic)
4. What A Beautiful Name (Orchestral Selah)
5. What A Beautiful Name (Gospel Version)
6. What A Beautiful Name (Hillsong Young & Free Remix)
Hillsong Worship's What A Beautiful Name EP is available today on iTunes, Spotify and anywhere music is digitally sold.
About Hillsong Worship:
With a catalog sung by an estimated 50 million people worldwide each week, Hillsong Worship is passionate about equipping and mobilizing believers everywhere with Christ-centered songs of God-glorifying worship for the building of the Church. For almost three decades Hillsong Worship has served people across nations and generations, traveling the world leading diverse expressions of the Church in the worship of Jesus. By God's grace its "local church" worship songs such as "Shout To The Lord," "Mighty To Save," "Hosanna," "Cornerstone," "Forever Reign," "Broken Vessels" and "This I Believe (The Creed)" have become the songs of churches all over the globe, in addition to finding a place in the personal devotion of individual believers everywhere. Their latest, Let There Be Light, is available now.
##