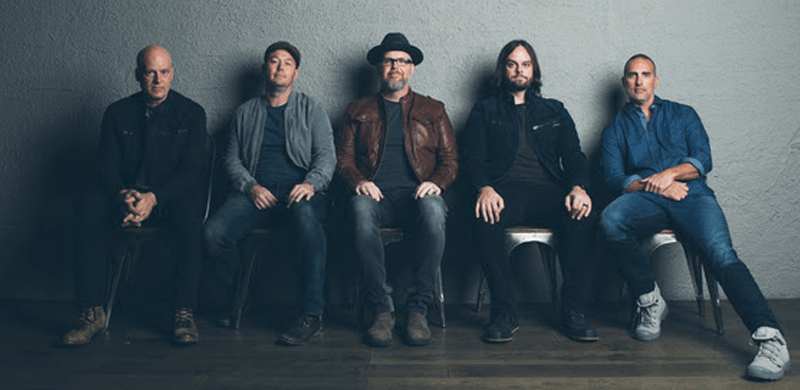 I Can Only Imagine movie trailer warrants big response
Second leg of headlining tour to kick off in October
Nashville, Tenn. (Sept. 6, 2017) – Multi-platinum selling MercyMe's chart-topping radio single "Even If" dominated the Billboard and Mediabase radio charts with a 19-week streak at No. 1. The resonance of the song has also continued to place it at No. 1 on the iTunes® Christian chart for multiple weeks.
LIFER, their latest album which includes the hit song, earned MercyMe an impressive five Gospel Music Association (GMA) Dove Award nominations, including honors in top categories like Artist of the Year and Song of the Year. The group will perform at the 48th Annual GMA Dove Awards taking place in Nashville on Tuesday, Oct. 17, and airing exclusively on the Trinity Broadcasting Network (TBN) on Sunday, Oct. 22.
MercyMe recently posted on their Facebook page the teaser trailer for the much-anticipated new movie I Can Only Imagine, which opens in theaters March 16, 2018. The teaser trailer was viewed by more than 31 million people since its release in late August. The large response jettisoned the hit song back to No. 1 on the iTunes® Christian chart.
The American Music Award winners will take "Even If" and more of their hits to audiences nationwide during the second leg of their headlining LIFER tour kicking off on Oct. 7. For more information, visit www.MercyMe.org.
LIFER is available at iTunes, Spotify, Amazon, Google Play, Cracker Barrel, LifeWay and more.
About MercyMe
Since their debut in 2001, GRAMMY® nominated, multiple American Music Award and Dove Award winners MercyMe have sold more than 9 million units in CD, single and DVD sales, garnered more than 28 No. 1 multi-format Christian radio singles and four consecutive mainstream radio hits with "I Can Only Imagine," (No. 4 AC/Top 25 on Top 40/Hot AC), "Here With Me" (No. 4 AC), "Homesick" (Top 10 AC) and "So Long Self." Their radio success has continued with recent singles "Flawless" (No. 1 for 15 weeks) and "Greater" (No. 1 for 16 weeks), landing them the Top Christian Airplay Artist spot on Billboard's 2015 Year End charts. MercyMe made history in 2014 as "I Can Only Imagine" surpassed 2 million digital downloads, making it the first song in Christian music to go platinum and double-platinum in the digital domain. In 2009, Billboard named MercyMe's "Word Of God Speak" the No. 1 Song of The Decade and the group the No. 1 Artist of the Decade in both the Christian Songs and Christian AC Songs categories, recognizing them as one of the industry's most notable talents. They have sold out venues throughout the US and Canada, including Radio City Music Hall, and have appeared on the Macy's Thanksgiving Day Parade, The Today Show, CBS This Morning, The Tonight Show with Jay Leno, FOX New Channel's FOX & Friends, CNN, ABC News and in the pages of Entertainment Weekly, The New York Times, USA Today and more. MercyMe's eighth studio album, Welcome To The New, garnered two GRAMMY® nods, four radio hits, has been certified gold by the RIAA and continues to be a top selling title. LIFER, their latest chart-topping album, is available now.
Get Connected With MercyMe
www.mercyme.org
www.facebook.com/mercyme
www.twitter.com/mercyme
www.instagram.com/themercyme
www.youtube.com/user/mercymevideo
##