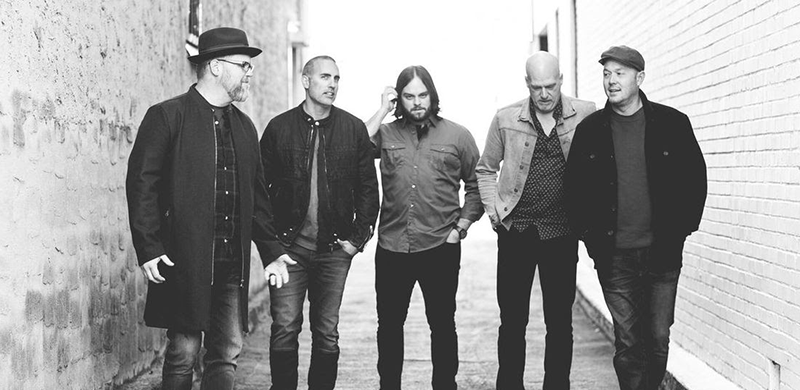 I Can Only Imagine – The Very Best Of MercyMe
Returns To No. 1 At Billboard Top Christian Albums,
Followed By Lifer At No. 3
Nashville, Tenn. (July 11, 2018) – Summer continues to heat up for multi-platinum selling band MercyMe with their latest single, "Grace Got You" Feat. John Reuben, taking over the No. 1 spots at Billboard Christian Airplay (BDS), AC Monitored and AC Indicator charts as well as the Mediabase Christian Audience chart. The winsome single has accumulated 12.6 million streams to date, and has been featured in key playlists including Apple Music's A-List Christian, Spotify's Top Christian and Amazon Music's Top 100 Most Played Christian, while also standing at No. 5 on the Christian/Gospel Digital Track Sales chart. Coinciding with their radio reign, I Can Only Imagine – The Very Best Of MercyMe has returned to No. 1 on Billboard's Top Christian Albums chart while their last studio project Lifer is No. 3.
The summer season kicked off in a big way with MercyMe taking top honors at the fan-voted K-LOVE Fan Awards where they garnered a win in all nominated categories including Artist of the Year. The Billboard Music Award winners then took center stage at FOX & Friends' All-American Summer Concert Series where the shows' hosts surprised MercyMe with RIAA certified triple platinum (3 million albums sold) plaques for their landmark album Almost There. The hit film "I Can Only Imagine," one of the Top 15 grossing movies of 2018, continues to break records becoming the number one selling DVD in America since its Jun. 5 release.
This fall, "The Imagine Nation" Tour will find MercyMe uniting with Tenth Avenue North in 20+ markets on the line-up. Visit www.MercyMe.org for the latest.
About MercyMe
It continues to be a landmark year for the multi-platinum selling MercyMe. A major motion picture based on the life of frontman Bart Millard who wrote the mega-hit song "I Can Only Imagine" after the loss of his father opened at a remarkable No. 3 at the box office on Mar. 16, 2018 (Lionsgate, Roadside Attractions). Carrying the same name, Millard's first memoir also released this year followed by the unveiling of I Can Only Imagine – The Very Best Of MercyMe. MercyMe was recently named Top Christian Artist at the 2018 Billboard Music Awards, and was the top winner at the fan-fueled K-LOVE Fan Awards including a win for Artist of the Year. The group is the current GMA Dove Award Winner for "Artist Of The Year."
Since their debut in 2001, GRAMMY® nominated, multiple American Music Award and Dove Award winners MercyMe have sold more than 9 million units in CD, single and DVD sales, garnered more than 57 No. 1 multi-format radio singles and four consecutive mainstream radio hits with "I Can Only Imagine," (No. 4 AC/Top 25 on Top 40/Hot AC), "Here With Me" (No. 4 AC), "Homesick" (Top 10 AC) and "So Long Self." MercyMe made history in 2014 as "I Can Only Imagine" surpassed 2 million digital downloads, making it the first song in Christian music to go platinum and double-platinum in the digital domain. The album containing the hit, Almost There, recently received triple platinum certification from the RIAA. In 2009, Billboard named MercyMe's "Word Of God Speak" the No. 1 Song of The Decade and the group the No. 1 Artist of the Decade in both the Christian Songs and Christian AC Songs categories, recognizing them as one of the industry's most notable talents. They have sold out venues throughout the US and Canada, including Radio City Music Hall, and have appeared on the Macy's Thanksgiving Day Parade, The Today Show, CBS This Morning, FOX New Channel's FOX & Friends, CNN, ABC News and in the pages of Entertainment Weekly, The New York Times, USA Today and more. MercyMe's eighth studio album, the RIAA Certified Gold Welcome To The New, garnered two GRAMMY® nods and four radio hits. LIFER, their latest chart-topping, GMA Dove Award winning and GRAMMY® nominated album, includes the RIAA certified gold, GRAMMY® nominated smash hit "Even If" which dominated the Billboard and Mediabase radio charts with a 19-week streak at No. 1.
I Can Only Imagine – The Very Best Of MercyMe is available at Apple Music, Spotify, Amazon and iTunes.
LIFER is available at Apple Music, Spotify, Amazon and iTunes.
##