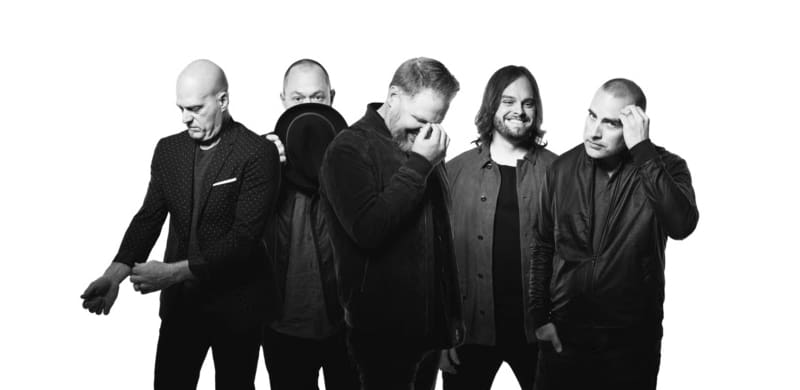 Headlining LIFER Tour to hit West Coast in spring
Nashville, Tenn. (Feb. 22, 2017) – "Even If," the first single from GRAMMY® nominated MercyMe's awaited new album LIFER (Mar. 31) skyrocketed into its first week at radio, earning 74 adds across format and is already #13 on the Billboard National Christian Audience chart. Mirroring the excitement at radio, "Even If" also shot to No. 1 on the iTunes Christian chart. Adding to their two nominations, including Artist of the Year for the 2017 K-LOVE Fan Awards, the fan-voted awards show exclusively debuted a lyric video for the song through their social networks.
On the heels of their RIAA Certified Gold and GRAMMY® acclaimed Welcome To The New (2014), the core of LIFER (FAIR TRADE SERVICES) is the question of what it looks like to live as followers of Christ that are committed for life. Filled with positive, uplifting lyrics, along with energetic beats and soaring melodies, this latest offering delivers the massive hits that MercyMe is known for.
Amidst tour dates across the country, the multi-platinum selling band headed to their home state of Texas for "MercyMe's Texas Takeover Tour" throughout the month of February with label mate, Micah Tyler. In April, the band will headline a national tour with fellow Fair Trade Artists, Hawk Nelson and Micah Tyler. The band will visit markets like Los Angeles, New York City, Phoenix and more throughout the spring. For the latest on all MercyMe tour dates, click here.
LIFER is available for pre-order on iTunes and Amazon Music with an instant grat of the debut single "Even If." You can also stream the single on Spotify and Apple Music now.
About MercyMe
Since their debut in 2001, GRAMMY®-nominated, multiple American Music Award and Dove Award winners MercyMe have sold more than 9 million units in CD, single and DVD sales, garnered 27 No. 1 multi-format Christian radio singles and four consecutive mainstream radio hits with "I Can Only Imagine," (No. 4 AC/Top 25 on Top 40/Hot AC), "Here With Me" (No. 4 AC), "Homesick" (Top 10 AC) and "So Long Self." Their radio success has continued with recent singles "Flawless" (No. 1 for 15 weeks) and "Greater" (No. 1 for 16 weeks), landing them the Top Christian Airplay Artist spot on Billboard's 2015 Year End charts. MercyMe made history in 2014 as "I Can Only Imagine" surpassed 2 million digital downloads, making it the first song in Christian music to go platinum and double-platinum in the digital domain. In 2009, Billboard named MercyMe's "Word Of God Speak" the No. 1 Song of The Decade and the group the No. 1 Artist of the Decade in both the Christian Songs and Christian AC Songs categories, recognizing them as one of the industry's most notable talents. They have sold out venues throughout the US and Canada, including Radio City Music Hall, and have appeared on the Macy's Thanksgiving Day Parade, The Today Show, CBS This Morning, The Tonight Show with Jay Leno, FOX New Channel's FOX & Friends, CNN, ABC News and in the pages of Entertainment Weekly, The New York Times, USA Today and more. Their latest project MercyMe, It's Christmas! (2015) debuted at No. 1 on Billboard's Holiday Albums chart and became an instant Christmas classic. MercyMe's eighth studio album, Welcome To The New, garnered two GRAMMY® nods, four radio hits and continues to be a top selling title. LIFER will be available on Mar. 31, 2017.
Get Connected With MercyMe
www.mercyme.org
www.facebook.com/mercyme
www.twitter.com/mercyme
www.instagram.com/themercyme
www.youtube.com/user/mercymevideo
Hashtag – #LIFER
##