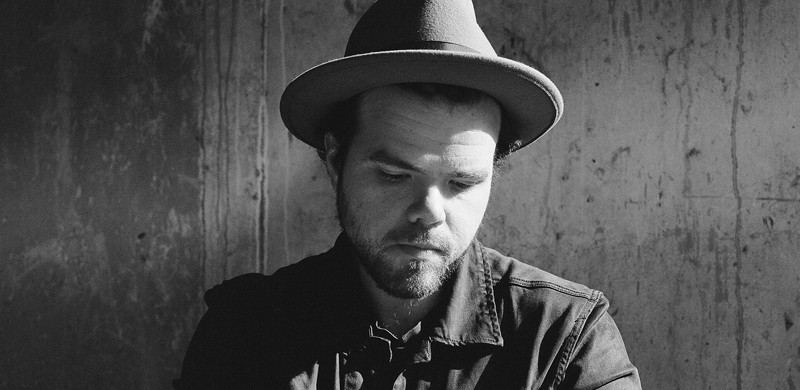 Darkness Turns To Light As Bashta Reveals Renewed Passion For Local Church
Critically acclaimed songwriter/artist/missionary Daniel Bashta, best known for writing "God's Not Dead (Like a Lion)," releases My Resurrection (Live) March 10 from GoForth Sounds with The Fuel Music distribution. The album captures the unbridled spirt of Bashta's paint-outside-the-lines worship through a mix of new selections and familiar songs that are already being sung in churches globally.
Recorded live at Atlanta's RiverStone Church, a multi-generation community of like-minded believers where Bashta has led worship for the last eight years, My Resurrection (Live) features eight songs and nearly an hour of music, all written and produced by Bashta.
Once alienated from a church plant he helped grow from 200 to 40,000 people, where the pastor told him that he didn't fit into the traditional worship mold, calling his personality too brash and his songs too creative, Bashta has since went from what felt like the darkest season, to the light of God's merciful resurrection showing up, changing everything. The album celebrates the acceptance and fervor Bashta has found within his local congregation.
"I think this record is a testament to this journey I've been on, looking back at what God has done in my life," Bashta attests. "I went from being so full of death and being jaded to now being so full of life and full of this resurrection spirit."
"Creative people should always be pushing boundaries," continues Bashta. "The world needs creative dreamers to create and to inspire and to change their environments around them. I think that's probably the whole message of My Resurrection… There's life coming. Get ready for it."
Several of the project's new tracks, including "Bellows of Praise" and "Drenched in Love" that are available on iTunes now, were inspired by old hymns. "Our songs are a little more progressive, but there's something so powerful and timeless about singing these hymns," says Bashta. "The way hymns are crafted…the verses are so strong and poetic, they take you on a journey; and the chorus gets everybody singing together and proclaiming the works and glory of God."
Additional tracks feature lesser known voices that Bashta is eager to introduce to the world, including Matt Jackson ("Thank You Jesus"), EB Cole ("Praise The Lord – Rejoice") and his sister, Harvest Parker ("Costly"). Bashta consistently collaborates with up-and-coming songwriters and worship leaders, passionate about championing the gifts of others. His passion for facilitating artistic collaboration has led him to launch LINUS, a curated gathering for thoughtful creatives to share songs, stories and communion.
Marked by his adventurous creativity and reckless abandon in the same vein as one of his greatest influences, Keith Green, Bashta says, "My Resurrection (Live) is probably one of the least produced records I've done, but it's the most fun record, because we're with family. What's better than that? This is a true interpretation of how we lead worship, the songs that we sing, and what we're about."
The full My Resurrection (Live) track listing:
1. Thank You Jesus (feat. Matt Jackson)
2. Bellows of Praise
3. Drenched in Love
4. Praise The Lord – Rejoice (feat. EB Cole)
5. Praise The Invisible
6. Spontaneous Medley
7. Costly (feat. Harvest Parker)
8. Seas of Crimson
For more information on Daniel Bashta and My Resurrection (Live), as well as chord charts, videos and more, visit danielbashta.com and social media sites Twitter, Facebook, Instagram, YouTube and Vimeo.
About Daniel Bashta:
Bashta unapologetically pursues songwriting, worship leading, creativity and even adoption with a vibrant, renewed passion for the heart of the local church, never content to "stay in the lines." Perhaps best known for penning the platinum selling worship anthem "Like a Lion (Gods Not Dead)," he has written songs that have been recorded and sung all over the planet by the Newsboys, Third Day, David Crowder Band, Passion Band, Jesus Culture, Bethel Music and more. RELEVANT Magazine says, "Bashta's music is simultaneously organic and arena-ready, filled with both intimacy and soaring cries to God" while Worship Leader Magazine says, "There is something that comes alive in your soul when you hear something clearly outside the popular and proven approaches to worship music." Bashta's music and vocals have been described as Rufus Wainwright meets Keith Green, passionate yet graceful. Educated at the Worship Institute of London and influenced by the ministry of Soul Survivor, he currently serves as worship pastor at RiverStone Church, just outside of Atlanta, GA and launched GoMotion Worldwide in 2009, a non-profit ministry that marries music, media and missions for global impact. Bashta and his wife have four children—one adopted child and three biological kids—all six and under.
About The Fuel Music:
Established in 2008, The Fuel Music & Management, LLC, is a leading artist management and artist solutions company that independently distributes music internationally. Based in Tennessee, the Fuel team brings nearly 70 years of combined music industry experience in record label operations, major label distribution and marketing, and artist management for artists ranging from upstart bands to GRAMMY Award nominated, multi-platinum artists. More information on the company can be found at www.thefuelmusic.com

##