The Bible Tour Returns This Fall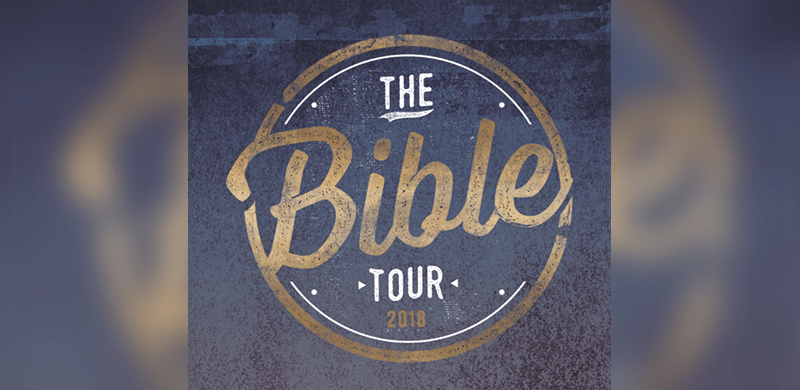 This Not-To-Be-Missed Bible Tour 2018:
A Live Worship Experience Features Matt Maher, Natalie Grant,
Andrew Peterson, Daniel & Harvest Bashta and Steven Malcolm
28 June 2018 – Nashville, Tenn – In partnership with ChildFund, the popular Bible Tour returns this fall, visiting 14 markets around the U.S. Now in its fourth year, this not-to-be-missed live concert worship event will feature music from award-winning artists Matt Maher, Natalie Grant, Andrew Peterson, Daniel & Harvest Bashta, and Steven Malcolm.
The Bible Tour 2018 is more than just a concert – it's a live worship experience suitable for the entire family. With an evening offering numerous hit songs from your favorite artists, it also promises an incredible worship time and a life-changing night you will never forget.
The tour kicks off September 20 in Evansville, IN and will run through October 21 in Hershey, PA. Official tour markets and dates are listed below. Tickets to most of the cities are on sale now, but further ticket information and the most updated schedule can be found at BibleTour2018.com.
The tour also offers two ticket upgrade options in select markets – the VIP Experience or the VIP Ultimate Experience:
V.I.P. Experience: This experience includes the best seats in the house, early entry into the venue, M&G and photo with tour artists (taken by event team members), an exclusive t-shirt and laminate, signed poster, V.I.P. Lounge access, and more!
Ultimate V.I.P. Experience: (only six available per market): This ultimate experience includes all of the standard V.I.P. options, PLUS a backstage tour, bus tour, snacks backstage, and a photo taken of you behind a mic on stage prior to the show with the Bible Tour logo in the background. Feel like an artist with this exclusive experience!
Bible Tour 2018 dates*:
Sept. 20 – Evansville, IN
Sept. 21 – Minneapolis, MN
Sept. 23 – Lexington, KY
Oct. 10 – Dallas, TX
Oct. 11 – Oklahoma City, OK
Oct. 12 – Broomfield, CO**
Oct. 13 – Kansas City, MO
Oct. 14 – Milwaukee, WI
Oct. 17 – Charlotte, NC**
Oct. 18 – Indianapolis, IN
Oct. 19 – Virginia Beach, VA
Oct. 20 – Stamford, CT**
Oct. 21 – Hershey, PA
*All dates and markets subject to change; for the most updated schedule and information visit the tour site at BibleTour2018.com
**VIP Upgrade available in this market; further details here
##