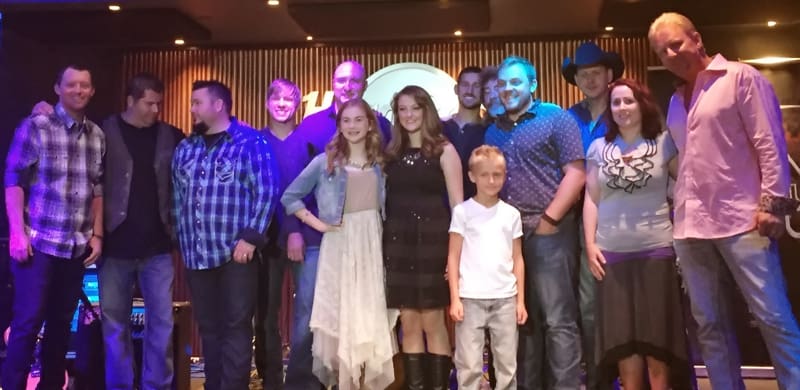 Nashville, TN (July 21st, 2016) – The Hard Rock Cafe buzzed with over 200 attendees at the first-ever Red Hen Nashville Artist Showcase Tuesday evening, July 12, 2016. For three hours, the audience was treated to performances by all 11 artists on Red Hen's roster, featuring some of the best in Christian and Positive Country music.
Ryan Watkins opened the showcase with his brand of Jesus-infused Southern Rock. Kevin Woody, Mitch Pierson, Hunter Erwin, Bruce Hedrick, and Mitch Pullen each brought their own individual styles of modern Country Music to the stage, while Michael Lee added his deep, rich country voice to the lineup. Thirteen-year-old Maisy Reliford reminded the audience of a modern day Loretta Lynn with a voice mature beyond her years, followed by the upbeat, grassy sounds of Zach and Rodney. Tiffany Porter surprised everyone with her Taylor Swift-like charm and vocal performance, while Bryan Carroll closed the evening with a powerful voice and a beautiful, emotional song that brought tears to many eyes, and the audience to their feet.
Red Hen Nashville plans to host more artist showcases at multiple venues in the Nashville area, as well as other parts of the country, in the future in hopes of presenting the Gospel in a style appreciated by Country Music lovers.
Red Hen Nashville is the Country division of Daywind Music Group; offering a home to the best artists in the genre and support to their ministries and careers. Red Hen is distributed to Christian retail by New Day Christian Distributors.
For more information, visit www.redhennashville.com or contact Dani Phillips at publicity@daywind.com.
##
Media Contact:
Dani Phillips
publicity@daywind.com