NEWS: Mary Mary's Erica And Tina Campbell Premiere "Back To You" On Fox's The Preachers Fri, July 22nd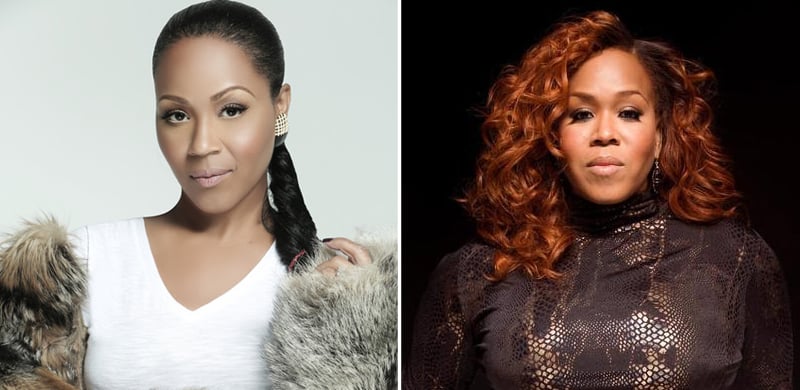 Multi GRAMMY® Winning Sister Duo/WE tv Stars And Solo Gospel Icons Perform Song From Upcoming Ben-Hur Film And Soundtrack
Tina Campbell And Husband Teddy Return To The Road For "An Evening With Teddy And Tina Campbell" Fall 201;
Erica's Nationally Syndicated Morning Radio Show GET UP! MORNINGS WITH ERICA CAMPBELL Proven Fan Favorite Offering Tips For Faith Walking, Love Talking & Joy Living
LA/NY July 21st, 2016: Mary Mary's Erica and Tina Campbell, the incomparable sister duo and megastars who, as solo artists, and together as the multi-Grammy® and multi-award-winning artists Mary Mary, perform their newly-written and recorded song "Back to You," from the upcoming Paramount/MGM film Ben-Hur and soundtrack, this coming Friday, July 22nd, on the faith-based talk show "The Preachers."
The haunting power ballad, written and produced by Grammy® winner Warryn Campbell, and co-written by Erica and Tina Campbell, features MM's signature soaring vocals and timely lyrics, both for the film and current wave of unrest throughout the world:
"If I gotta fight through the fire,
"If I gotta walk on water,
"Just get me back to you…"
"I won't let hatred kill
"All that I Love
"Lord please help me to forgive
"So I can live again…"
"Back To You" is the first original Mary Mary song since their chart topping 2012 Columbia Records album, Go Get It. The epic film re-make, Ben-Hur is directed by Timur Bekmambetov and stars Academy Award® winner, actor Morgan Freeman. The film also stars Jack Huston, in the role of Judah Ben Hur and Toby Kebbell, from the films Fantastic Four and Dawn of the Planet of the Apes, playing Messala, the adopted brother of Judah Ben Hur. The film hits major theaters August 19th.
Fox Network's "The Preachers" is hosted by John Gray, Associate Pastor at Lakewood Church in Houston, E. Dewey Smith, Jr., Senior Pastor at The House of Hope in Atlanta and The House of Hope Macon, Orrick Quick, Pastor and Founder of God Seekers Church in High Point, North Carolina, and Jamal Bryant, Pastor and Founder of Empowerment Temple AME Church in Baltimore, Maryland. The show is executive produced by Bill Geddie, who served as co-creator and executive producer of ABC's "The View."
The ladies continue their solo career focus as Tina Campbell prepares for her tour with her husband Teddy Campbell on their unique, three-part tour, An Evening with Teddy and Tina Campbell. The tour, free to all fans, stops in major cities including Los Angeles, New York, Washington D.C., Chicago, Atlanta, Nashville, Dallas, Houston and Phoenix, and kicks off in Nashville on September 14th. Highlights of the triple feature tour include The Teddy Campbell Band, led by drummer Teddy Campbell, An Evening with Teddy and Tina Campbell, and Teddy's Frontline Men's Bible Study.
Erica Campbell continues with her nationally syndicated radio show Get Up! Mornings with Erica Campbell, co-hosting with veteran comedian GRIFF, welcoming fans with her uplifting voice and energy each morning. Erica continues to inspire her fans across the airwaves, offering assistance in managing life's challenges while encouraging listeners to GET UP! for Faith Walking, Love Talking, and Joy Living. Erica and GRIFF maintain a fast-paced, lively and entertaining show, sharing beliefs, asking fans for their opinions on hot topics and playing favorite Urban/Christian/Gospel songs throughout the morning.
For the most updated information on Tina Campbell, please visit:
An Evening With Teddy And Tina Campbell
Teddy Campbell Band
Front Line
Instagram
Twitter
Periscope
YouTube
Facebook
Website: www.iAmTinaCampbell.com
For More Information Contact:
Management: Gee Tree Creative
info@iamtinacampbell.com
818-514-5968
For Updated Information on Erica Campbell, Visit:
Facebook
Twitter
Instagram
YouTube
Periscope
Website: www.imericacampbell.com
For Updated Information on Get Up! Mornings with Erica Campbell, Visit:
Facebook.com/GetUpErica
Twitter.com/GetUpErica
Instagram.com/GetUpErica
www.GetUpErica.com
##
Media Contact:
PLAN A MEDIA, LLC
Patti Conte / 212 337 1406 ext. 2 / PattiConte@planamedia.com
Kaylin Johnson / 212 337 1406 ext. 3 / kaylin.planamedia@gmail.com