Atlantic Records/Hear It Loud Announce Signing of Skillet's Jen Ledger to Solo Endeavor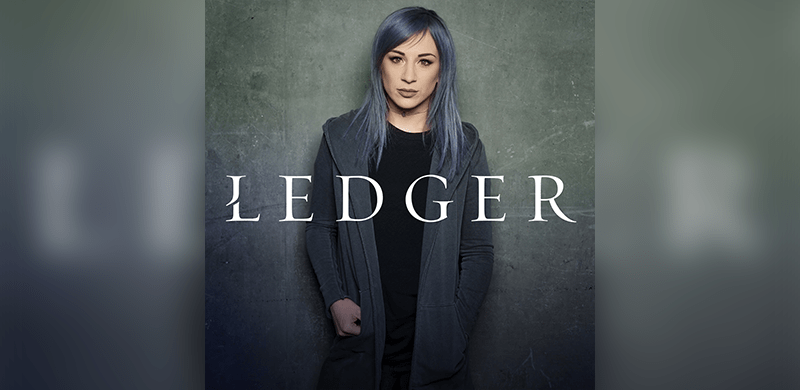 Debut EP LEDGER set to Release April 13
LEDGER to open"joy.UNLEASHED | The Tour"
this spring alongside Skillet and for KING & COUNTRY
Nashville, Tenn. (March 16, 2018) – Jen Ledger, drummer and vocalist of multi-platinum selling, GRAMMY® nominated rock band Skillet is signing with Atlantic Records and Hear It Loud, the imprint encompassing the creative team of Skillet's John & Korey Cooper and longtime manager, Zachary Kelm. Billboard exclusively announced the news yesterday.
"From when I started working with Skillet 10 years ago, I was immediately impressed with how vibrant and talented Jen Ledger is," Pete Ganbarg, President, A&R, Atlantic Records shared with Billboard. "Her voice is so unique – and has become such an identifiable part of Skillet's sound – that we've waited for most of the past decade for the moment when she would finally be ready to release her own music. What she's been working on with John and Korey Cooper, as well as with Seth Mosley and others, shows that the wait has definitely been worth it."
Her self-titled debut EP, LEDGER is set to release April 13. Beloved by fans with an engaged social media following, Ledger's unique vocals and powerful stage presence have given her a distinct role in Skillet since joining the band when she was just 18. The UK native has been working ardently on her songwriting in preparation for her solo launch, collaborating with Skillet's John and Korey Cooper, Mia Fieldes, Riley Friesen as well as GRAMMY® Award winning songwriter and producer Seth Mosley who, together with Korey Cooper, produced the six song project.
"It's so surreal that I will be releasing my first EP in just a few weeks!," said Ledger. "The writing and recording process with Korey Cooper, John Cooper, Seth Mosley and many others has been so much fun and I've loved every second of it! Learning, growing, and creating with these ridiculously talented people has been one of the most rewarding seasons of my life. We've created something fresh that feels unique to me. I can't wait to share these songs with everyone; it feels like I'm getting to share a new side of myself!"
In addition to her role as drummer and vocalist with Skillet, on "joy.UNLEASHED | The Tour," Ledger, along with a full band, will be opening the tour with new, original songs. The tour will stop in over a dozen markets from mid-April through early May, visiting San Antonio, Cedar Rapids, Huntsville, Orlando, Miami and more.
"It's going to be crazy to step out from behind the drums and do my own show without the rest of Skillet around me," she continues, "but it's a challenge I'm excited about. I'm so thankful to Atlantic and the Hear It Loud crew for fully supporting me and helping me launch this new chapter!"
"Skillet fans are going to flip when they hear LEDGER. This is what they've been asking for for a long time," said Skillet front man, John Cooper. "Jen has come into her own as a singer, songwriter, and as a front person. We took our time making sure we were releasing the best project we could. The time has finally come and we cannot wait for fans to hear it!"
LEDGER Track Listing:
Not Dead Yet
Warrior
Bold
Foreigner
Ruins
Iconic
About LEDGER
Jen Ledger's unique vocals and powerful stage presence have given her a distinct role in Skillet since joining as the band's drummer when she was just 18. Ledger has had the privilege of being a part of Skillet as they have cemented their place as one of the 21st century's most successful rock bands, selling more than 11 million units worldwide, receiving two GRAMMY® Award nominations and winning a Billboard Music Award for the multi-platinum-certified Awake.
With an engaged and ever-growing social media presence, the latest signee for Atlantic Records and Hear It Loud is set to debut her solo endeavor, LEDGER, on April 13.
Get Connected with LEDGER:
Website: LEDGERband.com
Facebook: https://www.facebook.com/ledgerbandofficial/
Instagram: @jenledger
Twitter: @jenledger
##