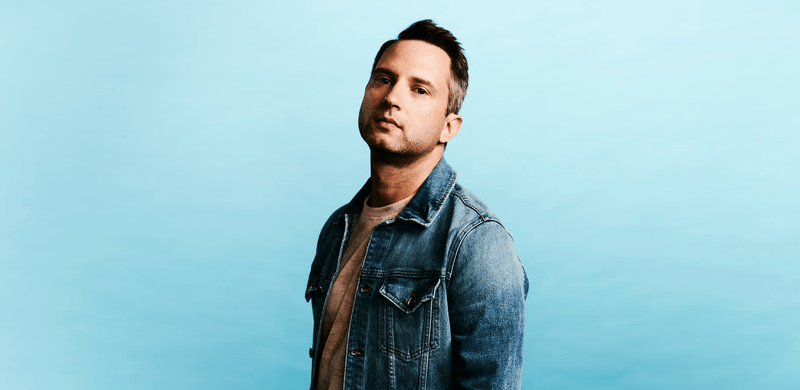 NASHVILLE, TENN. (OCTOBER 04, 2017) Five-time GRAMMY®-nominated singer/songwriter Brandon Heath will release his sixth studio album, Faith Hope Love Repeat, on October 20th. Working for a year-and-a-half on this upcoming album, Heath cultivated through more than 100 songs he wrote and co-wrote to create an album that fuses his signature pop sensibilities with his storytelling gifts. The collection of songs on Faith Hope Love Repeat are a reflection of Heath's current season of life including everything from his faith to learning he's going to be a first-time father with a new baby girl in December. Click here to pre-order or pre-save Faith Hope Love Repeat now.
The debut single, "Whole Heart," from the forthcoming album is currently approaching the Top 10 on the Christian airplay chart and is an instant download when pre-ordering the album. Other tracks from the album that will become instant downloads are the title track "Faith Hope Love Repeat" available this Friday and "Got The Love" available on October 13th.
In working on Faith Hope Love Repeat, Heath spent a good portion of the time battling fear. It only made sense to create a project that highlights the tenants of the Christian faith that have provided an unshakable foundation in his own journey as the three virtues he claims in times of both joy and struggle. For Heath, it's simply "instruction for a good life."
"When I first started songwriting, it was therapy," Heath states. "On this record, it was therapeutic writing songs about faith and overcoming this giant obstacle of mine that is fear. Fear really hits me the hardest around 3 to 4 a.m. I believe it's just the voice of the enemy that I hear at night. I can really get stuck in my own head, and I believe that it limits me in many different capacities in life, including creativity. So it really takes faith to push through a lot of that. I always look at my records like a yearbook and what was going on in my life at that time. For me, faith felt like a big topic to talk about in this season of life."
A Nashville native, Heath quickly won the hearts of listeners when he released his major label debut in 2006. With four No. 1 singles to his credit, including the RIAA Platinum-certified "Give Me Your Eyes," the singer has garnered five GRAMMY® nominations, an American Music Award nod and an Emmy Award. In addition, he's earned eight Dove Awards, including two consecutive Male Vocalist honors (2009, 2010) and a win for Song of the Year ("Give Me Your Eyes"). He's also been recognized as a top lyricist in his field with numerous songwriting accolades, including being named BMI's 2014 Songwriter of the Year. This new album is a great addition to an already awarded career. Fans can also catch Heath on tour this fall on the Tenth Avenue North "I Have This Hope" tour. See the tour dates below.
Brandon Heath Fall 2017 Tour Dates
10/05 Burlington, NJ
10/06 Shrewsbury, PA
10/07 Fayetteville, NC
10/08 Greeneville, TN
10/20 Vienna, VA
10/21 New Bern, NC
10/22 Kill Devil Hills, NC
10/26 Anderson, IN
10/27 Milwaukee, WI
10/28 Glasgow, KY
10/29 Winona Lake, IN
11/01 Pottersville, NY
11/02 Fairfield, CT
11/03 Springfield, MA
11/04 Montgomery, NY
11/05 Bedford, NH
11/06 West Warwick, RI
11/07 Birmingham, AL
11/11 Williamstown, KY
About Brandon Heath:
Since Brandon Heath's debut on Reunion Records with Don't Get Comfortable (2006), he has become one of Christian music's most beloved and respected artists and songwriters. Heath has garnered an Emmy Award, five GRAMMY® nominations and an American Music Award nomination. He has been honored as an eight-time GMA Dove Award recipient, including "Male Vocalist of the Year" (2009 and 2010), BMI's 2014 Songwriter of the Year, and earned multiple additional songwriting honors. His award-winning songs and signature vocals reflect a soaring radio career that includes top hits "I'm Not Who I Was," "Wait and See," the 2009 GMA Dove Award-winning Song of the Year and RIAA Platinum certified single "Give Me Your Eyes," the eight-week chart topper "Your Love," "The Light In Me," and many others.
Heath first began writing at age 13. His artistry and ability to connect with audiences have compelled countless media outlets across the nation to platform his story and music. Highlights include coverage in The New York Times, Billboard, The Wall Street Journal, Relevant, CBS Evening News and The Discovery Channel.
##