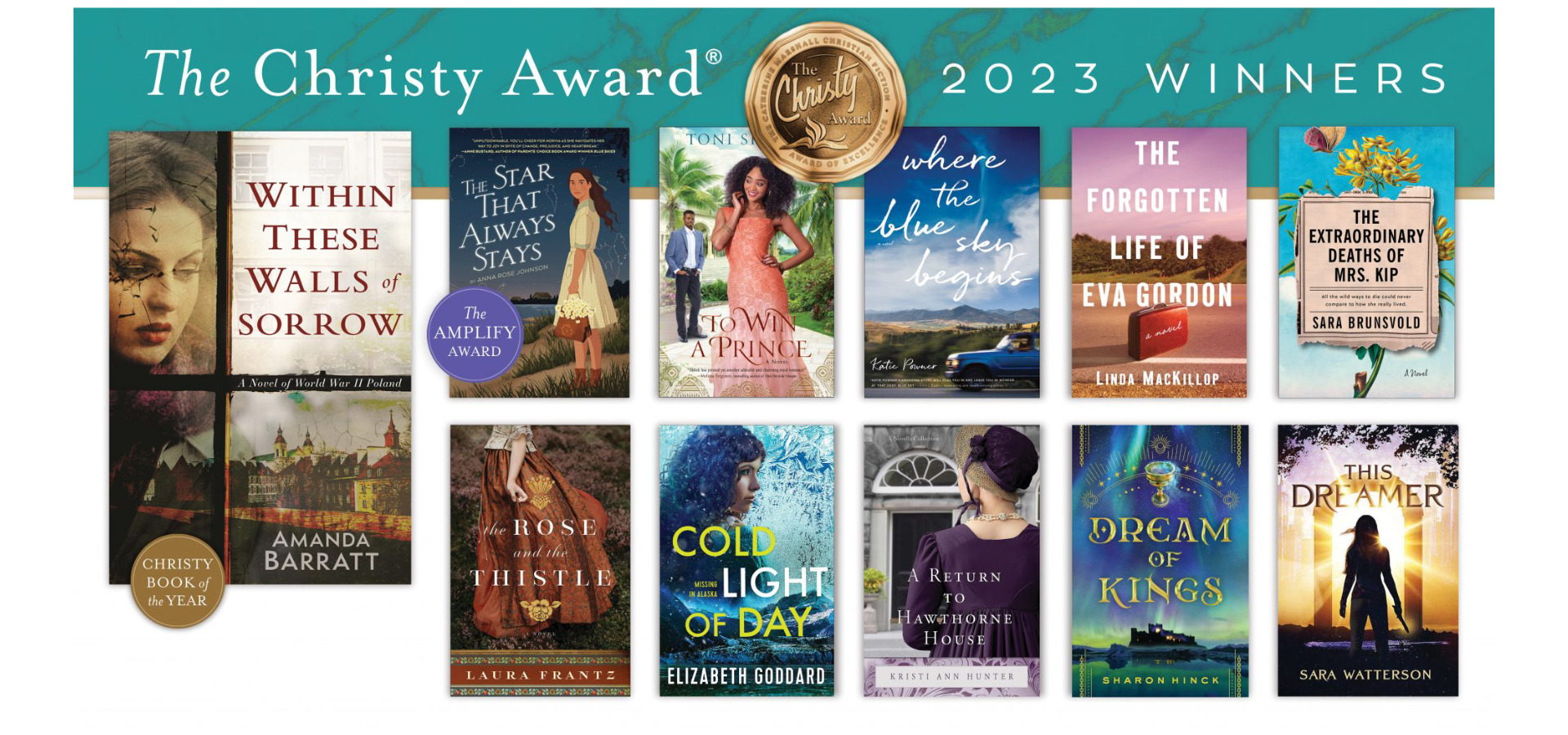 The Evangelical Christian Publishers Association (ECPA) announced the winners of The Christy Award in nine fiction categories, plus the Book of the Year and The Amplify Award. The Christy Award exists to celebrate excellence in the art of Christian fiction and to honor the power of faith in story.
The online webcast was hosted by award-winning author and radio personality CHRIS FABRY and ECPA president JEFF CROSBY, and featured legendary novelists JANETTE OKE and DAVIS BUNN reflecting together on their enduring writing careers. The evening's category winners were announced by last year's winning authors: AMANDA COX, TONI SHILOH, NICOLE DEESE, PATRICIA RAYBON, JOCELYN GREEN, SARAH SUNDIN, TERRI BLACKSTOCK, KAREN WITEMEYER, SHARON HINCK, and KARA SWANSON.
The emotion, mutual encouragement and community among all the attendees – authors, fans and publishers – was palpable among the comments and speakers. At the event's close, Janette Oke's blessing was spoken over all: May this evening be a reminder to all who take part that God has given us a wonderful privilege of sharing His message… that can go where we do not go and relate to people we will not meet.
Watch party in St. Louis at the Just Read Tours Rendezvous conference
In addition to the publishers, writers, and fans gathered online, the event was broadcast to watch parties in Grand Rapids at the Baker Book House, and in St. Louis at the inaugural Just Read Tours Rendezvous conference for Christian fiction enthusiasts.
The BOOK OF THE YEAR was presented to Within These Walls of Sorrow by AMANDA BARRATT (Kregel Publications). The novel, set in Poland during World War II, also won this year in the Historical category.
The program's second AMPLIFY AWARD was presented to ANNA ROSE JOHNSON for her novel The Star That Always Stays (Holiday House), inspired by her indigenous family history. Johnson is a member of the Sault Ste. Marie Tribe of Chippewa Indians. The Amplify Award was created by publishers and agents to elevate and recognize under-represented ethnic stories of excellence, and their authors. Last year, In Search of a Prince by TONI SHILOH (Bethany House) received the first Amplify Award and this year, Shiloh won in the Contemporary Romance category for To Win A Prince (Bethany House).
SHARON HINCK won the Speculative category for the fourth year in a row for Dream of Kings (Enclave Publishing). With this win, she will join the Christy Hall of Fame and be inducted next year.
"The Christy Award Gala is an important part of the ECPA events calendar each year, and it's always a joy to recognize authors who have honed their craft to such a degree that our judges recognize their books with an award in one of the nine categories," states Jeff Crosby, ECPA president and CEO. "I extend my sincere congratulations to each of the winning authors and their editors and publishers who helped make the book known."
Presenting The Christy Award® winners for 2023:
BOOK OF THE YEAR
Within These Walls of Sorrow, Amanda Barratt
Kregel Publications, 9780825447013
---
THE AMPLIFY AWARD FOR CHRISTIAN FICTION
The Star That Always Stays, Anna Rose Johnson
Holiday House, 9780823450404
---
CONTEMPORARY ROMANCE
To Win a Prince, Toni Shiloh
Bethany House/ Baker Publishing Group, 9780764238963
---
FIRST NOVEL – TIE
The Extraordinary Deaths of Mrs. Kip, Sara Brunsvold
Revell/ Baker Publishing Group, 9780800740276
The Forgotten Life of Eva Gordon, Linda MacKillop
Kregel Publications, 9780825447327
---
GENERAL FICTION
Where the Blue Sky Begins, Katie Powner
Bethany House/ Baker Publishing Group, 9780764240393
---
HISTORICAL
Within These Walls of Sorrow, Amanda Barratt
Kregel Publications, 9780825447013
---
HISTORICAL ROMANCE
The Rose and the Thistle, Laura Frantz
Revell/ Baker Publishing Group, 9780800740672
---
MYSTERY/SUSPENSE/THRILLER
Cold Light of Day, Elizabeth Goddard
Revell/ Baker Publishing Group, 9780800742041
---
SHORT FORM
Always a Lady (in A Return to Hawthorne House), Kristi Ann Hunter
Oholiab Creations, 9781959589013
---
SPECULATIVE
Dream of Kings, Sharon Hinck
Enclave Publishing, a division of Oasis Family Media, 9798886050080
---
YOUNG ADULT
This Dreamer, Sara Watterson
Sara Watterson, 979898574741
---
The winners are posted at christyawards.com/finalists-winners.html and will soon be featured in a Christianity Today e-blast.
The Christy Award receives widespread support and promotion from these promotional partners, retailers and sponsors: JustRead Tours, Family Fiction, Crazy4Fiction, Christian Editors Association, Chris Fabry Live, Reading is My Superpower, Life is Story, Faithfully Bookish, ACFW, Blue Ridge Writers Conference, Publishing in Color, Christian Retailers Association, Baker Book House, Christianbook.com, Lifeway, Mardel, More to Life, NetGalley, The Parable Group, Ingram/Spring Arbor, Christianity Today, and Bethany Press.
The Christy Award events, including the annual Art of Writing conference and Winners Gala, will return in-person on November 14, 2024 in the Chicago area. For more information about The Christy Award program and to sign up for award and event updates for the 2024 season, visit TheChristyAward.com.
###