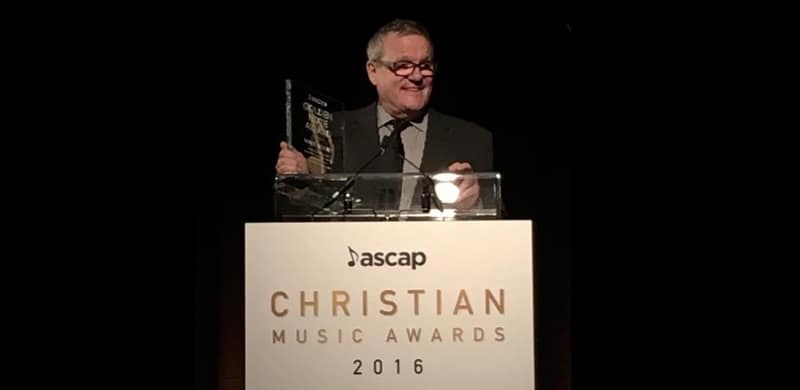 Nashville, TN (September 27th, 2016) – At an award ceremony held Monday evening at Rocketown in Downtown Nashville, platinum-selling singer, songwriter and humorist Mark Lowry was named the 2016 recipient of ASCAP's prestigious Golden Note Award.
The 38th Annual ASCAP Christian Music Awards, hosted this year by GRAMMY Award winning artist, Michael W. Smith, along with ASCAP President Paul Williams and VP of Nashville Membership Michael Martin, celebrated the top songs in Christian music for the year and honored a long list of accomplished songwriters and publishers. In addition to Mark Lowry, those awarded for their contributions this year included Matthew West, Jaci Velasquez, Ben Glover, and Capitol CMG Publishing. Special performances for the evening were given by Phil Keaggy, Francesca Battistelli and Jaci Velasquez.
The Golden Note Award is presented to songwriters, composers, and artists who have achieved extraordinary career milestones. In recognition of his accomplishments and impact on Christian music, Mark Lowry was introduced with warm remarks by Michael W. Smith, as well as best-selling comedian Chonda Pierce, followed by a stunning rendition of his beloved Christmas anthem, 'Mary, Did You Know?' delivered by the Brentwood Baptist Choir.
"What an honor to be included in a long line of my heroes," comments Mark Lowry. "I'm very grateful that ASCAP honored me with the Golden Note Award."
With a career spanning over four decades, Mark Lowry is perhaps best known the penning of the Christmas classic, "Mary, Did You Know?" A 2015 inductee into the Gospel Music Hall Of Fame, Mark Lowry spent more than 20 collective years as a member of the legendary Gaither Vocal Band, and often still serves as Bill Gaither's comedic sidekick on the Gaither stage. His distinctive ability to communicate with audiences large and small has opened doors throughout his career; leading to appearances on stages such as Carnegie Hall, the Kennedy Center, among others. Mark has been seen on tour with artists such as Michael W. Smith, Phillips, Craig & Dean, LordSong, and most recently, The Martins, Rambo McGuire, and Cana's Voice.
For more information on Mark Lowry, or to view his tour schedule, visit www.marklowry.com.
To schedule Mark Lowry, contact The Harper Agency at 615.851.4500 or visit www.harperagency.com.
For more information, contact Surge Artist Solutions at www.surgeartistsolutions.com.
##
Media Contact
Dani Phillips
615.852.0437
dani.phillips@surgeartistsolutions.com