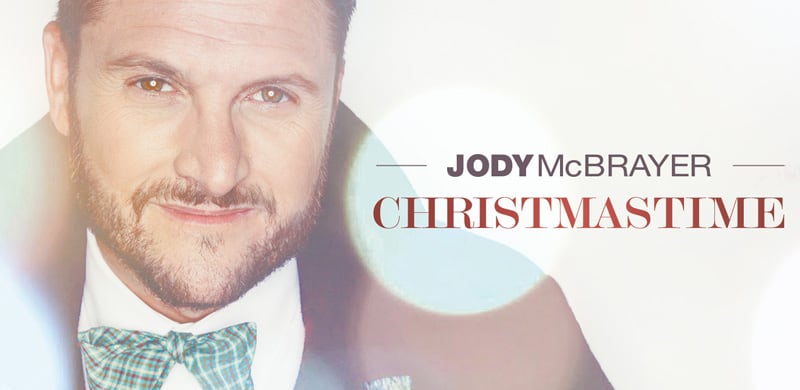 Project Features Traditional Christmas Songs and New Compositions
September 26, 2016 (Nashville, TN)… CCM powerhouse vocalist, Jody McBrayer, is delivering an early Christmas present to music lovers around the world, with the release of his first holiday album, CHRISTMASTIME, Oct. 21. The record was produced by StowTown Records Wayne Haun and delivers a variety of 11 Christmas tunes that showcase McBrayer's tenor vocals against a backdrop of jazz infused music, while delivering lyrics of hope that the Christmas story will become real for everyone. CHRISTMASTIME will be distributed by Provident/Sony Distribution and will be available at all online and retail music outlets.
"Christmas time is my favorite time of the year, and this project by Jody McBrayer resembles everything about Christmas! It creates the perfect setting and an emotional message," says Landon Beene, President, IMC/StowTown Records. "It is an honor to represent such an amazing talent like Jody. There are singers, and then there is Jody McBrayer. He sets a standard of his own!"
CHRISTMASTIME is an album that McBrayer wanted to record for a long time, and he wanted it to have a timeless sound that could connect with a variety of people. And that wish starts with the new single from the project, "Imagine This Christmas," that will be going for adds at radio Oct. 4. The song empowers our hope for a better world:
Imagine this Christmas a world without hurting, a world without hunger, a world without fear
Imagine this Christmas we all gave each other love and respect and good cheer
Well maybe this year
McBrayer and Haun also added traditional favorites, "What Child Is This?" and "Ave Maria/O Holy Night," while featuring George Michael's "Last Christmas" and the 16th century French carol, "Bring a Torch, Jeanette, Isabella," with Vince Guaraldi's Thanksgiving theme. Another special moment on the album is "Count Your Blessings Instead Of Sheep/Silent Night," where McBrayer's daughter, Sarah Clayton-McBrayer, joins him on the vocals.
For updates about McBrayer and CHRISTMASTIME visit www.jodymcbrayer.com, www.facebook.com/OfficialJodyMcBrayer, www.twitter.com/JodyMcBrayer.
ABOUT JODY MCBRAYER:
Jody McBrayer is known worldwide after becoming a mainstay in the Christian music industry with the Christian pop group Avalon. He was riding on the crest of this amazing success with millions of records sold, numerous No. 1 hit singles, major tours and multiple awards when 9 years ago he left the group after being diagnosed with heart disease. Thinking his music ministry was over, McBrayer entered the corporate world for five years working with his family. Then one day he received a call from a popular evangelist who wanted McBrayer to join him on tour as a guest musician. Over the next four years, McBrayer would literally circle the globe and experience the power, grace and mercy of God in a way he never had before. These experiences helped to reignite a desire for ministry, as well as a calling that had long since been set aside. It also helped him to decide to move forward once again as a solo artist. He already had one solo project on Sparrow Records in 2002, This Is Who I Am, when he was still a member of Avalon. It didn't take long for this talented singer/songwriter to get signed with a respected label. In 2015, McBrayer signed with StowTown and released his first album, Keep Breathing, for the label on February 12, 2016. While still touring and recording as a solo artist, McBrayer has joined StowTown Records new group, Cana's Voice, that released the trio's first album, This Changes Everything, in 2016.
ABOUT STOWTOWN RECORDS:
Founded in 2011 and expanded in 2014, StowTown Records reflects the musical vision of Ernie Haase and Wayne Haun, in partnership with Landon Beene and Nate Goble. The independent label is the creative home for top artists including Ernie Haase & Signature Sound, The Perrys, The Collingsworth Family, Doug Anderson, Devin McGlamery, The Taylors, Cana's Voice, The Browns, The Little Roy & Lizzy Show, Rambo McGuire, Southern Raised, Triumphant, TaRanda Greene, The Erwins, Trey Ivey, Jody McBrayer, Charles Billingsley and selected classic music from The Cathedrals, their legendary bass singer, George Younce, and The Cathedrals Family Reunion. Distributed worldwide through Provident/Sony Distribution, StowTown Records has quickly garnered industry attention with multiple GMA Dove Awards and chart-topping releases from their highly respected artist roster.
##
CHRISTMASTIME Track Listing:
1. "Imagine This Christmas"
2. "Candlelight Carol"
3. "O Come All Ye Faithful"
4. "Count Your Blessings Instead Of Sheep/Silent Night (featuring Sarah Clayton-McBrayer)
5. "What Child Is This?"
6. "Ave Maria/O Holy Night"
7 "Bring A Torch, Janette, Isabella" (with Vince Guaraldi's Thanksgiving theme)
8. "Last Christmas"
9. "Christmastime Is Here"
10. "Have Yourself A Merry Little Christmas" (featuring Voctave)
11. "God Bless Us, Everyone"
Media Contact:
StowTown Records
PO Box 8894, Johnson City, TN 37615