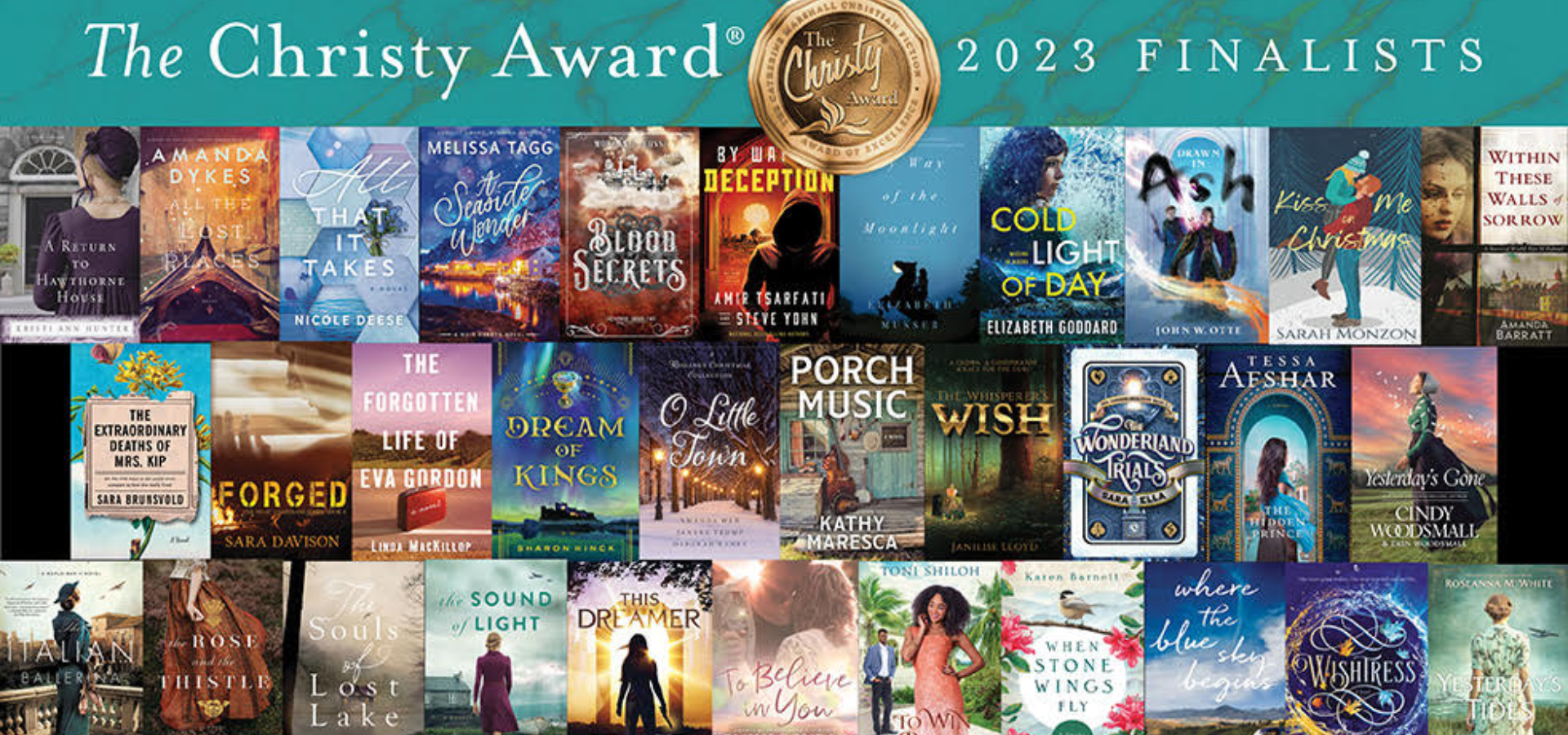 Today, the ECPA announced 32 finalists for the THE CHRISTY AWARD® program in an online webcast hosted by Christy Hall of Fame author Chris Fabry and ECPA president Jeff Crosby. The Christy Award® exists to celebrate excellence in the art of Christian fiction and to honor the power of faith in story.
Three finalists were named in nine categories, with ties in Contemporary Romance, Historical Romance, Mystery/Suspense/Thriller, and two ties in Young Adult. These finalists represent the work of 13 publishers and three independently published authors with Baker Publishing Group taking 11 spots: seven from Bethany House and four from Revell.
Winners from each category will be announced at The Christy Gala webcast held on Thursday, November 16 at 7 pm central, also announcing the Book of the Year and the Amplify Award. Hosted by award winning novelist and radio host CHRIS FABRY, the Gala will feature two literary greats — Christian fiction legacy authors JANETTE OKE and DAVIS BUNN.
Award presenters will include Christy winning authors Amanda Cox, Toni Shiloh, Nicole Deese, Patricia Raybon, Jocelyn Green, Sarah Sundin, Terri Blackstock, Karen Witemeyer, Sharon Hinck, and Kara Swanson.
Registration is open for the free Winners Gala and for the preceding Art of Writingonline conference at TheChristyAward.com.
"There is such power and resonance in stories that are artfully told and constructed with skill around characters we come to care about and a plot that stirs our imaginations," expresses Jeff Crosby, ECPA president. "All of us at ECPA congratulate these 32 Christian fiction titles that characterize those qualities across the nine categories in the eyes of our distinguished judges."
The FINALISTS in nine fiction categories are:
CONTEMPORARY ROMANCE – tie
A Seaside Wonder, Melissa Tagg
Larkspur Press, 9780997964257
All That It Takes, Nicole Deese
Bethany House/ Baker Publishing Group, 9780764234972
To Believe In You, Emily Conrad
Hope Anchor LLC, 9781736038888
To Win a Prince, Toni Shiloh
Bethany House/ Baker Publishing Group, 9780764238963
---
FIRST NOVEL
The Extraordinary Deaths of Mrs. Kip, Sara Brunsvold
Revell/ Baker Publishing Group, 9780800740276
The Forgotten Life of Eva Gordon, Linda MacKillop
Kregel Publications, 9780825447327
Porch Music, Kathy Maresca
TouchPoint Press Faith, 9781956851458
---
GENERAL FICTION
By Way of the Moonlight, Elizabeth Musser
Bethany House/ Baker Publishing Group, 9780764238802
When Stone Wings Fly, Karen Barnett
Kregel Publications, 9780825447174
Where the Blue Sky Begins, Katie Powner
Bethany House/ Baker Publishing Group, 9780764240393
---
HISTORICAL
All the Lost Places, Amanda Dykes
Bethany House/ Baker Publishing Group, 9780764239502
The Hidden Prince, Tessa Afshar
Tyndale House Publishers, 9781496458223
Within These Walls of Sorrow, Amanda Barratt
Kregel Publications, 9780825447013
---
HISTORICAL ROMANCE – tie
The Italian Ballerina, Kristy Cambron
Thomas Nelson, 9780785232193
The Rose and the Thistle, Laura Frantz
Revell/ Baker Publishing Group, 9780800740672
The Sound of Light, Sarah Sundin
Revell/ Baker Publishing Group, 9780800736385
Yesterday's Tides, Roseanna M. White
Bethany House/ Baker Publishing Group, 9780764240010
---
MYSTERY/SUSPENSE/THRILLER – tie
By Way of Deception, Amir Tsarfati and Steve Yohn
Harvest House Publishers, 9780736986427
Cold Light of Day, Elizabeth Goddard
Revell/ Baker Publishing Group, 9780800742041
Forged, Sara Davison
Mountain Brook Ink, 9781953957030
The Souls of Lost Lake, Jaime Jo Wright
Bethany House/ Baker Publishing Group, 9780764238321
---
SHORT FORM
Always a Lady (in A Return to Hawthorne House), Kristi Ann Hunter
Oholiab Creations, LLC, 9781959589013
Hopes and Fears (in O Little Town), Amanda Wen
Kregel Publications, 9780825447488
Kiss Me on Christmas, Sarah Monzon
Sarah Monzon, 9781944638160
---
SPECULATIVE
Drawn in Ash, John W. Otte
John W. Otte, 9798985810301
Dream of Kings, Sharon Hinck
Enclave Publishing, a division of Oasis Family Media, 9798886050080
Yesterday's Gone, Cindy Woodsmall and Erin Woodsmall
Tyndale House Publishers, 9781496454225
---
YOUNG ADULT – two ties
Blood Secrets, Morgan L. Busse
Enclave Escape, a division of Oasis Family Media, 9798886050004
This Dreamer, Sara Watterson
Sara Watterson, 9798985747416
The Whisperer's Wish, Janilise Lloyd
Scrivenings Press, 9781649172785
Wishtress, Nadine Brandes
Thomas Nelson, 9780785264002
The Wonderland Trials, Sara Ella
Enclave Escape, a division of Oasis Family Media, 9781621842149
---
The finalists are posted at christyawards.com/finalists-winners.html and will soon be featured in a Christianity Today e-blast.
Leading up to the Gala, will be the seventh annual Art of Writing conference. The four-session Thursday evening webinar series, will bring together writers, creatives, and publishing curators for training and connection around these topics:
Dispelling the Myths Around Christian Fiction with Kelsey Bowen (Revell), Barb Roose (author/agent), and Rachel McMillan (author/agent)
How Great Books Can Improve Your Novel and Your Life with Claude Atcho (author/pastor/arts writer) and Jamie Lapeyrolerie (WaterBrook)
Publishing Doesn't Have to Terrify You! with Stephanie Broene (Tyndale House), Laura Wheeler (HarperCollins Christian Publishing), and Tamela Hancock Murray (author/agent)
Going Deep with Award-Winning Authors with Becky Wade (Christy Hall of Fame novelist), Steve James (Christy Hall of Fame novelist), and Christy Award winning author, Patricia Raybon
Unique to this year as optional $29 add-ons for Art of Writing attendees, are small group consultations with publishers and agents around these topics:
Pitch & Publish| Practice your pitch in front of an editor and small group. Come away with immediate feedback to take your pitch to publication.
Ask Me Anything| Like the famed Reddit and Twitter quick-fire sessions, this is your chance to do that with an editor, agent, and established author. Come ready with your questions.
Strengthen Your Proposal & Get Your Foot in the Door| Share your proposal in a small group with a publisher/agent. Come away with feedback on the areas you need to strengthen to deliver your proposal to publication.
Calling All Debut Authors| Hear from a debut author and editor on how their fears were allayed, and their thoughts on best practices as you walk through the early stages of publishing.
Register at https://christyawards.com/registration.html.
The Christy Award receives widespread support and promotion from these promotional partners, retailers and sponsors: JustRead Tours, Family Fiction, Crazy4Fiction, Christian Editors Association, Chris Fabry Live, Reading is My Superpower, Life is Story, Faithfully Bookish, ACFW, Blue Ridge Writers Conference, Publishing in Color, Christian Retailers Association, Baker Book House, Christianbook.com, Lifeway, Logos, Mardel, More to Life, NetGalley, The Parable Group, Ingram/Spring Arbor, Christianity Today, and Bethany Press.
The Christy Award seminars and Gala will return to in-person events on next Fall in the Chicago area. Sign up for updates at TheChristyAward.com.
##