Viral Sensations The Singing Contractors Debut Working on a Building, Hymns & Gospel Classics to Critical Acclaim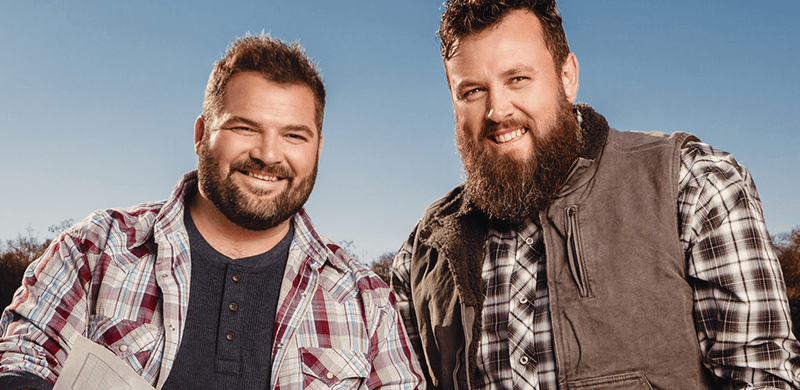 Viral Sensations The Singing Contractors Debut
Working on a Building, Hymns & Gospel Classics
to Critical Acclaim
TUNE IN ALERT: The Singing Contractors To Take Over
FOX & Friends This Monday
Nashville, Tenn. (Feb. 1, 2019) – Viral sensations The Singing Contractors released their highly anticipated Working on a Building, Hymns & Gospel Classics with Gaither Music Group today to critical acclaim. A collection of unique renditions of beloved hymns and gospel classics, Today's Christian Entertainment said there is "no doubt that The Singing Contractors inspire as they use their God-given talents to serve others both with music and through putting in an honest day's work of construction," also making note of the pair's "strong vocal performances and a clear desire to encourage listeners' spirits and point them heavenward." The Christian Beat called the debut "a refreshing change of pace in CCM that is sure to continue their viral success."
The foundation of the unlikely pair, comprised of Aaron Gray and Josh Arnett, stems from a viral video of their poignant rendition of "How Great Thou Art," performed in an unfinished corner of a home remodel which led to over one million views in almost 24 hours. Gray shared exclusively with Billboard, "I believe the album shows that we are just two simple guys and very raw, but thankful to have such an unbelievable opportunity." Hallels said this of the pair's performance, "They both can sing and when they harmonize with each other, they complement each other so well that you may even think they were proteges of the Cathedrals or the Oak Ridge Boys."
The Singing Contractors will be celebrating their release in New York City this Monday, taking center stage on Fox & Friends. Tune in Monday morning at 8:50a ET to watch the pair perform LIVE the title track and beloved hymn from their new recording, Working on a Building. The contagious viral duo will also be sharing their story with Guideposts, FoxNews.com, Fox Nation's Starnes Country and more.
Complementing the 16-track project, the Indiana natives released a LIVE performance DVD of the new faith-based collection, filmed live at Gaither Studios. The DVD also includes a special interview of the powerhouse duo sharing their unlikely story with gospel legend Bill Gaither. "The Singing Contractors are the real deal," shared Gaither, recording artist and founder of Gaither Music Group. "It is no wonder millions of people are following them on social media. What you see is what you get, and they were a delight to work with." A national television special premiered last night on RFD-TV and will continue to air this spring on numerous networks throughout the U.S. and Canada.
The Singing Contractors are also inviting fans from across the country to join them tonight, Feb. 1 at 6:30pm ET for a special Facebook viewing of Working on a Building. Fans can go to https://www.facebook.com/TheSingingContractors/ to watch an edited 30-minute version of the DVD, followed by a LIVE Q&A with The Singing Contractors.
Working on a Building is distributed through Capitol Christian Distribution and Universal Music and is available throughout general market stores, Cracker Barrel Old Country Store® and the Christian marketplace in addition to online retailers including iTunes, Apple Music, Amazon, Amazon Music and www.gaither.com.
To listen to Working on a Building, click here.
About The Singing Contractors
Viral sensations The Singing Contractors' highly anticipated national debut project, Working on a Building, Hymns & Gospel Classics, is available now. The foundation of the unlikely pair stems from a viral video of their poignant rendition of "How Great Thou Art," performed in an unfinished corner of a home remodel which led to over one million views in almost 24 hours and an appearance on the "Fox & Friends" morning show. The duo, comprised of Indiana natives Aaron Gray and Josh Arnett, has continued to amass a following due to their fun-loving personalities and compelling gospel covers. Growing up in singing families, hitting the roads for weekend performances, Gray and Arnett are seasoned talents with strong work ethics, who are now building a national music platform in addition to houses.
##