Viral Sensations The Singing Contractors Announce Blueprint for Debut, Working On A Building, Feb. 01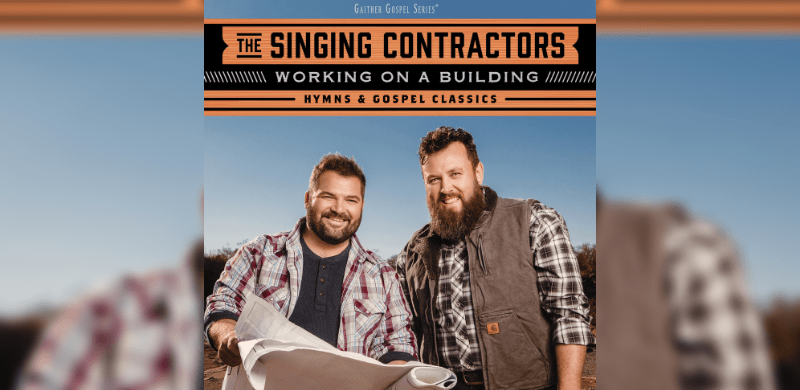 Nashville, Tenn. (Dec. 14, 2018) – Viral sensations The Singing Contractors have announced plans for their highly anticipated national debut project, Working On A Building, Hymns and Gospel Classics with Gaither Music Group, set to release Feb. 01, 2019. The collection will include unique renditions of beloved hymns and gospel classics. The foundation of the unlikely pair stems from a viral video of their poignant rendition of "How Great Thou Art," performed in an unfinished corner of a home remodel which led to over one million views in almost 24 hours. The duo, comprised of Aaron Gray and Josh Arnett, has continued to amass a following due to their fun-loving personalities and compelling gospel covers.
"It's crazy to think this all started with Aaron and I just singing together on a job site. We never could have imagined that posting a video to Facebook would have led to this," said Arnett. "Aaron and I both grew up traveling with our families and singing, but didn't think about making a career of it ourselves. We're contractors – and the callouses on our hands are our resumes – so we're just amazed that God can take two simple, hard-working guys and use us in this way."
Complementing the 16-track project, the Indiana natives are releasing a live performance DVD of the new faith-based collection, filmed live at Gaither Studios. The DVD will also include a special interview of the powerhouse duo sharing their unlikely story with gospel legend Bill Gaither. "The Singing Contractors are the real deal," shared Gaither, recording artist and founder of Gaither Music Group. "It is no wonder millions of people are following them on social media. What you see is what you get, and they were a delight to work with." A special edited portion of the DVD will air this spring on numerous networks throughout the U.S. and Canada.
"Recording the DVD at Gaither Studios with the live band was amazing. The set was unbelievable," shared Gray of The Singing Contractors. "We had our saw horses out, our table saw, screwdrivers and everything was hanging—just like a job site. It made us feel right at home."
Working On A Building Track Listing:
Working on a Building
Life's Railway to Heaven
There's Power in the Blood
Amazing Grace
God Bless America
Because He Lives
He'll Take Care of You
Why Me
Wine into Water
It Is No Secret
He Saw What I Could Be
In the Garden
There's Always a Place at the Table
Mary, Did You Know?
Through the Fire
How Great Thou Art
Working on a Building is distributed through Capitol Christian Distribution and Universal Music and will be available throughout general market stores and the Christian marketplace in addition to online retailers including iTunes, Amazon and www.gaither.com.
##