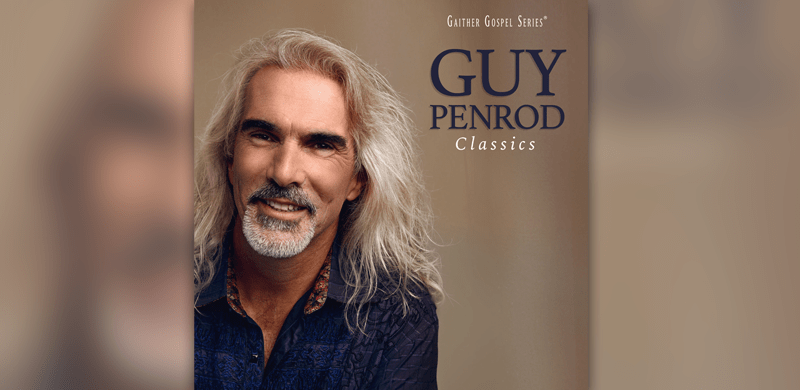 One of Gospel Music's Treasured Artists Captures Some of His Most Popular Hits on New Release
NASHVILLE, Tenn.—March 20th, 2017—GRAMMY® and GMA DOVE Award-winning recording artist Guy Penrod has just released Classics (Gaither Music Group/Servant Records), a new recording that features some of his most requested hits during his 14-year tenure as lead singer with the Gaither Vocal Band (GVB).
Produced by Penrod, the new collection contains "The Baptism of Jesse Taylor," "The Old Rugged Cross Made the Difference," "Yes, I Know," "Then Came the Morning," "Because He Lives" and more fan favorites that highlight his unmistakable, powerhouse tones.
"I'm glad to have had the chance to sing these songs with the GVB and am really excited to put them together now as a solo collection," stated Penrod, one of gospel music's most celebrated vocalists on the Gaither HOMECOMING Series. "The joy and truth of the tunes and messages in them are timeless and encouraging. I hope they 'crank your tractor,' bring a smile to your face, put a pep in your step and bring peace to your heart."
Classics is the follow-up recording to Penrod's current CD and DVD, LIVE Hymns & Worship (Gaither Music Group/Servant Records), which claimed the No. 1 position on the Southern Gospel chart as well as the No. 2 position on the Contemporary Christian Music chart the week of its release, according to Nielsen Soundscan. The DVD landed at No. 1 on the Christian Music Video chart and No. 1 on the Billboard Music Video chart.
Classics, positioned in retail/e-tail outlets everywhere, is being advertised as part of a TV special on DISH TV, DIRECTV, Gaither Television Network, TBN, RFD-TV, FamilyNet, CTN, GMC, GMTN, Guardian, Liberty, TCT and TLN. It is airing in Canada on Vision TV, CTS, The Miracle Channel and Hope TV.
The new CD is distributed by Capitol Christian Music Distribution and Universal Music. It will be available at retail and digital outlets worldwide including iTunes, Amazon, www.gaither.com and www.guypenrod.com, along with Cracker Barrel Old Country Store® locations nationwide.
Preview of the songs from Classics below:
For further information visit www.guypenrod.com, connect at facebook.com/GuyPenrod or follow Guy on Twitter: @GuyPenrod.
Classics CD Song Listing:
Singing with the Saints
Loving God, Loving Each Other
Alpha and Omega
Knowing You'll Be There
The Old Rugged Cross Made the Difference
I'm Forgiven
Count on Me
Yes, I Know
Then Came the Morning
The Baptism of Jesse Taylor
Build an Ark
Because He Lives
(Produced by Guy Penrod)
About Guy Penrod
Guy Penrod is one of the most in-demand touring artists in Christian music. His DVD The Best of Guy Penrod is certified platinum by the RIAA. A vocal powerhouse, Penrod travels throughout the U.S. and abroad in addition to making multiple media appearances including radio's "The Mike Huckabee Show," RFD-TV's top-rated "Larry's Country Diner" and one of North America's most popular Christian television programs "100 Huntley Street." Additionally, Penrod hosts DayStar Television's Emmy Award-winning "Gospel Music Showcase" program.
Known for his country styling, Penrod's music has been applauded in the gospel as well as country formats. He has appeared on "The Grand Ole Opry" and on numerous country recordings. His Hymns recording (Gaither Music Group/ Servant Records), debuted at #1 on the Nielsen SoundScan Southern Gospel retail chart and became the top-selling southern gospel album of 2012. In 2011 he became a Texas Gospel Music Hall of Fame inductee; and he was inducted alongside the Gaither Vocal Band into the Gospel Music Hall of Fame in 2014.
##