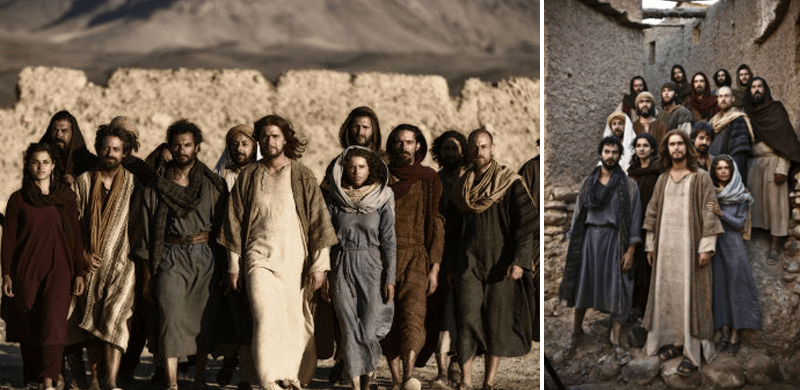 UP's "Easter Lives Here" Two Weekend Event Begins Palm Sunday with Son of God Premiering
Sunday, April 9 at 7 p.m. ET
ATLANTA – April 3, 2017 – UP TV, the entertainment destination that showcases stories about modern American families and the relationships that define them, is once again the premier family destination for Easter entertainment. The network presents its annual "Easter Lives Here" slate of inspirational movies beginning Palm Sunday on April 9 through Easter Sunday on April 16, 2017.
This year's lineup includes the network television premiere of the critically acclaimed film, Son of God, produced by Roma Downey and Mark Burnett for LightWorkers Media. Son of God is the life story of Jesus told from his humble birth through crucifixion and resurrection. The movie stars Roma Downey, Diogo Morgado, Greg Hicks and Adrian Schiller. The event also features the critically acclaimed The Passion of the Christ and an Easter Sunday filled with inspiring contemporary films culminating in the box office hit God's Not Dead.
"I am so thrilled that Son of God will be playing on television this Easter Season, bringing the amazing story of the life of Jesus right into people's homes to enjoy together as a family," said Roma Downey, president, LightWorkers Media.
"We are excited to present Son of God during UP's annual 'Easter Lives Here' programming event," said Sophia Kelley, senior vice president, programming. "As the only network that brings families a celebration of the Easter season, it's a remarkable film to add to our powerful and inspiring lineup of movies."
EASTER LIVES HERE PROGRAMMING SLATE:

Palm Sunday, April 9
The Ten Commandments, 3 p.m. ET
Son of God (Network Television Premiere), 7 p.m. ET & 12 a.m. ET
The Passion of the Christ, 10 p.m. ET
Holy Thursday, April 13
Son of God, 10 p.m. ET
Good Friday, April 14
Son of God, 7 p.m. ET & 12 a.m. ET
The Passion of the Christ, 10 p.m. ET
Holy Saturday, April 15
The Ten Commandments, 4 p.m. ET
The Passion of the Christ, 8 p.m. ET & 1 a.m. ET
Son of God, 10 p.m. ET
Easter Sunday, April 16
Son of God, 8:30 a.m. ET
Facing the Giants, 11:30 a.m. ET & 9:30 p.m. ET
Fireproof, 2 p.m. ET
Courageous, 4:30 p.m. ET
God's Not Dead, 7 p.m. ET
Finding Normal, 12 a.m. ET
About UP
At UP, We Get Family. UP is one of television's most trusted entertainment brands with content that leaves viewers feeling UP. UP tells the stories of families of all shapes, sizes and complexities through authentic, unique and relevant storytelling. UP offers hundreds of hours of original scripted and reality series, specials and movies as well as fan-favorite series on multiple platforms. In addition, UP's pro-social initiative, "Uplift Someone," inspires people to do simple, everyday acts of kindness. UP is widely available on cable systems and satellite providers across the United States. Furthermore, UP's subscription-on-demand offering, UP Faith & Family, features the best content in family and faith-affirming entertainment. Based in Atlanta, UP is a division of UP Entertainment, LLC and partners with the ASPiRE network on sales, marketing and other operational services.
Follow UPtv on the Web at www.Uptv.com on Facebook at https://www.facebook.com/Uptv, Twitter on @Uptv and Instagram at UP_TV.
About LightWorkers Media
Celebrated Emmy-nominated actress and producer Roma Downey launched LightWorkers Media (LWM) in 2011 along with her husband award-winning producer Mark Burnett. LightWorkers Media is a division of Metro-Goldwyn-Mayer (MGM) with Downey serving as President of the division. Under the LightWorkers Media banner, they have produced the ten-hour hit miniseries "The Bible" which was seen in the U.S. by 100 million people and was nominated for three Emmy awards. Additionally LWM produced the series "A.D." for NBC, "The Women of the Bible" for LIFETIME, "The Dovekeepers" for CBS, "Answered Prayers" for TLC, the feature films "Little Boy" for Open Road Films, "Woodlawn" for Pure Flix, "Ben-Hur" for MGM and Paramount and the upcoming TV series "Messiah" for Netflix.
##