Hollywood Veteran Alan Mehrez Announces the Launch of the Crossflix Internet Television Network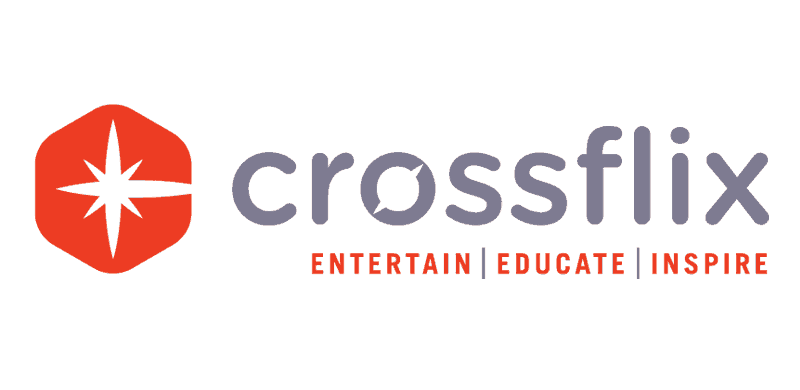 Crossflix is a Streaming Service that Emphasizes Originals and Exclusives, Offering the Best in Faith and Family Entertainment Viewers Can Trust To Entertain, Educate & Inspire
Ft Lauderdale, FL – Meeting the strong demand for quality faith and family programming, CROSSFLIX launches today as the digital destination for Christian entertainment, education, and inspiration. Currently available on Apple TV, Google Chromecast, FireTV, Roku, Google Play and on the Internet, Crossflix is finalizing placement of their content on iOS, which will launch in the coming weeks.
The network launches with one of the largest high-quality collections of titles and trailers, with new content being added weekly. The streaming platform merges the best in faith and family films, faith-inspired documentaries, children's animated and educational Biblical programs, and inspirational videos. Parents can rest assured that Crossflix content never contains nudity or offensive language.
Crossflix is founded by Alan Mehrez and co-founded by his wife and business partner Aileen Rodriguez. Mehrez, a Harvard educated entrepreneur, is well known as a successful Producer and Director of films such as the BLOODSPORT franchise, the first of which launched the career of actor Jean-Claude Van Damme. Mr. Mehrez also directed projects including BLOODSPORT 2, BLOODSPORT 3, and SINBAD AND THE BATTLE OF THE DARK KNIGHTS. Mehrez's catalog of films has been released by Lionsgate, Warner Brothers, HBO, Showtime, and other studios. In addition, Mehrez and Rodriguez have worked as International Film Distributors licensing film rights all over the world.
Crossflix has just wrapped production of their original series "The Living Bible" which consists of 50 half-hour episodes. Nine episodes are included in today's launch and the balance will be released two episodes at a time over a twenty-week period. Along with "The Living Bible" series, Crossflix is in different stages of production on ten additional television shows, releasing over the coming year.
In addition to original content, Crossflix has acquired top entertainment properties, including "REVIVE US" featuring faith-audience superstar Kirk Cameron (FIREPROOF, COURAGEOUS) and the Cedarmont Kids series (Sony) which has sold over 22 million DVDs. For both titles, Crossflix is the exclusive digital debut. Hundreds of additional titles have been acquired, including content from major distributors such as Vision Video, Bridgestone Multimedia Group and Green Apple Entertainment.
"As a leading provider of quality, independent entertainment, we are thrilled to have licensed 16 of our faith and family films for the launch of Crossflix," states Joshua K. Carpenter, Head of Global Acquisition and Sales for Green Apple Entertainment. "Their OTT subscription service made available across an array of devices positions themselves to scale their audience and become a leader in the faith and family marketplace. We're excited for their leadership, their future and our continued alliance for positive and uplifting content."
Green Apple Entertainment has initially licensed 16 titles on the Crossflix platform, including LIKE A COUNTRY SONG (Billy Ray Cyrus, Joel Smallbone), $5M budget WAR FLOWERS (Christina Ricci, Tom Berenger), TV-movie ON ANGEL'S WINGS (Robin Givens, Reginald Vel Johnson, Bill Cobbs), A DOG FOR CHRISTMAS (Richard Karn, Dean Cain) and THE WAY HOME (Dean Cain). The agreement was negotiated between Alan Mehrez and Joshua K. Carpenter.
Crossflix delivers a unique offering to the streaming entertainment market through exclusive faith-based movies and series as well as the acquisition of top titles and brands. At an introductory rate of $10.99 per month, consumers can enjoy unlimited access to Crossflix for less than the average cost of a single movie ticket.
For the launch, Crossflix is announcing a 14-day, risk-free trial at no cost for anyone who would like to experience the Internet television network. http://www.Crossflix.com
"We are passionate about not only sharing quality Christian entertainment but creating engaging programming that is educational in nature. Our team has created Crossflix to be the industry leader for audiences of all ages seeking faith-based programming that entertains, educates and inspires at an affordable price," shares Mehrez. "We are thrilled to launch and are excited to share groundbreaking new shows and films with the Crossflix audience."
About Crossflix:
Crossflix is a Christian Digital Internet Television Network delivering the best in faith-oriented streaming content, focused on entertainment, education and inspiration. Crossflix both licenses and produces films, documentaries, animated series and teaching products, including a groundbreaking 50 episodes of "The Living Bible Series". Launched by industry veteran Alan Mehrez, Crossflix meets the strong consumer demand for a quality destination for faith and family programming. A subscription-based platform, Crossflix is currently available on Roku, Apple TV, Amazon Fire, Google TV, Google Play, Google Chromecast, and on the Internet at http://www.Crossflix.com
##