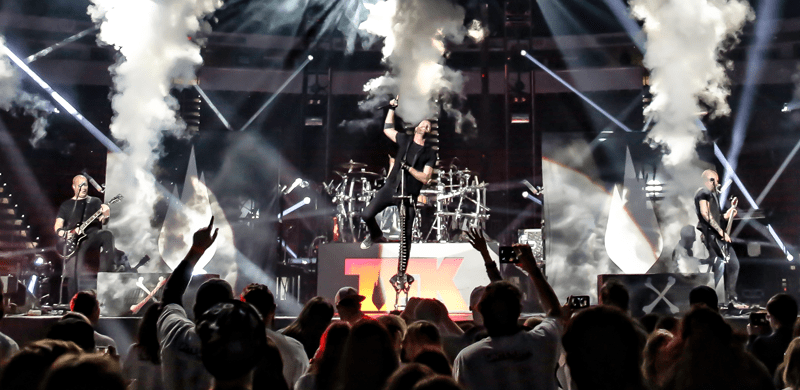 The first live-in-concert album in six years from rock favorites Thousand Foot Krutch, Untraveled Roads, releases globally today amidst acclaim on TFK Music with management, marketing, sales and distribution through The Fuel Music. The album is available now at iTunes, Amazon.com and Spotify, select Best Buy and Walmart store locations, and wherever great rock music is sold internationally.
Untraveled Roads was recorded in front of more than 462,000 music fans packing stadiums coast-to-coast earlier this year and experiencing TFK delivering its high-octane hits spanning the trio of independently-released, widely-acclaimed albums EXHALE (2016), OXYGEN:INHALE (2014) and The End Is Where We Begin (2012). Included on the 12-song recording are eight of the band's last nine Active Rock radio singles, including "Courtesy Call," "Running With Giants," "War Of Change," "Push," "Let The Sparks Fly," "Born This Way," "Light Up The Sky" and the title track, "Untraveled Road," which TFK unveiled as the first live-in-concert video from the project at www.youtube.com/user/tfkofficial.
"Untraveled Road" is also highlighted in Spotify's Rock Hard playlist while TFK frontman Trevor McNevan is featured in exclusive interviews with HardDrive with Lou Brutus, Screamer Magazine, Audio Ink Radio, CrypticRock.com, Alternative Revolt Magazine and more.
Along with the interviews, critics are chiming in, lauding Untraveled Roads: Tattoo.com's writer calls McNevan' s vocals "uninhibited" and says, "Hearing this album is the next best thing to seeing this band on stage. I urge you to do both." Shockwave Magazine similarly lauds the strength and versality of McNevan' s voice, saying, "This album is exactly what you'd expect from a band that has great live energy and strong musical talent." CCM calls TFK "one of the most explosive live bands of the last decade-and-a-half" as RARAS Farm adds, "McNevan's vocals are stellar throughout Untraveled Roads. He's got a dynamic voice and charismatic stage presence. He's an under-appreciated front man who shines on this album."
McNevan, band members Joel Bruyere (bass) and Steve Augustine (drums), and tour guitarist Andrew Welch recorded Untraveled Roads during this year's 46-city Winter Jam Tour Spectacular, the fourth largest first quarter tour in the world (Pollstar). The live album represents a season of extraordinary success as the band's last three indie records have already garnered over 455,000 albums sold, two million digital downloads and more than 300 million streams.
For all the latest band news and information, go to www.thousandfootkrutch.com, Bandsintown, Twitter, Instagram, YouTube, Google+ and Facebook, where TFK has well over one million likes.
About Thousand Foot Krutch:
Ontario, Canada-bred TFK has been a continuously escalating highlight reel since their formation in 1997. With over 1.5 million albums sold, 12 Active Rock radio hits, numerous soundtrack slots, plus a massive presence in professional sports, the group has literally infiltrated every facet of pop culture. Continuing to receive ongoing ESPN appearances, as well as various NASCAR, MLB, NHL, WWE, NCAA and NFL airings (including the 2010 Super Bowl), TFK has songs featured in EA Sports' NHL 2010 and 2013 video games and tallies about 30,000,000 monthly views in combined streaming across all of YouTube. Just since going independent in 2012, TFK has sold over 455,000 albums, two million digital downloads, garnered more than 300 million streams and charted nine Active Rock radio hits.
About The Fuel Music:
Established in 2008, The Fuel Music & Management, LLC, is a leading artist management and artist solutions company that independently distributes music internationally. Based in Nashville, TN, the Fuel team brings nearly 70 years of combined music industry experience in record label operations, major label distribution and marketing, and artist management for artists ranging from upstart bands to GRAMMY® Award nominated, multi-platinum artists. More information on the company can be found at www.thefuelmusic.com.
##