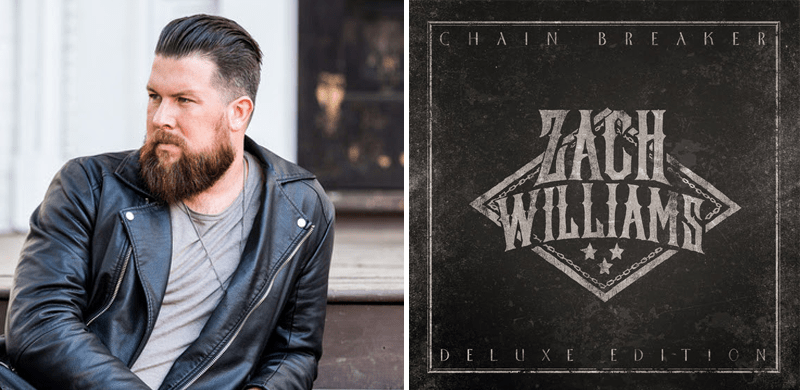 History Is Made As Williams Is The First Artist To Debut With Two Consecutive No. 1's;
"Old Church Choir" Continues To Top Radio For Fifth Week In A Row
15 September 2017 – Today, GRAMMY®-nominated artist and songwriter Zach Williams releases Chain Breaker: Deluxe Edition digitally with Provident Label Group/Sony Music. You can download here or stream the album here or by visiting his website. The physical version of Chain Breaker: Deluxe Edition will become available November 3.
As the follow-up to the ten-song Chain Breaker LP, which released last December, the deluxe version features 15 songs. New additions to the track listing are "Home," "Freedom," the live recording "Washed Clean," an Allman Brothers Band cover of "Midnight Rider," and "Promised Land" kicks off the new LP lineup.
Chain Breaker: Deluxe Edition also features the consecutive No. 1 hits "Old Church Choir" and "Chain Breaker."
"Chain Breaker" was Williams' debut single to hit radio, reaching the top spot for an astounding 15 consecutive weeks. With his follow up "Old Church Choir," which at press time is No. 1 at radio on multiple charts and holding for five weeks (NCA Monitored), Williams officially made history, according to Billboard, as the first debut artist to have two back-to-back No. 1 singles.
Chain Breaker: Deluxe Edition
Promised Land *
Song Of Deliverance
Chain Breaker
Old Church Choir
Survivor
To The Table
My Liberty
Fear Is A Liar
Everything Changed
Revival
So Good To Me
Home *
Midnight Rider *
Freedom *
Washed Clean (Live) *
*denotes new songs
ZACH AND "MIDNIGHT RIDER:"
Originally written and recorded by The Allman Brothers Band, Williams knew he had to include his version of "Midnight Rider" on the deluxe LP. With his own musical style being so heavily influenced by the band and due the passing of Gregg Allman earlier this summer, Williams also filmed an acoustic version of "Midnight Rider," and shared what the song, and band, mean to him.
"In 2012, I was in one of the lowest places of my life," Williams shares. "I found myself at a crossroads with a decision that would prove to be one of the hardest and most life-changing moments I have ever experienced. While touring through Europe with my former rock band, I was reading a book called My Cross to Bear, a story about Gregg Allman and his life on the road as the frontman for The Allman Brothers Band. I found myself much like him — soul-searching and in desperate need of a savior. A few days into reading the book, I heard the song 'Redeemed by Big Daddy Weave come on the radio while scanning stations on the bus, and that is a moment I will never forget. I believe God speaks to us all in different ways. At a time in my life where I was searching for something better, He used a book about a band that I loved – The Allman Brothers Band – and a song from a band I'd never heard of at the time – Big Daddy Weave – to tell me that I am forgiven and that He loves me, just as I am. I pray Gregg found the same peace I did before he passed. He is an artist whose music has inspired me as a songwriter and influenced my soulful, southern style. Over the years, I've had the opportunity to play the song 'Midnight Rider' countless times while touring in my former band. Though a painful past with years of hard living are now far behind me, this song is a reminder of the places I've been and the man I have become."
Watch Williams' acoustic performance below:
TOUR:
On October 5, Zach Williams will join Casting Crowns as they kick off the fall leg of their "The Very Next Thing Tour." Opening in Wise, VA, the tour runs through November 12 wrapping in Topeka, KS. Along with solo shows and festival dates through the rest of 2017, he will join the Rock & Worship Roadshow in the spring. Further tour plans are well underway for 2018, so stay tuned by visiting his tour page at ZachWilliamsMusic.com.
ABOUT ZACH WILLIAMS:
As a husband, father, singer, recording artist, songwriter and worship leader, Zach Williams is already making history. Achieving two consecutive radio No. 1 hits as a debut artist ("Chain Breaker," "Old Church Choir") Williams' music comes from a place of humility and honesty as his songs are a direct reflection of God's redemption in his life. "Chain Breaker" has already impacted millions of people around the world and even earned him his first GRAMMY® nomination (Best Contemporary Christian Music Performance/Song), a Billboard Music Award nomination (Top Christian Song) and winning a K-LOVE Fan Award (Breakout Single).
Apple Music chose him as Artist of the Week in December 2016, while "Chain Breaker" was the top track of 2016 on iTunes' Christian Songs chart and also reached No. 12 on Billboard's Hot Rock Songs chart. He has already toured with Chris Tomlin, Rend Collective, Big Daddy Weave and many more.
To download or listen to Chain Breaker: Deluxe Edition, please visit ZachWilliamsMusic.com and on his social links below.
Twitter
Facebook
Instagram
YouTube
##