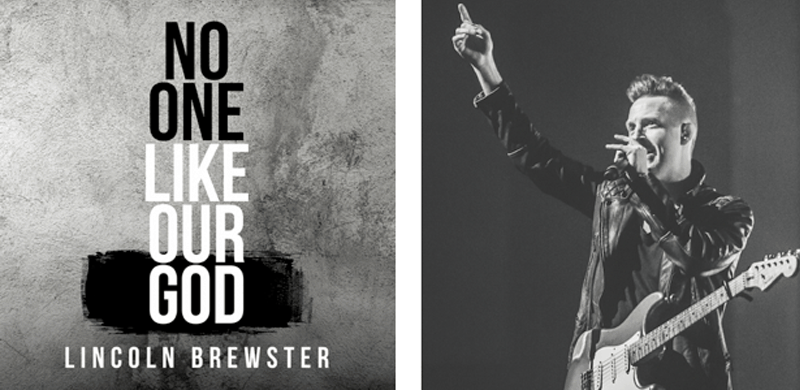 Celebrated worship leader Lincoln Brewster, known for church and radio favorites like "There Is Power," "Today Is The Day" and "Let The Praises Ring," releases his first new music in over three years with the single "No One Like Our God," available globally September 15 through Integrity Music.
The track, which is available to radio and digital platforms, is the first release from Brewster following his critically acclaimed 2014 album Oxygen. "No One Like Our God" is also the first track from a new project – his 10th album – in production and set for release March 2018.
Brewster, a senior pastor for Bayside Church near Sacramento, California, penned the song with worship team members Corbin Phillips and Taylor Gall, working with producer Colby Wedgeworth (Colton Dixon, Laura Story, Tenth Avenue North), who will also co-produce the new album.
What is this love that won't relent / That's calling out with heaven's breath…
What is this grace that makes no sense / That we could never recompense…
Only You… There is no one like our God
About Lincoln Brewster:
Music has been an integral part of Lincoln Brewster's life since early childhood when he began accompanying his mom to her band rehearsals. By age five, he was playing the mandolin and at age nine, he had picked up the electric guitar. That gift and love of music took him down a winding road that included a season touring and recording with legendary rocker Steve Perry (Journey) along with offers from mainstream labels, all before he was 21. But Brewster, who had made a commitment to Christ in his late teens, walked away from a mainstream music career to take a position at his local church. Years after leaving behind dreams of rock stardom, this husband and father once again finds himself sharing music with capacity crowds at concerts and festivals, this time leading them in worship with songs like "There Is Power," "Made New," "Today Is The Day," "God You Reign," "Love The Lord" and "Let The Praises Ring." Additional information is available at http://lincolnbrewster.com or by following Brewster on Facebook at https://www.facebook.com/LincolnBrewsterMusic and Twitter @lincolnbrewster.
About Integrity Music:
Integrity Music is part of the David C Cook family, a nonprofit global resource provider serving the Church with life-transforming materials. With offices in Nashville, Tennessee (US) and Eastbourne, East Sussex (UK), Integrity is committed to taking songs of substance to the local church and its leaders around the world. Integrity publishes many of the top songs in the Church, including "Great Are You Lord," "Revelation Song," "Open The Eyes Of My Heart," "Your Great Name," "I Am Free," "How He Loves," "Great I Am," and "We Believe," among others. Additional information is available at www.integritymusic.com.
##