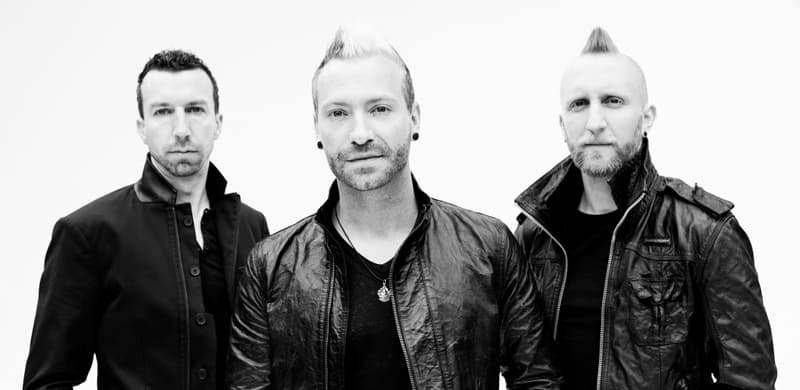 Third Single From EXHALE Hits SiriusXM Octane's Top 10
As Revolver Magazine-Premiered Lyric Video Gathers 1.95 Million Views So Far
TFK Spotify Channel Grows To Nearly One Million Monthly Listeners
Rock favorites Thousand Foot Krutch have charted nine Active Rock hit singles since going independent in 2012. The aggressive follow-up to the band's 2014 album, OXYGEN:INHALE, EXHALE has already sparked the Loudwire Cage Match Hall of Fame video and hit single, "Running With Giants," while its hard-hitting follow-up single, "Push," broke down barriers and remained Top 15 on SiriusXM Octane's Big 'Uns Countdown chart for three consecutive months. The momentum is continuing as TFK extends its Top 10 (No. 7) Big 'Uns Countdown hit and third single from the album, "Lifeline."
"So I'm pushing the buttons down to Octane, and I get hooked on this song 'Lifeline' by Thousand Foot Krutch," says respected music critic Bob Lefsetz in his Lefsetz Letters blog this week. "Its energy and forcefulness tapped into my anger…Maybe they'll come through town and I can listen to the album ad infinitum to go thrust my arm in the air…"
"I've read Bob's stuff for a while now, and secretly wondered if he'd take notice of what's been happening in our independent years," responds TFK lead vocalist, songwriter Trevor McNevan. "Love that he is connecting with the song and look forward to seeing him on the road.
"'Lifeline' is about a time in my life when I was feeling very overwhelmed, to the point of anxiety," continues McNevan. "I felt like I was drowning in the waves of everything around me, and battling my own rational. The feeling of being alone in isolation wasn't true, but it sure felt like it."
In his blog, Lefsetz also urges music fans to listen to "Lifeline" at Spotify and YouTube. Premiered by Revolver, the YouTube lyric video already has over 1.95 million views, while TFK's Spotify channel has surpassed 258,000 follows and continues to rapidly grow. In fact, over the last two months alone, the channel has grown from around 650,000 monthly listeners to nearly 1,000,000 unique monthly listeners.
Staying true to themselves, Thousand Foot Krutch members McNevan, bassist Joel Bruyere and drummer Steve Augustine have carved an independent path that continues to rack-up accolades well beyond its major label successes. EXHALE launched this past summer amidst wide acclaim on TFK Music and with marketing, sales and distribution through The Fuel Music. In addition to the singles aforementioned, the album features riff rockers "Incomplete" and "Give Up The Ghost," second chances-themed "Born Again," and "A Different Kind Of Dynamite," which was tapped as the official theme song for the Dec. 18 WWE "Roadblock: End of The Line" pay-per-view event. The album also hit No. 1 on iTunes' Rock Top Albums chart (No. 3 overall Albums) in the US with Top 5 overall albums chart placement in multiple countries. The album further became the band's third consecutive No. 1 on the Top Christian/Gospel Albums chart.
Taking the new arena-shaking anthems and fan favorites on the road to see their extended family of fans coast-to-coast, TFK was featured for the first time this past summer on the mainstage at Monster Energy Carolina Rebellion and Rocklahoma, and is currently taking its music to arenas across America on the Winter Jam tour. All the latest tour news and band information can be found at www.thousandfootkrutch.com, Twitter, Instagram, YouTube, Bandsintown and Facebook, where the band has over one million likes.
About Thousand Foot Krutch:
Ontario, Canada-bred TFK has been a continuously escalating highlight reel since their formation in 1997. With over 1.1 million albums sold, 11 Active Rock radio hits, numerous soundtrack slots, plus a massive presence in professional sports, the group has literally infiltrated every facet of pop culture. Continuing to receive ongoing ESPN appearances, as well as various NASCAR, MLB, NHL, WWE, NCAA and NFL airings (including the 2010 Super Bowl), TFK has songs featured in EA Sports' NHL 2010 and 2013 video games and tallies about 30,000,000 monthly views in combined streaming across all of YouTube. Just since going independent in 2012, TFK has sold over 455,000 albums, over a million singles, garnered more than 206 million streams and charted nine Active Rock radio hits.
About The Fuel Music:
Established in 2008, The Fuel Music & Management, LLC, is a leading artist management and artist solutions company that independently distributes music internationally. Based in Tennessee, the Fuel team brings nearly 70 years of combined music industry experience in record label operations, major label distribution and marketing, and artist management for artists ranging from upstart bands to GRAMMY Award nominated, multi-platinum artists. More information on the company can be found at www.thefuelmusic.com.
##