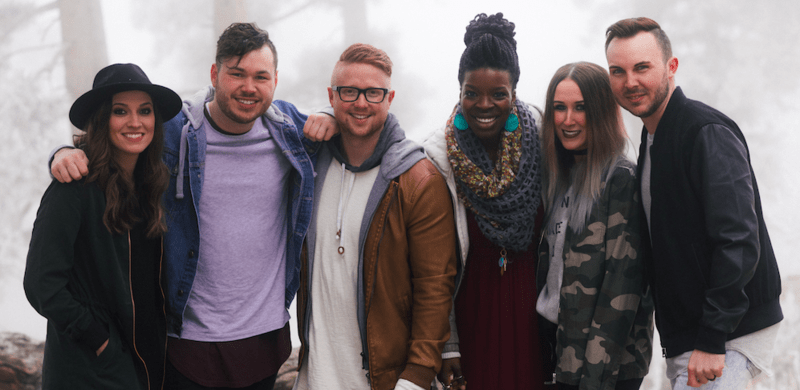 Red Rocks Worship is L-R: Nicole Serrano, Kory Miller, Jake Espy, Adaeze Azubuike, Jerrica Matrone, Tyler Roberts (not pictured: Dave Anderson, Brinnae Keathley, Emily Franklin)
A Live Stream Of The Recording Will Be Available On Essential Worship's Facebook Page
May 10, 2017 – DENVER, CO – In partnership with Sony Music/Essential Worship, Red Rocks Worship will record their label debut full-length album live tomorrow, Thursday, May 11 to a sold-out audience at Denver's iconic Paramount Theatre. A live stream of the recording will be available on Essential Worship's Facebook page beginning at 9:30pm ET / 8:30pm CT.
Red Rocks Worship is the worship ministry of Colorado-based Red Rocks Church. Founded in 2005 with 100 people attending a service at Heritage Square Theme Park, to now with more than 25,000 people attending Easter 2017 services across its seven campuses, Red Rocks Church is one of the fastest-growing churches in America. Formed as an extension of the church, Red Rocks Worship is comprised of nine worship leaders and songwriters who have a passion to bring their love of Jesus to people through music.
"The heartbeat behind our music is to cultivate communities that pursue God's presence while creating a real and authentic environment for people to respond in worship," says Tyler Roberts, the Ministry Leader of Red Rocks Worship.
In addition to the thousands who attend weekend services at one of their seven locations, Red Rocks Worship has nearly 40,000 monthly listeners on Spotify and more than 4,000 people who tune in to the church's Online Campus and Facebook Live broadcasts each week.
The live album is being produced by Jeremy Edwardson and scheduled to release later this year. On September 19, Red Rocks Worship will join other acclaimed contemporary Christian music groups such as Jesus Culture, United Pursuit, and singer-songwriter Josh Garrels at Worship on the Rocks at Red Rocks Amphitheatre.
Further information about Red Rocks Worship can be found at RedRocksWorship.com and on the social media links below.
Twitter
Facebook
Instagram
##