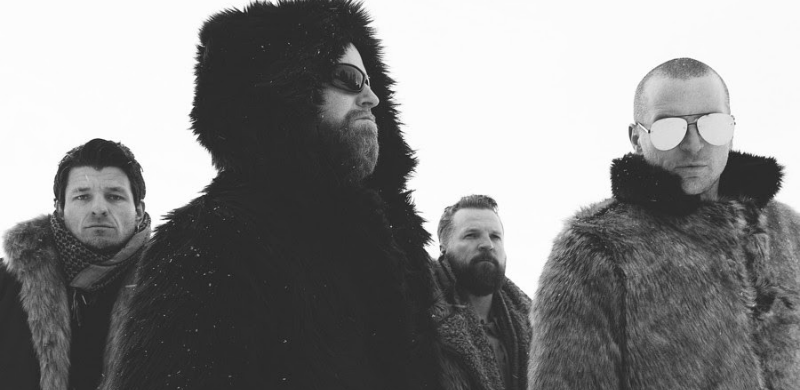 Award-Winning Band Signs Global Distribution Agreement
With The Fuel Music
Loudwire Breaks Label, Distribution News, Premieres Video, Short Film
As SiriusXM Octane, hardDrive, Music Choice Spin "The Evening Hate"
GRAMMY® nominated, RIAA Certified Gold-selling rock band RED releases "The Evening Hate" June 7 on its newly formed RED ENTERTAINMENT label with distribution for the first time from The Fuel Music (Thousand Foot Krutch, Adelitas Way, Lacey Sturm) into digital and streaming outlets globally.
Along with the single's release, major rock outlets SiriusXM Octane, hardDrive with Lou Brutus, hardDrive XL and Music Choice are already featuring the track as Loudwire breaks the new label and single news. Loudwire also premieres today "The Evening Hate" video and short film written, directed and produced by RED and starring the band at https://loudwire.com/red-new-song-evening-hate-video/.
"'The Evening Hate' dives into the deep-seeded hatred that everyone has felt at some point or another," says RED bassist Randy Armstrong as the band borrows the song's title from the nickname coined by World War I frontline trench soldiers in 1915 regarding the relentless enemy bombing. "While we all experience or witness hate throughout life, whether it be physical, mental or emotional, we all have the ability to crawl out and rise above such a tremendous adversary, hell bent on division and destruction. Without hate, the world would never know what true love really is."
Logging over two million albums sold, two Top 10 Billboard 200 albums, three RIAA Gold certifications, 24 No. 1 songs and 2,500 concerts across 25 countries, the band, comprised of Michael Barnes (vocals), identical twin brothers Anthony (guitars) and Randy Armstrong, and longtime live drummer, now official band member, Dan Johnson, is ready to take over the creative reigns going forward with the formation of RED ENTERTAINMENT and the support of its fans.
"RED's greatest outside strength has always been their loyal legion of fans affectionately known as the REDNATION," says Randy. "They are the only ones who've shown as much heart, soul and love for this band and we wouldn't be here without them."
"We want the next chapter of RED to be the most-true to who we are as a band, and it's the fans that have always kept us going," adds Anthony. "Now with total control, fans won't have to wait for music to come out every two to three years! We can do what we want, when we want and with whomever we want in order to make the best rock music we know how."
"We are so grateful for your love and support and the best way we know how to say thank you is by bringing you great music for years to come," continues Barnes.
Taking the new single, "The Evening Hate" and a bevy of its No. 1 hits and fan favorites on the road, the band will soon announce a major fall tour.
All the latest RED tour, news and more can be found at www.thebandred.com, Instagram, Twitter, YouTube, Spotify and Facebook where they have nearly one million likes.