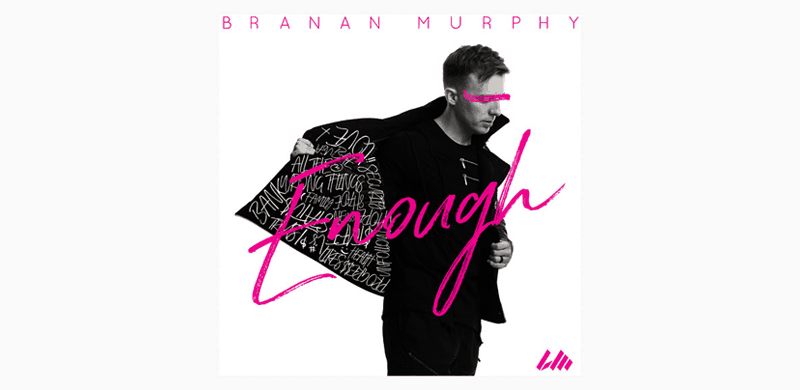 NASHVILLE, TENN. (SEPTEMBER 22, 2017) – Sony/Provident's Essential Records pop artist Branan Murphy is dropping a new digital single today titled, "Enough." Click here to check out this new song as well as to see the newly released lyric video. The new track is the follow-up to Murphy's chart-topping label debut single, "All The Wrong Things," that featured "The Voice" Season 8 finalist and RCA Inspiration recording artist Koryn Hawthorne. The single was also featured on multiple top playlists at digital providers such as "Summer 2017," "The Hits," "Pop Matters," "Now Hear This," "Up Next," and more.
"We are so quick to forget our first love," explains Murphy of the new song. "Life happens and you look back wondering, 'How did I get here? Things used to be so good!' We are always hustling, trying to chase down the next thing in life thinking it will be the thing to satisfy us, but if we're not careful, life will be a constant pursuit of satisfaction without contentment. The song is about keeping it real with that struggle."
About Branan Murphy:
Pop recording artist and singer-songwriter Murphy is no stranger to the stage. While in high school, Henry "Hank" Branan Murphy began writing songs and singing in his church. By age 18, he devoted himself to a career in music and spent several years performing at events all over the U.S., even releasing two independent projects. In 2011, the Louisville, GA native relocated to Raleigh-Durham, NC and began writing his brand of "conscious pop". He soon released SMPLFY, a mixtape showing off his skills as a vocalist, rapper, songwriter and producer. In early 2017, he released his label debut single, "All The Wrong Things," which became a No. 1 single.
"I write songs about what it's like to be human – my own brand of conscious pop,'" Murphy shares. "We are all complex people. We have struggles. We have contradictions. We have deep desires. We are all seeking to be loved, understood and satisfied. My songs attempt to capture those deep emotional, even spiritual, yearnings we have as human beings. The bottom line is that I want to make great art, but most of all I want to be honest. I want to sing about what people are really going through."
https://brananmurphy.com
Twitter
Facebook
Instagram
##