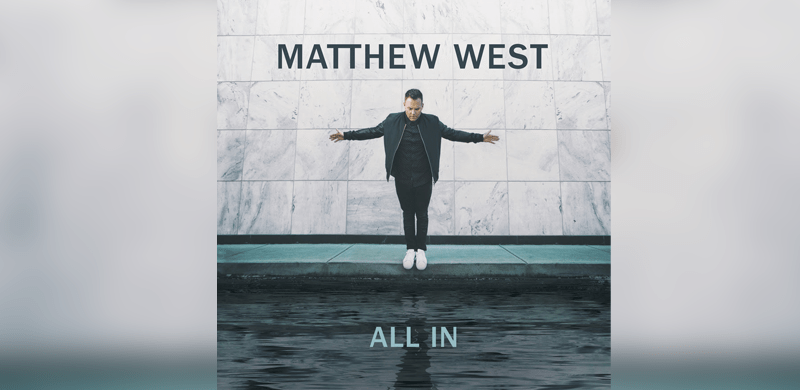 West wins Second ASCAP Christian Music Songwriter of the Year Award, kicks off headlining tour with sold-out show in Houston
Nashville, Tenn. (Sept. 22, 2017) – All In, the newest from four-time GRAMMY® nominee Matthew West, is available worldwide today. The 14-track release includes West's hit single, "Broken Things," which quickly became a radio favorite, and already sits at No. 2 on Christian Airplay and AC Indicator charts.
Since 2009, West has received well over 40,000 stories from people around the world with several tracks from All In dedicated to their stories of battling cancer, overcoming addiction and more. Now, for the first time in several years, the new album also contains songs that heavily reflect the personal stories of West and his desire to go "all in" in every area of his life including faith, family and relationships.
Critics are applauding his personal tone with LifeWay's HomeLife sharing "(All In) reminds us why West is one of Christian music's most astute lyricists," and New Release Today describing the album as "Carefully crafted by a writer who doesn't shy away from baring his heart and allowing a refreshing authenticity to invade his music." Called "an undeniable success and great achievement," by The Christian Beat, Patheos adds that "whether a listener is contemplating the big questions of faith or needing encouragement in their life…there's something there for everyone." In support of his eighth album, West is releasing a string of acoustic and lyric videos supporting tracks on the record.
Earlier in the week, West earned his second ASCAP Christian Music Songwriter of the Year award. He also earned three ASCAP most-performed song awards for his own chart-topping single, "Mended," as well as "One Step Away," recorded by Casting Crowns and "Tell Your Heart to Beat Again," recorded by Danny Gokey. A tenured songwriter, West has over 100 songwriting credits to his name for artists in multiple genres. Music Row recently sat down with him to dive more into his musical journey, and describes his latest effort as "turning his songwriting talents on his own story, and in the process, crafting his most personal album to date."
His headlining "All In" Tour began its nationwide trek with a sold-out show in Houston last night. The 30+ city tour, which also features Gospel Music Association (GMA) Dove Award winner for New Artist of the Year (2016) Jordan Feliz and special guest Leanna Crawford, will travel throughout the Midwest, North, South and Southeast, hitting markets such as San Antonio, TX, Des Moines, IA, and Lakeland, FL. For the latest tour schedule, visit www.MatthewWest.com.
About Matthew West:
Matthew West is a four-time GRAMMY® nominee, a multiple-ASCAP Christian Music Songwriter/Artist of the Year winner and Dove Award recipient, and was awarded an American Music Award (2013), a Billboard Music Award (Top Christian Artist, 2014), a K-LOVE Fan Award (2016), and named Billboard's Hot Christian Songwriter of the Year (2016). West also received a Primetime Emmy® Award nomination for Original Music & Lyrics for "The Heart of Christmas" from the film of the same name. In addition to his own recording career, he has co-hosted the K-LOVE Fan Awards three times and has more than 130 songwriting credits to his name, including cuts by Rascal Flatts, Scotty McCreery, Michael W. Smith, Amy Grant, and Mandisa, among others, and number one cuts by Casting Crowns and Danny Gokey. Selling more than 1.6 million albums to date (TEA), West's discography includes acclaimed releases: All In (2017), Live Forever (2015), GRAMMY-nominated Into The Light (2012), The Story of Your Life (2010), Something to Say (2008), History (2005) and Happy (2003).
Well known for communicating stories through song, Matthew West has received thousands of stories from around the world. His studio album, Live Forever (2015), continued that storytelling theme and debuted at No. 1 on the Billboard Christian Sales Chart. He has obtained numerous No. 1 singles, most recently with "Grace Wins," while achieving a record-setting No. 1 for 17 straight weeks at radio with "Hello, My Name Is" and "The Motions" for 15 weeks.
Adding author to his list of accolades, West has written five books to date: Give This Christmas Away, The Story Of Your Life, Forgiveness, Today Is Day One, and his newest release, Hello My Name Is. He is also passionate about providing hope and healing through the power of prayer and story, so along with his father Pastor Joe West he founded popwe, a non-profit ministry helping others to craft, share, and live a more meaningful life. Please visit popwe.org for more information.
Get Connected to Matthew West:
Website: www.matthewwest.com
Facebook: https://www.facebook.com/matthewwest
Twitter: https://twitter.com/matthew_west
Instagram: @matthewjwest
Youtube: https://www.youtube.com/user/MatthewWestVEVO
##