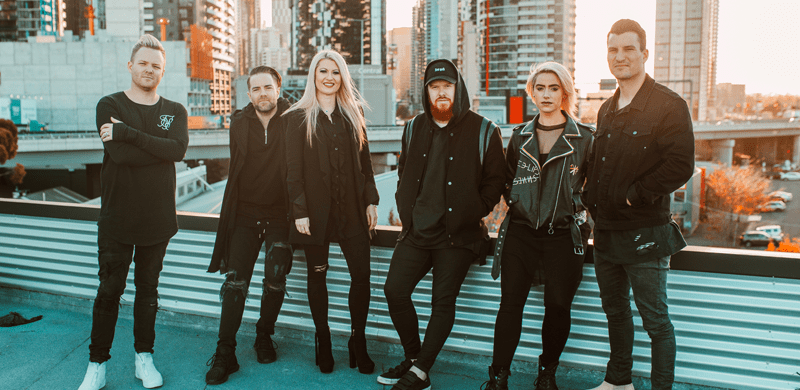 Over the past 20 years, Melbourne, Australia's Planetshakers ministry has been hosting conferences that draw thousands from around the world for life-changing encounters with God. The music at these events has been captured on recordings by Planetshakers Band, including two Dove Award nominated albums. On July 14, the team returns with Legacy Part 2: Passion, featuring new songs recorded live with 20,000 worshipers during the 4-day Planetshakers conference held this past April and broadcast by Daystar TV.
Legacy Part 2: Passion follows the spring release of Legacy Part 1: Alive Again, featuring songs recorded live in Manila, Philippines and Kuala Lumpur, Malaysia, and precedes the release of the Legacy album (CD/DVD) this September. The new EP will be available through all major digital platforms with a pre-order available now at Legacy Part 2. The EP includes live audio tracks and corresponding videos for the songs "Passion," "Prophesy," "We Speak Life" and "You Call Me Beautiful" with worship leaders Joth Hunt, Sam Evans and Rudy Nikkerud.
"It's a great privilege to be part of the legacy known as Planetshakers," says Evans, who along with her husband Russell serve as senior pastors of Planetshakers Church. "Our hope is that Legacy captures the freedom of praise and the power of the encounter because we can't keep this experience to ourselves."
Planetshakers will share new music and favorites like "The Anthem," "Endless Praise" and "Nothing Is Impossible" this summer as they tour Europe with events in Austria, Germany, Switzerland, Slovakia, Netherlands, Sweden, Norway and Denmark. The team then heads to the U.S. for dates in Virginia, New York, Texas, Oklahoma, Ohio, Illinois, Minnesota and Nebraska.
Russell and Sam Evans began hosting Planetshakers conferences in 1997 and the first Planetshakers band was formed at that time to lead worship for the events. The couple later planted Planetshakers Church, which has grown to a 14,000-member congregation with five campuses in Australia and campuses in Cape Town, South Africa; Austin, Texas; Singapore; and Geneva, Switzerland.
"For 20 years, we have been passionately lifting up the name of Jesus and releasing the sound of praise," says Russell Evans. "It started with a God-inspired idea to start a conference called 'Planetshakers'… we didn't know what Planetshakers was, we just stepped out in faith and did it."
"Jesus spoke the language of the day, but He also backed it up with power… power to heal the sick, see breakthrough and restoration in people's lives," he adds. "That's why we do what we do, to set an atmosphere where people can encounter Jesus."
For more information on the music and ministry of Planetshakers, visit Planetshakers.com.
About Planetshakers:
At its core, Planetshakers seeks first and foremost to pursue the presence of God. All expressions of Planetshakers, including Dove Award-nominated Planetshakers Band, which is known for worship favorites such as "Endless Praise," "Nothing Is Impossible," "This Is Our Time" and "The Anthem," find their source in the local church. Planetshakers Church campuses are located in Melbourne, Australia; Cape Town, South Africa; Austin, Texas; Geneva, Switzerland and Singapore. In just over twelve years, Planetshakers Church in Melbourne has grown to over 14,000 members under the leadership of Senior Pastors Russell and Sam Evans. The husband and wife team also host Planetshakers TV, a 30-minute Christian television program broadcast in over 100 countries.
Planetshakers Church is further involved in numerous community and charitable causes, including prison ministry, student/anti-bullying programs, refugee outreach, disaster relief and welfare assistance. It recently helped bring significant social and spiritual reformation to villages in the African nation of Malawi, where poverty was defeated after seven years into a 15-year plan. It also partners with World Vision to assist in urgent humanitarian crises around the world, and runs Planetshakers College in Melbourne, which equips local and international students to impact their world for Christ.
About Integrity Music:
Integrity Music is part of the David C Cook family, a nonprofit global resource provider serving the Church with life-transforming materials. With offices in Nashville, Tennessee (US) and Eastbourne, East Sussex (UK), Integrity is committed to taking songs of substance to the local church and its leaders around the world. Integrity publishes many of the top songs in the Church, including "Great Are You Lord," "Revelation Song," "Open The Eyes Of My Heart," "Your Great Name," "I Am Free," "How He Loves," "Great I Am," and "We Believe," among others. Additional information is available at www.integritymusic.com.
##