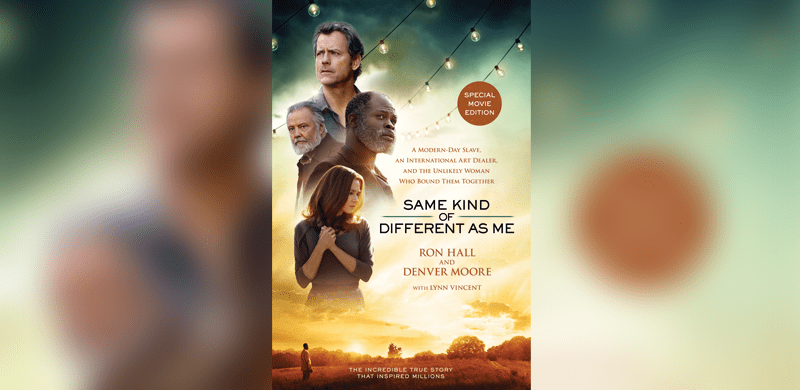 The story of an international art dealer, an emotionally scarred homeless drifter, and the unlikely woman who bound them together
NASHVILLE, Tenn. (September 18, 2017) – With over one million copies sold, the New York Times bestseller Same Kind of Different as Me, chronicles the unlikely, yet inspiring friendship between international art dealer Ron Hall, who befriends Denver Moore, a homeless man, in hopes of saving his struggling marriage to Debbie, a woman whose dreams will lead all three of them on the most remarkable journey of their lives. In Denver's own profound words, it is "the story of a nobody that is tryin' to tell everybody about somebody that can save anybody."
An updated movie tie-in edition which features a 16-page color photo insert, a new epilogue and the amazing story behind how the film was brought to the big screen, is available tomorrow, September 19, 2017 from the W Publishing Group (an imprint of Thomas Nelson). The release coincides with the forthcoming Paramount Pictures and Pure Flix big screen adaptation of the same name, in theaters October 20, 2017. "Through this movie edition, I am thrilled to update fans on all things relevant to our story since we first published the book," said Ron Hall. "In the new chapters, I share personal tragedies like losing Denver and take you on a roller coaster ride telling how our story became a major Hollywood movie, and most of all, how you as a reader can share our book with friends to help them see homelessness through the lens of God." This true story is perhaps even more timely today than when the book initially released in 2008 as it shares a message of love, friendship, forgiveness and a better way forward in the midst of racial and socioeconomic divides. A division not caused by skin color, financial means, or even homelessness, but by the condition of the heart.
Connect with Ron Hall:
Book Website: http://www.samekindofdifferentasme.com/
Facebook: https://www.facebook.com/samekindofdifferentasme
Movie Website: www.samekindofdifferentasmemovie.com
About Ron Hall:
Ron Hall was an international art dealer whose long list of regular clients includes many celebrity personalities. He is an MBA graduate of Texas Christian University, New York Times bestselling author of Same Kind of Different as Me and What Difference Do It Make?, and champion for America's homeless. Ron divides his time between Dallas, New York, and his Brazos River ranch near Fort Worth as he continues to speak across the country to raise awareness and funds for homeless missions.
About Denver Moore:
Denver Moore, co-author of Same Kind of Different as Me and What Difference Do It Make?, was born in rural Louisiana in January 1937. He was a homeless drifter until he was sentenced to Louisiana's Angola Prison, where he resided until 1976. For the next 22 years he was homeless on the streets of Fort Worth, Texas. In 1998, Debbie Hall met him and his life was changed forever. Denver continued to live his life as an artist, public speaker, and volunteer for homeless causes. In 2006, the citizens of Fort Worth honored him as "Philanthropist of the Year" for his work with homeless people at the Union Gospel Mission. On March 31, 2012, the gates of heaven swung open wide for Denver. He was 75 years old when he was reunited with "Miss Debbie" and leaves behind millions of folks forever changed by his testimony.
About Thomas Nelson:
Thomas Nelson, a division of HarperCollins, is a world-leading provider of inspirational content and has been providing readers with quality life-changing product for more than 200 years. The publishing group provides multiple formats of award-winning Bibles, books, gift books, cookbooks, curriculum and digital content, with distribution of its products in more than 100 countries. Thomas Nelson is headquartered in Nashville, TN. For additional information, visit www.thomasnelson.com.
Same Kind of Different as Me: Movie Edition
By Ron Hall and Denver Moore
Thomas Nelson Publishers
Available: September 19, 2017 ISBN: 9780718077297 Price: $16.99
Page Count: 240 Paperback
Category: Biography & Autobiography
##