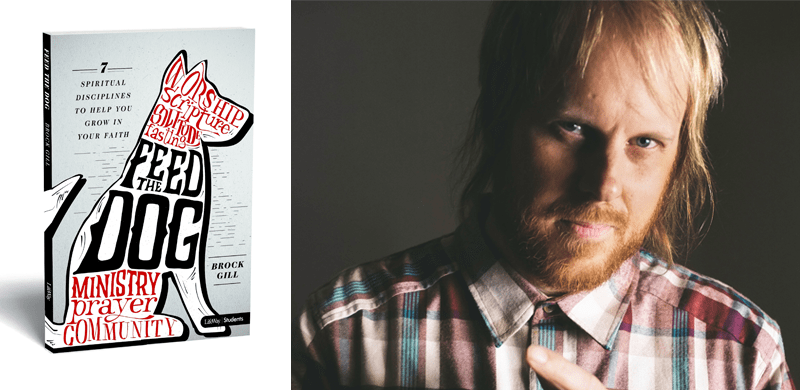 Gill Celebrates 20 Years In Ministry With First Book, Companion Interactive Video; Is Featured On Big Church Night Out Tour With Newsboys, Sidewalk Prophets, More
Celebrating 20-years of ministry, astounding audiences around the world with his edgy, daring and unique performances as one of this generation's leading illusionists, Brock Gill will release his first book, Feed The Dog: 7 Spiritual Disciplines to Help You Grow in Your Faith, on Oct. 2 though LifeWay Christian Resources. The 112-page paperback book and companion Leader Kit takes participants through seven disciplines to feed the spirit: prayer, scripture reading, fasting, solitude, worship, ministry and community.
Included with the Leader Kit is a DVD for group study that features eight interactive video sessions complete with illusions and teachings by Gill. Both the book and Leader Kit are available to preorder now from http://brockgill.com/shop/feedthedog. Gill is also offering a "sneak peek" of the first chapter of the book to everyone at http://brockgill.com/shop/feedthedogch1.
"These disciplines have become so important to me on a personal level," says Gill, "and I realized that these are basic things that a lot of people in our culture are missing out on. I developed Feed The Dog especially for students, but it's really for everybody."
The title and core message of this biblically-rooted, gospel-centered book was inspired by an old parable about a man who had two dogs that were constantly at war with each other. One of the dogs was good, representing virtues like loyalty and kindness. The other dog was bad, representing vices such as hatred and lust. In the end, the dog that won was the one he fed.
In the same way, Gill sees two fundamental natures at work battling for our attention daily, both a sinful flesh and a righteous spirit. "Through Christ, we have the ability to choose which nature we will 'feed,' leading us either further away from or closer to His likeness," says Gill.
With a passion for reaching people with the disciplines he puts into practice and the hope of the gospel that changed his own life, Gill has taken his ministry around the world. This fall, he will lead tens of thousands as the main speaker, sharing the gospel message, as well as some 'mind-blowing' illusions, during the first-annual Big Church Night Out Tour that launches Sept. 21 in Montgomery, AL's Garrett Coliseum. This significant, 43-city tour is designed to be like a big arena church service that also features Newsboys, Sidewalk Prophets and more well-known Christian recording artists.
"One week I'm at a chapel service at a college, the next I'm in Haiti, and the next week I'm on tour with the Newsboys," Brock shares. "Every time you see my show, wherever I am, something about it is going to be unique, because we're tailor making the material. The show is special every single time, and I love being able to tell people about Jesus this way."
About Brock Gill:
From a prime spot on Winter Jam–one of the world's largest touring stages—to appearances on such high-profile platforms as America's Got Talent, Fox News' Fox & Friends show, the GMA Dove Awards, outreaches led by Franklin Graham and Luis Palau, and the three-hour Discovery Channel special, the Miracles of Jesus, which took him to Malta and Israel as the lead investigator of Christ's signs and wonders, Gill has entertained the masses while sharing his passion for the gospel.
Having released Alive On Stage (2010) and three more DVDs designed to be practical evangelism tools, Brock has also shared the stage with David Platt, John Piper, David Nasser, Adrian Rogers, TobyMac, for KING & COUNTRY, Skillet, Mercy Me, Casting Crowns and more. He has further performed for such organizations as Focus On The Family, BigStuf Camps, Student Life and Superwow, and on tours such as Livin' It with Stephen Baldwin and Christ in Youth's Believe tour.
Gill, along with his wife Auny, who assists him on stage and is the author of Thrill Ride, founded the nonprofit Caliber Outreach, an organization that sends creative evangelists out into the world and provides evangelism training for those eager to share their faith, strengthen churches and strategically advance the gospel through creative methods. Through this outreach, the Gills have entertained Muslim refugees overseas, prisoners in Nicaragua and others in Egypt, Greece, Australia, Honduras, the Dominican Republic, and more countries around the world.
Additional information on Brock Gill, including his book, touring and more, can be found at www.BrockGill.com, and on his Facebook, Twitter, Instagram and YouTube sites.
##