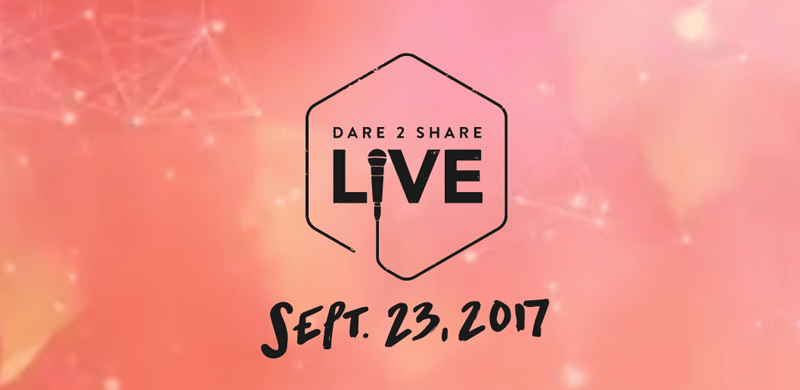 On September 23, 69 Churches Across the Nation will Simultaneously Empower Teens to Boldly Begin 300,000 Faith Conversations
Live Stream from Denver will Feature Top Talent, Including Tenth Ave North, Propaganda, Greg Stier, The Skit Guys and More
Arvada, CO – Denver-based Dare 2 Share is preparing for an unprecedented event combining worship, community service, and training teens to share their faith in an authentic, tangible way. On September 23, 2017, Dare 2 Share LIVE will be broadcast from a flagship event in Denver, Colorado, and streamed to 69 host sites nationwide. The Denver event will feature prominent speakers and artists such as Greg Stier, Propaganda, Tenth Avenue North, Zane Black, and The Skit Guys, while each local site will have their own music teams and emcees as well.
Greg Stier, Founder and CEO of Dare 2 Share stated, "We are honored that so many churches of all denominations have joined together to be a part of Dare 2 Share LIVE. We know that teens have the power to change our communities for the better. We are praying that God works in incredible ways on September 23rd and that our cities will forever be impacted by youth who are committed to impacting their community through service and sharing the good news of Jesus Christ."
Throughout the day, all locations will participate in corporate worship and training and coordinated local events. In order for all participating to be able to serve simultaneously, the event will be set by time-zone:
Eastern Time: Noon-7:30pm
Central Time: 11:00am – 6:30pm
Mountain Time: 10:00am – 5:30pm
Pacific Time: 9:00am – 4:30pm
Alaska Time: 8:00am – 3:30pm.
Over the past 25 years, Dare 2 Share has inspired and equipped over 1 million Christian teenagers and youth leaders to engage in spiritual conversations through conferences, training curriculum and resources. In this one-day event, Dare 2 Share LIVE will engage over 50,000 students and youth leaders to initiate up to 300,000 gospel conversations in one day.
A teen-led evangelism movement, Dare 2 Share LIVE will be a national, multi-site training event that is designed to spark a movement of gospel conversations and reach this next generation for Christ. Utilizing technology that students are accustomed to, the event is structured to inspire teens as they are trained to relationally share Christ, and then empower them to reach out to both their local communities and their social networks.
"We wanted to create an experience that combined local community impact with the energy of a national evangelism training conference," explains Stier. "Dare 2 Share LIVE is the rally point for a revival! We believe that teens are uniquely poised to make a positive impact on their communities and this country. On September 23 we will see movements materialize as students are unleashed and empowered to engage their circles of influence with the gospel of Jesus. I believe we can change our nation in one day. The gospel is that powerful and teens are that revolutionary."
To find a local event in your area, please see http://www.dare2sharelive.org
About Dare 2 Share
Founded in 1991, Dare 2 Share's mission to Energize the Church to Mobilize youth to Gospelize their world has led them to train and provide resources to hundreds of thousands of students and youth leaders. The focus on relational evangelism training has made Dare2 Share the go-to teen evangelism training resource for youth leaders and churches in the United States who want a Gospel Advancing Ministry that accelerates the spiritual growth of their teens and impacts their communities with the good news of Jesus Christ. http://www.dare2share.org
##