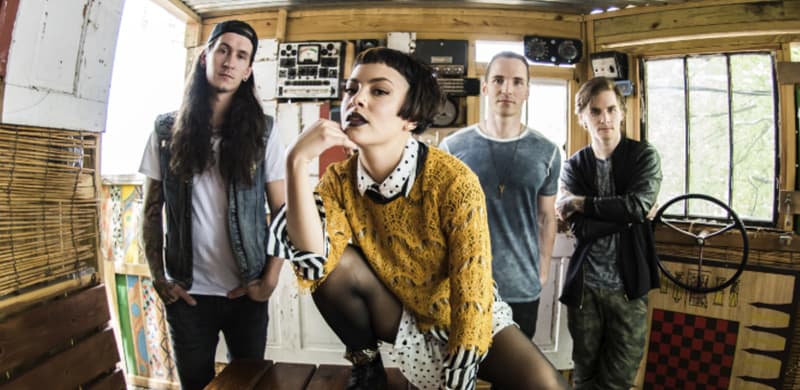 "STILL BREATHING," THE NEW SINGLE FROM VERIDIA DEBUTS TODAY ON ALL DIGITAL FORMATS, IMPACTS RADIO NEXT FRIDAY, SEPT. 23;
Veridia Is Currently In The Studio Recording For New Album Releasing Next Year
Nashville, Tenn – (16 September 2016) – Today alt-rock band VERIDIA announces the release of their newest single, "Still Breathing," which is now available on all digital formats. The song will impact radio next Friday, September 23.
"Still Breathing" will be featured on the band's new album, which they are currently in the studio recording and planning for a 2017 release. The single can be found on both Spotify and iTunes. Hear the official audio below:
"'Still Breathing' is a reminder that every day is a gift," Veridia's Deena Jakoub shares about the song's impact, not only on the band but for the listener. "Hardship is inevitable, and those seasons teach us how to truly experience the joyful moments with gratitude."
"Still Breathing" is the follow-up to their most recent No. 1 single, "Pretty Lies (feat. Matty Mullins)," which was in the top spot for six straight weeks and was Veridia's second career No. 1 single. The song spent 27 weeks on the Billboard Charts while the album, 2015's Pretty Lies, debuted in the Top 20 on the iTunes Alternative Albums Chart.
ABOUT VERIDIA:
Veridia, whose music has been featured on ESPN, is a unique fusion of alt-rock, pop and electronic elements wrapped around the evocative vocals and presence of front woman, Deena Jakoub. Of Egyptian descent, Deena's look and voice when mixed with pop/electronic/rock elements continues to capture new fans at every show. Veridia has performed at Voodoo Fest, Suburbia, and Gulfport, among others, and continues to tour throughout the year.
The band most recently performed, for the second year in a row, at Disney's Night Of Joy. The year prior, Veridia played in front of thousands at Universal Studio's Rock The Universe. Both Night Of Joy and Rock The Universe are held annually in Orlando.
For more information and their latest tour dates, please visit VERIDIAMusic.com and the social links below.
Twitter
Facebook
Instagram
YouTube
##
Media Contact:
Merge PR | Stacie Vining
Stacie@MergePR.com | 615.260.4679