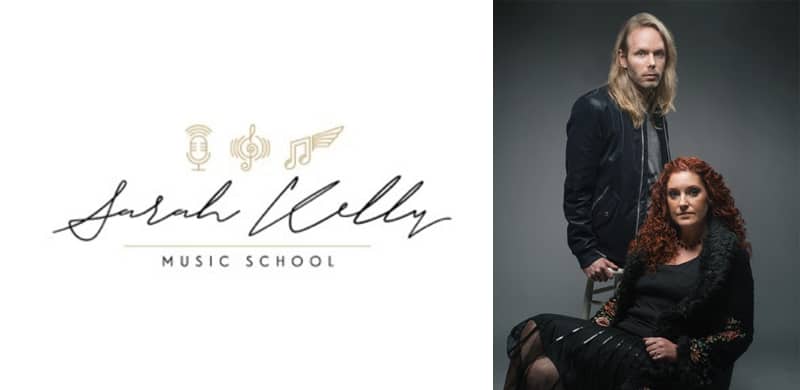 HOUSTON, TEXAS (September 16, 2016) – The privately-owned Sarah Kelly Music School is set to open doors at a new location on the well-known Market Street in The Woodlands, TX (Houston) on September 24. The school was founded in 2010 by two-time GRAMMY® nominee Sarah Kelly and her husband, producer Jonas Ekman. Beginning with only a handful of students, today they now average between 130-150 students annually from around the world.
Sarah Kelly, no stranger to the music industry from working with Jars Of Clay, TobyMac and Slash (Guns N' Roses), knows first hand what tools are important to success in the industry. In the school's first six years, 15 students released EPs, one signed a record deal in Los Angeles, another was named Songwriter of the Year at the Gospel Music Association's annual Immerse Conference in Nashville and several students have landed on the GRAMMY ballot. Both Kelly and Ekman have created a unique school with a dynamic class schedule to help inspire and empower their students.
"I do think we are at a time in history that needs—and I mean needs—a platform for singer/songwriters," describes Sarah Kelly. "We are stepping in the gap and trying to help them get heard. We're trying to help them build up their grassroots to the point where someday a label will step in… We're giving them a place to start, a place to grow, a place to have their first job, a place to really plug into the music industry."
Sarah Kelly Music School has recently produced two breakout artists, Ryan Kennedy and Noomi. Kennedy has opened for some of Christian music's biggest names, such as MercyMe, Crowder and Brandon Heath and was chosen to be a featured artist at the National Worship Leader's Conference. He has released two full length-albums and was named the 2016 Songwriter of the Year at the Gospel Music Association's annual Immerse Conference. Swedish superstar Noomi landed in the Top 25 on the Spotify Sweden Viral 50 Chart and is being heard all over Sweden on the radio. Recently, Noomi won a singing competition on one of Sweden's top national television networks.
Throughout every semester, four classes (Music Slam, Music Boot Camp, Songwriting and Career Coaching) are taught in small groups to provide an intimate and unique experience. Music Slam, for ages 6 to 12 and taught by the older students, includes piano and guitar lessons, vocal training and songwriting. Teenagers complete Music Boot Camp, which is a course with four tracks to choose two from (singing, songwriting, guitar/piano or music production). Songwriting features song critique, help with piano and guitar parts and a produced demo every eight weeks. Career Coaching, the smallest class offered, helps older students learn all aspects of the music business, produce an EP and play in front of high-profile music executives at the school's regional showcases. In addition, the school also offers an internship program and Recording Camp, a week-long songwriting intensive for out-of-town guests.
With the school in its new building next week, Mike Clink (Guns N' Roses, Heart, Jefferson Starship) and Jeremy Hunter (Taylor Swift) will be coming in to help co-produce and engineer singles for some of the students. To find out more information about the Sarah Kelly Music School, please visit SarahKellyMusicSchool.com.
##
Media Contact:
Merge PR | Stacie Vining & Lori Vining
Stacie@MergePR.com | 615.260.4679
Lori@MergePR.com | 615.579.1266