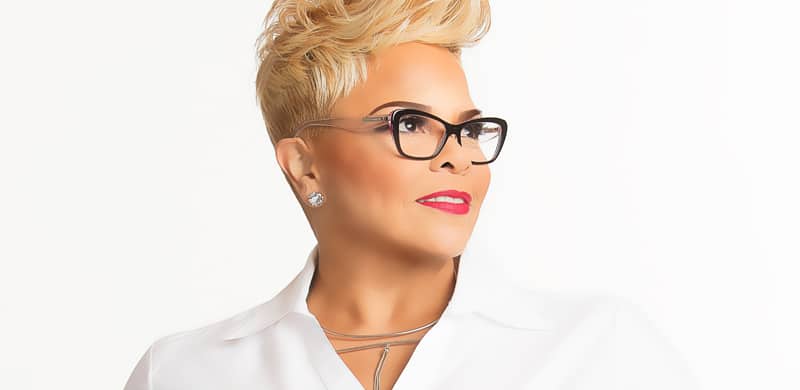 Essence Festival Performance Launches iTunes, Amazon Album Pre-Sale Today Friday, July 1
Multi-City U.S. Tour in Support of Album This Fall
DALLAS (July 1, 2016) – Grammy Award® Nominated, NAACP Image Award® Winning Artist and Billboard Chart-Topping Singer TAMELA MANN releases her highly-anticipated new album ONE WAY on Friday, September 9 on her Tillymann Music imprint through RED Distribution. An extensive multi-city U.S. tour in support of the album will launch this fall. One Way features the powerhouse vocalist on 12 tracks, including the Top-10 debut single "One Way" and the new single "God Provides," written and produced by long-time friend and collaborating partner, Gospel Music Icon Kirk Franklin. One Way marks Tamela's fourth solo studio album, a diverse collection of songs that inspires listeners on many levels.
"This project has been a labor of love," Tamela said. "Songs by some of the top writers and producers from different genres all came together to fit into a beautiful puzzle. I believe this album is going to encourage so many – wherever they're at. I hope people will open their hearts to receive the message of the songs and let His word speak into their life."
For the first time, Tamela's executive production team is a family affair helmed by Tamela, her husband and business partner, actor David Mann and son David Mann Jr. One Way is produced by the acclaimed Myron Butler and David Mann. The album's all-star guest producer credits, in addition to Franklin include Eric Dawkins, King Logan, Shaun Martin and Timbaland. Standout songs include the old-school vibe, up-tempo debut single "One Way" written and produced by Dawkins, the powerfully emotion-filled track "The Potter," and the beautiful ballad "God Provides" written by Tamela's "Take Me To The King" writer/producer Franklin.
Track List:
1. One Way
2. Through It All
3. Jesus Again
4. God Provides
5. We Exalt Your Name
6. Potter
7. That's What He Did
8. For My Good
9. Change Me
10. Greater
11. Press
12. Say Oh
The online pre-sale for One Way launches today, Friday, July 1, coinciding with Tamela's performance Sunday, July 3 on the Essence Festival Wal-mart stage. Fans receive grat tracks "One Way" and "God Provides" when they pre-order the album.
Tamela's 2012 album, Best Days, debuted at No. 1 on the Billboard Top Gospel Albums chart and No. 14 on the all genre Billboard Top 200. She earned the Stellar Award for Best Female Gospel Artist of the Year along with six additional Stellars in 2014 as well as Best Gospel Artist at the 2014 BET Awards. Best Days was certified gold and spawned three consecutive No. 1 tracks including the nearing-platinum single "Take Me To The King."
Connect With Tamela:
iTunes Presale
Amazon Presale
Album Trailer
Website
Facebook
Twitter
Instagram
Periscope: @DavidandTamela
About Tamela Mann:
Tamela Mann is a Grammy Award® nominee, NAACP Image Award® winner, BET Award winner, 7-time Stellar Gospel Music Award and two-time GMA Dove Award-winning singer, actress, songwriter, producer, and businesswoman. Tamela's seven-time Stellar Gospel Music Award-winning, two-time GMA Dove Award-winning album Best Days debuted at No. 1 on multiple music sales charts and includes the No. 1 nearing- platinum single "Take Me To The King," which earned Tamela her first Grammy® Award nomination for Best Gospel/Contemporary Christian Music Performance. With the release of Best Days, Tamela set a historic personal and industry record as the first Gospel lead artist in Billboard Gospel radio chart history to score three consecutive No. 1's from an album. The string of hits includes "Take Me To The King," "I Can Only Imagine," and "This Place." Tamela and husband and business partner, actor David Mann, star in It's A Mann's World(BET) and Mann & Wife (Bounce TV), both in production on third seasons. Tamela is set to release her fourth solo studio album One Way in 2016.
For more information about Tamela Mann, visit http://www.tillymannmusic.com.
##
Media Contact:
Chelsey Dickson
(615) 331-8538
TKO Publicity