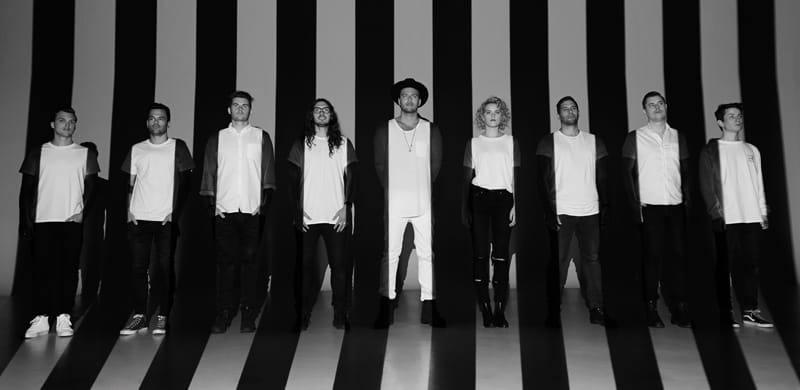 Pre-order available today for album and long form video filmed around Israel
Nashville, Tenn. (July 1, 2016) – Incorporating breathtaking imagery from Israel, platinum-selling Hillsong UNITED will debut Of Dirt And Grace – Live From The Land available from July 15 – a LIVE visual take on songs from their best selling record EMPIRES. The Beatitudes served as the essence and inspiration for their 2015 release, leading to the band's aspiration to film where Jesus preached the Sermon on the Mount along with additional Biblically historic locations in and around Jerusalem and the areas surrounding the Sea of Galilee, the empty tomb near Golgotha and more. Included in the CD and DVD/long form video format are 12 LIVE tracks filmed and recorded on location, including EMPIRES' favorites "Touch The Sky," "Say The Word" and "Even When It Hurts (Praise Song)" along with three bonus tracks. Among the additional tracks, the platinum selling "Oceans (Where Feet May Fail)." To pre-order Of Dirt And Grace – Live From The Land and receive an instant grat of "Prince Of Peace," click here.
"We wanted to do something really special and show the songs in a different light – we recorded the songs live and on location in some of the most beautiful places we have been – it was surreal being in the places Jesus ministered. We hope people feel a little of what we experienced," shares Joel Houston.
HillsongUNITED.com will feature photos and blogs chronicling their time in Israel along with the LIVE video of "Prince Of Peace."
The Billboard Music Award winners will wrap their acclaimed EMPIRES Tour in the U.S. this month with upcoming arena dates in Nashville, Denver, Kansas City, Chicago and more. Hillsong UNITED has sold out major arenas across the country including Staples Center, Radio City Music Hall, Red Rocks and Hollywood Bowl. For the latest tour information, click here.
Track Listing for Of Dirt And Grace – Live From The Land
1. Madness (Here Now) / By An Empty Tomb Just Beyond The City Walls
2. Say The Word / By The Mount Of Beatitudes
3. Heart Like Heaven (Falling) / As The Sun Went Down Over Galilee
4. Touch The Sky / From The Lowest Place On Earth & The Cliffs Of Arbel
5. Street Called Mercy / From Via Dolorosa & Dead-End Road By The Old Dead Sea Works
6. When I Lost My Heart To You (Hallelujah) / By Fire In The Hills Of Galilee
7. Even When It Hurts (Praise Song) / In The Cold Night Of A Not Too Distant War
8. Prince Of Peace / From A Golan Heights Memorial Of War & By The Shining Lights Of The Old City
9. Empires / From The Ruins Of Katzrin
10. Rule / From A Stage By The Dead Sea
11. Captain / Adrift On The Sea Of Galilee
12. Closer Than You Know / From A Quiet Place Beneath An Olive Tree
Bonus Tracks
13. I Surrender / By The Ancient Walls Of A Ruined Temple
14. Oceans (Where Feet May Fail) / From The Sea On Which He Walked
15. Scandal Of Grace (I'd Be Lost) / By An Empty Tomb Not Far From Golgotha
About Hillsong UNITED:
The heart of UNITED is to create music that reveals the truth of who Jesus is. In studio and out of the studio, on tour or at home, Hillsong UNITED is committed to writing songs that speak truth, create a unique sound, connects with churches, individuals and ultimately connects people everywhere with God. Fronted by worship leaders Taya Smith, Joel Houston, Jad Gillies, JD and Matt Crocker, the team is an evolving collaboration of pastors, worship leaders, musicians and songwriters -­- all intentional about giving voice to a generation passionate about God. Everything UNITED does, whether it be from recording or writing songs, to playing them in front of people and all that goes with that, it's an expression of a really extraordinary God doing what only He can do through really ordinary people who love Him, want to serve Him and to build His Church. To simply serve God and allow Him to do what only He can do has always been the team's desire.
About Hillsong Church:
In August 1983, Brian and Bobbie Houston founded the Hills Christian Life Centre in the Hills District of Sydney, Australia. It has grown from a congregation of 45 to what is said to be the largest local church in Australian history. It has now expanded to be a global church with local expressions in significant cities; with churches in Australia, London, New York, Los Angeles, Paris, Cape Town, Stockholm, Germany, Kiev, Amsterdam, Copenhagen and Phoenix. Each week, tens of thousands of people across the globe call Hillsong Church 'home' and the reach, impact and influence of this local congregation is seen across many nations.
Get Connected with Hillsong UNITED:
Website
Facebook
Instagram
Twitter
YouTube
Snapchat // Hillsong.UNITED
##
Media Contact
Velvet Kelm & Courtney Hyder
the media collective
velvet@themcollective.com
courtney@themcollective.com
(615) 591-7989
www.themcollective.com