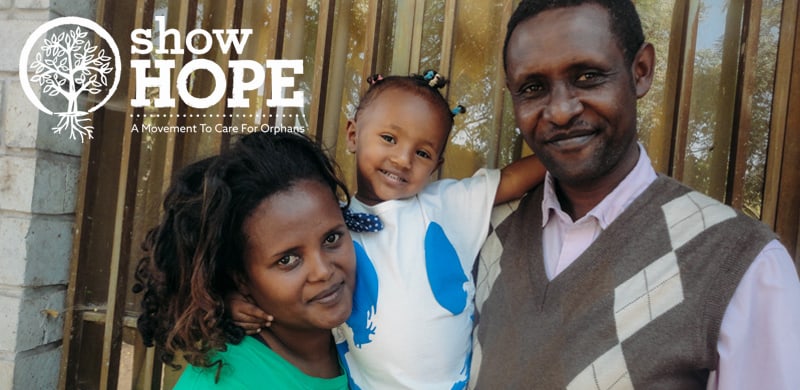 Donor-Funded Grants Provide Families for Children in Need
Franklin, Tenn – 22 April 2015 – Over the past 11 years, international adoptions to the U.S. have dropped by a drastic 70%, due in large part to changes in governmental policy and increased regulations. While many of the changes were necessary to better protect vulnerable children, the children still in need of a forever family find themselves in a more difficult position to gain that resource. In response, Show Hope® has begun providing grants for in-country adoptions in order to help provide families for those children.
Show Hope is a nonprofit organization founded by Steven Curtis Chapman and his wife Mary Beth for the purpose of caring and advocating for millions of orphans worldwide. They believe that the best way to serve vulnerable and orphaned children is by working proactively to ensure the best outcome possible by following the P.R.A.Y. acronym:
Preservation of the family unit when possible
Reunification with the biological family when possible
Adoption when it is not possible for a child to stay within the family of origin
Youth Services for children who do not have the opportunity to gain permanency in a family
Since adoption is at the heart of Show Hope's work, much of their focus is on providing the resources needed for waiting children to come into the love of a family—the "A" element. With the decreasing number of children being placed internationally, the organization has broadened their focus to include in-country adoption.
The primary benefit of in-country adoption is that it gives a child a greater sense of the language, history, and traditions of his or her birth country, which provides the continuity of culture and heritage that can be so valuable to development and identity. In-country adoption can also help build up communities by providing a greater sense of unity and dignity.
The challenge in many countries, however, is the cost of adoption and this is where Show Hope steps in. Through partnerships with reputable local adoption agencies, Show Hope is helping to recruit, screen, and equip Christian nationals who long to welcome a waiting child into their family through in-country adoptions. The organization is currently focusing on helping Christian families pursue in-country adoptions in Ethiopia and Kenya.
Show Hope has already begun seeing the fruits of their efforts with in-country adoption. Anwar and Tsegereda, a couple in Ethiopia, recently brought home their daughter Hiwot thanks to generous Show Hope donors and the work of a local Show Hope partner ministry. Click here to read Hiwot's story and here for Yemeserach's, another little girl from Ethiopia.
Show Hope is excited to offer more Adoption Aid grants to Christian couples around the world so more children can be united with families in their country of origin. To find out how you can help provide In-Country Adoption Aid grants for children like Hiwot and Yemeserach, please click here.
About Show Hope:
Since its inception, Show Hope has helped provide forever homes through Adoption Aid grants for more than 4,500 orphans from 50+ countries, including the U.S. In addition, more than 1,600 orphans with special needs have received critically needed medical care through Show Hope's Special Care Centers, giving them a hope for a family and a future. Through numerous initiatives designed to engage individuals, students, families, and communities, Show Hope is mobilizing a movement to care for the world's children who need it most.
Show Hope is continuously developing a variety of programs to mobilize the church body to get involved and to help transform the life of an orphan. From their Student Initatives program (which includes the Red Bus Project for college students and The Movement for high schoolers), to their short-term trips for teens and adults, their Advocates program and the monthly sponsorship program, there are so many ways to get involved in the movement to care for orphans.
To find out more information, please visit ShowHope.org.
##
Media Contact:
Merge PR
P.O. Box 1271
Franklin, tN 37065