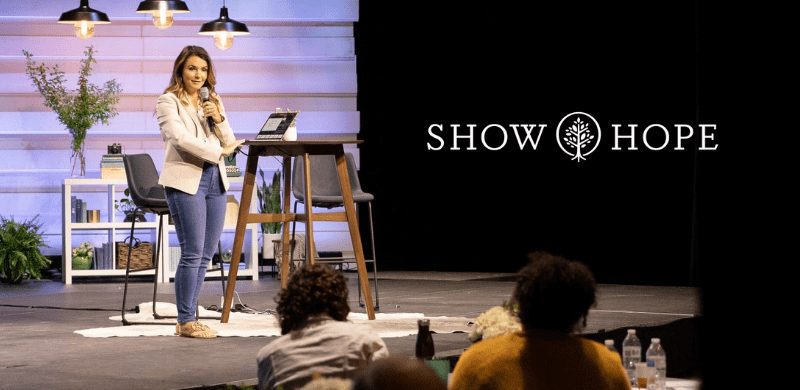 (NASHVILLE, Tenn.) October 12, 2021 — Millions of children across the world have been orphaned and the number keeps growing. According to a USA Today article, the COVID-19 pandemic may leave an additional 1 million children losing a parent, a custodial grandparent, or both. Yet of the thousands of families who consider adoption each year, only a small percentage choose to move forward in this important venture.
Among others, the following are three common barriers to adoption:
Financial – Adoptions can cost from $25,000 to $50,000.

Medical – Many children who have been orphaned live with medical needs and limited access to adequate healthcare. Once they're home, the costs of care and treatment can be overwhelming for parents.

Knowledge – Individuals and families who want to make a difference in the lives of these waiting children often do not know where to begin or how to help.
After having their own eyes and hearts opened to the needs of orphans, adoptive parents Mary Beth Chapman and her husband, five-time Grammy-winner Steven Curtis Chapman, founded Show Hope in 2003 to help break down barriers that separate waiting children from loving families. Show Hope's efforts have helped thousands of boys and girls come to know the love and permanency of a family while mobilizing individuals, churches, and organizations worldwide to care holistically for children who have been orphaned.
Having personally adopted three of their six children, the Chapmans share, "We founded Show Hope because we believe every single child needs to know the love and permanency of a family. Our part in that, outside of our own adoption journey, is to help break down barriers between waiting children and families. One of the ways we do that is through Show Hope's Adoption Aid grants, which have helped more than 7,900 children from more than 60 countries, including the US, come home through adoption. In total, Show Hope has awarded more than $34 million in Adoption Aid grants. (That's a God thing, y'all!)," the Chapmans explain. "Through amazing friends, donors, and hardworking staff, Adoption Aid continues to thrive, and we will continue to advocate for and help families who step into the journey of adoption."
Recognizing the adoption journey does not end the day a child is welcomed home, Show Hope—as an internationally recognized voice in adoption advocacy and orphan care—further supports adoptive families through its pioneering Medical Care grants, to financially assist those who have adopted children with medical or special needs.
"By leveraging expertise gained from nearly two decades of awarding Adoption Aid grants, we stepped into the work of Medical Care grants knowing there is a need for financial assistance among families who have adopted children—domestically and internationally—with medical needs," explains Show Hope Executive Director Emily Chapman Richards. "Together with my parents and Show Hope Founders, our hope is: As families come to know these financial resources are available, they will feel more supported in their journeys to love well the children who have been entrusted to their care."
These grants are making an enormous difference for children and families, relieving some of the unexpected costs of medical care such as out-of-pocket insurance costs and assistive devices. The Medical Care grants only further expand what Show Hope can do to spur these families on in their journey. One recipient family said, "[This extra financial assistance] really felt like someone was partnering with us in the journey. It was just another reminder of God's provision."
The 2022 Hope for the Journey Conference will kick-off April 8, 2022 (with on-demand viewing available through May 31, 2022). Formerly known as the Empowered to Connect Conference, Hope for the Journey brings together teachers, practitioners, advocates, adoptive and foster care families, adult adoptees, and foster youth alumni to share knowledge combined with uplifting perspectives.
Hosted by Mary Beth and Steven Curtis Chapman, Hope for the Journey will build on the strong foundation laid by Empowered to Connect. With retooled content condensed into a one-day event, this groundbreaking conference offers dynamic content that will not only assist the efforts of those who are stepping up to help children impacted by adoption and foster care but will encourage their intentionality. The conference also features the testimonies of adoptive and foster families as well as adult adoptees and foster care alumni so that attendees can identify with others through the complexities and triumphs of their journeys. The message of this conference is simple: "Whether you are in the adoption process, have welcomed a child home through adoption, or are loving and serving children through foster care, you are not alone."
Conference speakers will include (among others):
Hosts Mary Beth and Steven Curtis Chapman

Emily Chapman Richards, Show Hope Executive Director

Daren Jones and Amanda Purvis with the Karyn Purvis Institute of Child Development at TCU (KPICD)

Paris Goodyear-Brown, LCSW, RPT-S, the creator of the TraumaPlay™ model, the founder and clinical director of Nurture House, and the Executive Director of the TraumaPlay™ Institute

Zawadi Morrow, a director of worship and member of the Seattle-based group Kings Kaleidoscope

Marti Smith, OT, occupational therapist, author of The Connected Therapist, and co-founder of Simple Sparrow Farm

Tona and Mark Ottinger of Empowered to Connect and co-founders of the Memphis Family Connection Center

Scotty Smith, pastor and author of more than 10 books, including Unveiled Hope and Restoring Broken Things (which he co-authored with Steven Curtis Chapman)
Adoptive and/or foster care children have often experienced early-attachment injuries related to loss, abuse, trauma, and/or neglect. In response, the Hope for the Journey Conference will include five learning modules based on the foundational principles of Trust-Based Relational Intervention® (TBRI®):
An Introduction to TBRI

Connecting Principles

Empowering Principles

Correcting Principles

The Gospel + TBRI
Embedded within each learning module will be a "Going Deeper" teaching video on a select topic as well as an encouraging "Practical Perspectives" video featuring the voices of adult adoptees and adoptive and foster families. The "Going Deeper" videos will cover topics that include:
Connecting With Teens

A Look at Adverse Childhood Experiences (or ACEs)

Resourcing Your Church to Be Trauma-Competent
Show Hope offers both Individual/Household Viewing Options as well as a Church/Organization Viewing Option for the conference, which premieres April 8, 2022. Early-Bird Prices are available now through October 31, 2021. For tickets and more information, visit showhope.org/hopeforthejourney.
"As we often say at Show Hope, the adoption journey doesn't end the day a child is welcomed home; in fact, the journey is just beginning. With that in mind, it is our prayer that the Hope for the Journey Conference will serve as an encouragement for children and families," Mary Beth Chapman shares. "We also want to continue to spread the word about Show Hope's life-changing Adoption Aid and our Medical Care grants as, because we've seen—firsthand— how these are making a difference for families each and every day. As has been true for more than a decade, our vision will not waver in working to provide tangible support as well as practical resources and teaching to better equip parents, care providers, and churches in their journeys to love and care well for the children entrusted to them."