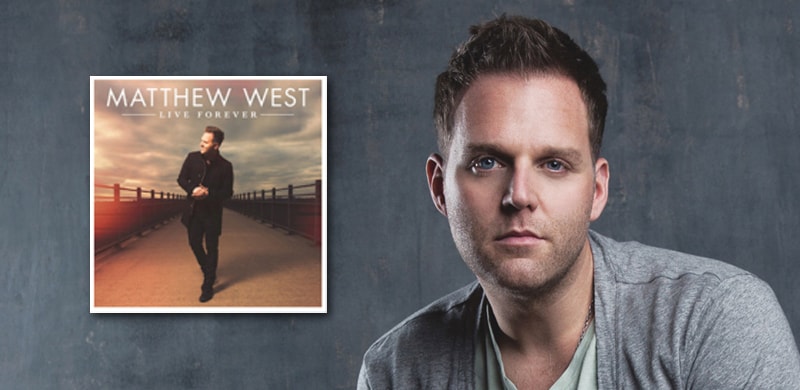 Matthew West to Appear at "24 Venues in 24 Hours" on April 28 to Promote New Album Release, Live Forever
Set to Perform Exclusive Live Acoustic Stage-It Show, April 27
NASHVILLE, TENN – April 22, 2015 – To kick off the release of Live Forever, Matthew West's new album dropping next Tuesday, April 28, West is staging quite a promotional event – a first for the Christian music industry. West will embark on a non-stop "24 Shows in 24 Hours" on street date, which will kick off with an exclusive live acoustic Stage-It show the day before, April 27.
Beginning Monday at 7pm CT, West will partner with Stage-It and perform tunes from Live Forever along with sharing stories that inspired the songs. Viewers will also be able to request their favorite Matthew West songs and submit questions that he will answer during the show. Click here to find out how you can be a part of this very special concert event.
Then at midnight on street date, West will embark on a non-stop "24 shows in 24 hours" special event. Visiting 24 different spots in and around the Nashville area for 24 straight hours, West will be performing at such places as Salem/The FISH Radio, the historic Ryman Auditorium, Tri-Star Children's Hospital/Women's Center, Teen Challenge in Madison, and ASCAP on Music Row, to name just a few. West will go across the globe via Skype performances with several radio stations and contest winners in Australia, along with in-store appearances at both LifeWay Christian Store and Barnes & Noble in Cool Springs. He is also slated to sing the National Anthem at the Vanderbilt vs. Belmont baseball game and perform a concert at ClearView Baptist Church at 7:30pm. West will appear at other various locations in and around Nashville, so to keep up with all of his activity and where he'll be next, be sure to follow Matthew West on his Facebook page.
Nashville's local NBC affiliate WSMV will be filming part of the day with plans to air a news segment on West's unique album promotion. Additionally, K-LOVE TV will follow West the entire day, capturing each moment to air as a ten-episode series exclusively for the network.
West explains, "The idea for 24 performances in 24 hours came as a way to illustrate the theme of this new record – time. Specifically, how can we make the time we are given in this life count, how to make it matter. What if you knew you only had 24 hours, or 86,400 seconds, left on this earth? How would you spend it? I'm so excited to release this new music, and really thought this would be a fun, and perhaps crazy, way of making the most of 24 hours."
The "24 shows in 24 hours" experience was inspired by the song "Live Forever," the first tune off the new album. It is an anthem challenging listeners to make the most of the dash, that mark between the day we're born and the day we die. "The world tries to sell us on YOLO, you only live once, but there is a big difference between living for the moment and living in the moment," West shares. "The dash in between is our opportunity to make what God has given us count for something bigger than ourselves."
Live Forever (Capitol CMG) was produced by Pete Kipley (MercyMe, Crowder) and continues West's mission to tell a story of a different kind with his music-to transform listeners' stories into life-changing songs. Live Forever is available for pre-order now on iTunes and includes four instant downloads, including the album's first hit single, "Day One."
About Matthew West:
Matthew West is a multiple-ASCAP Christian Music Songwriter/Artist of the Year winner, a four-time GRAMMY® nominee, and was awarded his first American Music Award (2013) and a Billboard Music Award (2014). Matthew West's discography includes acclaimed releases: Happy (2003), History (2005), Something to Say (2008), The Story of Your Life (2010) and GRAMMY®-nominated Into The Light (2012). West was nominated for a Primetime Emmy® Award for Original Music & Lyrics for "The Heart of Christmas" from the film of the same name. His songwriting credits include cuts by Rascal Flatts, Billy Ray Cyrus, Diamond Rio and more. He spent much of late 2012 and early 2013 on a pre-headlining stint on WinterJam Tour Spectacular, the No. 1 tour in the world. He wrapped 2013 with his own headlining in the fall of 2013 and "The Story Tour" in December. During 2014, West toured with the "Hits Deep Tour" as well as his sell-out "Hello My Name Is…" acoustic tour. He is currently headlning the Live Forever Tour through the spring.
##
Media Contact:
Merge PR
P.O. Box 1271
Franklin, TN 37065