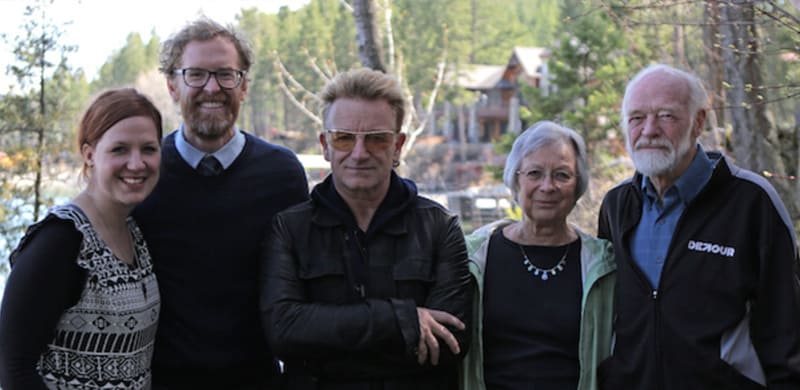 Pictured L-R: Phaedra Jean Taylor, David Taylor, Bono, Jan Peterson, Eugene Peterson; Photograph by Taylor Martyn
Jan Peterson Shares Relevant Conversation On Marriage, Family, Ministry & Home
Nashville, Tenn. (June 8, 2016) – In a newly-released, unique conversation, Jan Peterson, wife of author Eugene Peterson (The Message), touches on timely points of a healthy life balance, marriage, family, journey of their ministry and the meaning of home. The honest conversation ran parallel to the filming of the widespread video Bono & Eugene Peterson on THE PSALMS by FULLER studio. With a ministry spanning decades, Peterson talks about the practice of keeping the Sabbath and servanthood. With early origins in social work, Peterson even shares about what she would explain to her younger self. To read the full conversation, click here.
"That Would Be It: A Conversation with Jan Peterson," curated by artist Phaedra Jean Taylor, is an exchange described as a "rich feast" originally shared with the collective known as Art House America. "While there was a lot of buzz and excitement about having Bono out to Lakeside, and while we hoped getting Eugene and Bono together would be inspiring and encouraging for many, the person I was most excited to share time with was Jan," shares Taylor, noting her time with Peterson. "We talked together about hospitality, ministry, rhythm, art, home, food and the Sabbath, while we sat in her living room overlooking Flathead Lake."
About Art House America:
Art House America, founded by writer Andi Ashworth and musician Charlie Peacock, with locations in Nashville, Dallas and St. Paul, is a unique artistic hub for rich hospitality, conversations of consequence, and imaginative creativity. Andi, Editor-In-Chief of The Art House America Blog, publishes bi-monthly on a wide range of topics, including justice, visual art, creation care, music, hospitality and books. For more information, visit ArtHouseAmerica.com, Twitter and Facebook.
##
Media Contact:
Courtney Hyder
the media collective
courtney@themcollective.com
(615) 591-7989
www.themcollective.com