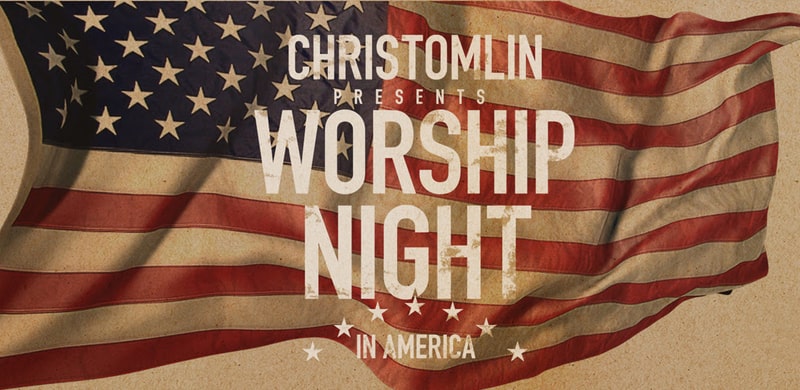 Evenings feature guests Louie Giglio, Max Lucado, Matt Redman, Matt Maher, Phil Wickham, Kim Walker-Smith, Bryan & Katie Torwalt, Steven Curtis Chapman, Tasha Cobbs and DJ Promote
Thousands to fill arenas in Los Angeles, Denver, Chicago, Miami and New York
"Good Good Father" wins Song of the Year at 2016 K-LOVE Fan Awards
Nashville, Tenn. (June 8, 2016) — Chris Tomlin's Worship Night In America events are returning this summer, once again uniting people across the country for a time to worship and pray for the nation, following last year's sold-out inaugural events.
"I'm so humbled, honored and excited that this summer Worship Night in America is coming to even more cities," Tomlin said. "Last year, we saw God move in incredible ways each and every night. The presence of God was so evident as the country came together to worship and pray as one."
Hitting arenas in Los Angeles, Denver, Chicago, Miami and New York, this year's events will feature new and returning speakers and artists, including Louie Giglio, Max Lucado, Matt Redman, Matt Maher, Phil Wickham, Kim Walker-Smith, Bryan & Katie Torwalt, Steven Curtis Chapman, Tasha Cobbs and DJ Promote.
Last year, thousands gathered to proclaim the name of Jesus and lift up the country in prayer, selling out NYC's Madison Square Garden, Denver's Red Rocks Amphitheater and Sacramento's Sleep Train Arena.
Tickets for Worship Night In America 2016 are on sale now.
Sunday night, Tomlin closed out the 2016 K-LOVE Fan Awards with a performance of his No. 1 single "Good Good Father," which was honored as Song of the Year. Artists such as Lauren Daigle, for KING & COUNTRY, Passion, Hillsong UNITED and more joined him on stage as the entire audience sang along. The event was heard live by millions across the country on the K-LOVE Radio Network and around the world on KLOVE.com.
Worship Night In America (*special guests vary with dates)
July 9 – Los Angeles (Inglewood), CA, The Forum
July 14 – Denver, CO, Pepsi Center
July 16 – Chicago (Hoffman Estates), IL, Sears Centre Arena
July 19 – Miami, FL, American Airlines Arena
July 23 – New York, NY, Madison Square Garden
About Chris Tomlin
With ten albums, 15 No. 1 radio singles, a GRAMMY® Award and eight additional nominations, three Billboard Music Awards, 21 Dove Awards, a platinum and four gold albums to his credit, Chris Tomlin is among the most well-known and influential artists in contemporary Christian music. Referred to by TIME Magazine as likely the most often sung artist anywhere, Tomlin consistently has several songs in the top 20 of the Top 100 CCLI songs. BMI and GMA Dove Awards' 2014 Songwriter of the Year, Tomlin's "How Great Is Our God" was his first No. 1 on the CCLI Top 25, becoming one of the fastest rising modern day hymns in CCLI chart history. In addition to having sold more than 7 million albums and over 8.9 million digital tracks, Tomlin made history as his No. 1 single "Jesus Messiah" (Hello Love) garnered 97 adds at radio, making it the biggest ever add date in Christian radio history. Tomlin recently broke the record for most top tens in the history of Billboard's Hot Christian Songs chart. In the midst of his record-breaking success, Tomlin continues touring and leading at Passion Conference gatherings across the US and worldwide, including Worship Night In America events. Burning Lights debuted at No. 1 atop the Billboard 200 in January 2013, making history as only the fourth Christian music album to do so, and his tenth recording, Love Ran Red continues to produce chart-topping singles. ADORE: Christmas Songs of Worship released last fall, debuting at No. 1 on Billboard's Holiday Albums Chart.
Get Connected With Chris Tomlin
Website
Facebook
Twitter
Instagram
YouTube
##
Media Contact
Kirsten Grenier & Velvet Kelm
the media collective
kirsten@themcollective.com
velvet@themcollective.com
(615) 591-7989
www.themcollective.com