NEWS: Andew Peterson – 17th Annual Christmas Tour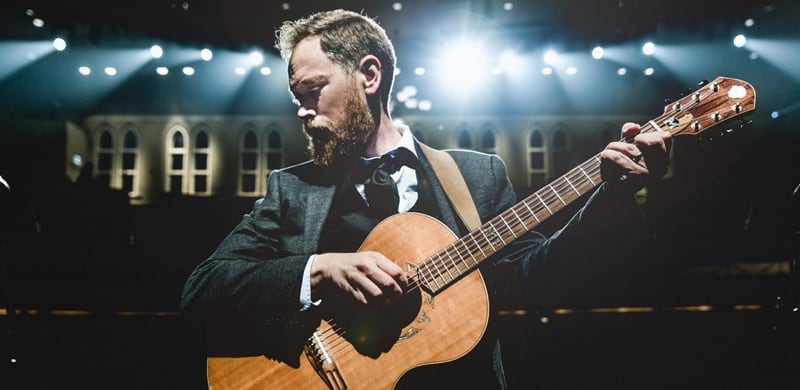 Andrew Peterson's 2016 Behold The Lamb Of God Christmas Tour to Feature Special Guest Jenny & Tyler, Along with Favorites Jill Phillips and Andy Gullahorn
Nashville, Tenn. (Sept. 27, 2016) —- Singer/songwriter/author Andrew Peterson will launch his highly popular Behold The Lamb Of God Christmas Tour on Nov. 30 in Houston, Texas. The special guests for this year are the acoustic duo Jenny & Tyler, along with Jill Phillips, Andy Gullahorn, Garret Buell, Cara Fox, Gabe Scott, Ben Shive, Nate Dugger and Joe Causey. This marks the 17th year for the holiday event that has become a Christmas tradition for families and churches across the country. The tour will visit 15 cities, including Birmingham, Alabama, Orlando, Florida, Arlington and Richmond Virginia, and will once again feature two nights at the historic Ryman Auditorium in Nashville, Tennessee. Tickets are available at www.andrew-peterson.com and at local venues.
"Each year I'm more grateful than the year before," said Peterson. "When it comes to this group of friends, I have too many fond memories and moving moments to count—and that's not to mention the profound experience of telling this particular story over and over again."
Peterson launched the Christmas tour in 1999 to present a musical rendition of the Christmas story and to reinforce the true meaning of the season. It was embraced by fans nationwide because of the powerful performances, entertaining stories, and the sense of community between Peterson and his friends on stage. The result was multiple sold-out venues and yearly return engagements. In 2004, Peterson to recorded the album Behold The Lamb Of God: The True Tall Tale Of The Coming Of Christ to critical acclaim, and was named one of the ten best Christian albums of the decade by Rhapsody.com. In 2009, Peterson released a 2-disc 10th Anniversary Edition of the project that includes a remastered version of the original CD and a live recording of the Christmas concert from 2008.
Peterson's current studio album, the Dove Award-nominated The Burning Edge Of Dawn, debuted at No. 2 on Billboard's Current Contemporary Christian Albums chart, marking the highest debut of his career. Produced by Gabe Scott, the record features 10 new songs and has received rave reviews from several media outlets with CCM Magazine hailing its "powerful analogies of God and a God-ward faith." New Release Today praised it as "more than just an artistic feat," and Phantom Tollbooth called it "supremely up-lifting."
Peterson and animation producer Chris Wall (VeggieTales), launched their new film and TV company, Shining Isle Productions, in 2016. The first project in production will be an animated short film based on Peterson's highly popular and award-winning Wingfeather Saga book series. The effort was funded by a Kickstarter campaign with over 3,000 people donating $265,000—which was $155,000 over the base goal—to bring The Wingfeather Saga: Animated Series to the screen. Backers came from over 10 countries and the initial goal of $110,000 was reached within 48 hours.This landed The Wingfeather Saga in the Top 50 of film and video projects submitted for all Kickstarter campaigns.
For continued tour updates on Peterson please visit www.andrew-peterson.com, www.facebook.com/andrewpetersonmusic or www.Twitter.com/AndrewPeterson.
About Andrew Peterson
Andrew Peterson is a man of many talents with a successful recording and songwriting career, as well as being the award-winning author of The Wingfeather Saga, host of a highly popular online creative community called the Rabbit Room (www.RabbitRoom.com), and launching his film and TV production company, Shining Isle Productions. Peterson's latest studio album, The Burning Edge of Dawn, released October 2015 and debuted No. 2 on Billboard Current Contemporary Christian Top Albums Chart, his highest charting record to date. Critics have given strong reviews for this project, calling Peterson "one of the foremost singer/songwriters around." His previous project, Light for the Lost Boy, also garnered rave reviews hailing the project as "best album of the year," as it gained two 2013 Dove Award nominations. His album Counting Stars debuted at #1 on iTunes, and #6 on Billboard. His single "Dancing in the Minefields" reached the Top 10 on the Christian AC chart, while the video for the song has received well over 1,000,000 views online. In December, Peterson will embark on his 17th annual Behold the Lamb of God Christmas Tour.
##
Behold The Lamb Of God Christmas tour dates:
Nov. 30 – Houston, Texas
Dec. 1 – Longview, Texas
Dec. 2 – Newton, Kansas
Dec. 3 – Topeka, Kansas
Dec. 4 – Memphis, Tennessee
Dec. 7 – Champaign, Illinois
Dec. 8 – Jackson, Tennessee
Dec. 9 – Birmingham, Alabama
Dec.10 – Orlando, Florida
Dec. 11 and 12 – Nashville, Tennessee
Dec. 15 – Richmond, Virginia
Dec. 16 – Arlington, Virginia
Dec. 17 – Dandridge, Tennessee
Dec. 18 – Augusta, Georgia
Media Contact:
Janet Bozeman
615-472-8417
janet@bozemanmedia.com