Andrew Peterson Announces 19th Annual Behold The Lamb of God Tour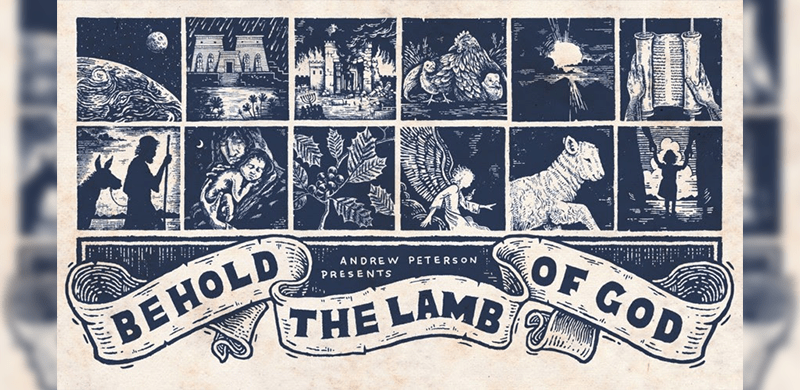 International Justice Mission, The Rabbit Room Sponsor Tour
Featuring Special Guest Scott Mulvahill, Artists Jill Phillips,
Andy Gullahorn, Ben Shive, Gabe Scott
Peterson's Resurrection Letters Vol. I
Hit Billboard Americana/Folk Chart's Top 5
Dove Award-nominated recording artist, songwriter, filmmaker and award-winning author Andrew Peterson announces his 19th Annual Behold The Lamb Of God tour sponsored by International Justice Mission and The Rabbit Room. Logging multiple sold-out events each year since its inception in 2000, the Christmas tour has become a yearly tradition for Peterson and his band, as well as families and churches across the nation who look forward to attending each holiday season, recounting the Christmas story through song.
This year's production, featuring special guest Scott Mulvahill and artists Jill Phillips, Andy Gullahorn, Ben Shive and Gabe Scott, launches in Houston, TX with back-to-back nights Nov. 28 and 29 before traversing nine states and wrapping up Dec. 15 in Danbury, CT. TheBehold The Lamb Of God tour also stops for the 15th consecutive year at Nashville's iconic Ryman Auditorium where it is expected to sell out both its Dec. 9 and 10 events. Tickets are available now through www.andrew-peterson.com (see full list of tour dates below).
"I just can't believe we still get to do this," says Peterson. "If you had told me back in 2000, I would have laughed. Playing these songs with such dear friends for so many years is a rare and profound blessing."
Peterson launched his Behold The Lamb Of God tour nearly two decades ago to present a musical rendition of the Christmas story and to reinforce the true meaning of the season. In 2004, the success of the tour led Peterson to record the award-winning album, Behold The Lamb Of God: The True Tall Tale Of The Coming Of Christ. In 2009, Peterson released a 2-disc project marking the 10th anniversary of the tour that includes a remastered version of the 2004 CD and a live recording of 2008's tour.
Leading up to his 2018 Behold The Lamb Of God tour, Peterson will be featured on The Bible Tour along with Matt Maher, Natalie Grant and more, and is working on a new The Wingfeather Saga film to be revealed soon.
Earlier this year, Peterson released Resurrection Letters: Prologue and Resurrection Letters, Vol. I from Centricity Music amidst 5-star acclaim. Prologue is a collection of five "waiting songs" meant to remind listeners of the gravity of the crucifixion while Vol. I begins with the heartbeat of the resurrected Christ, exploring the resurrection itself and its centrality to Christianity. Vol. 1 also became a Billboard Top 5 Americana/Folk Albums chart hit while being called a "masterpiece" (CCM Magazine), "one of his best" (The Gospel Coalition) and "simply remarkable" (Jesus Freak Hideout). The album also features the RELEVANT-lauded video "Is He Worthy?" that has been viewed more than 1.2 million times on Peterson's Facebook and YouTube pages alone.
For more information about Peterson, including the latest on his touring, music and more, visit www.Andrew-Peterson.com, Facebook, Twitter, Instagram and YouTube.
BEHOLD THE LAMB OF GOD 2018 TOUR DATES:
Nov. 28 Houston, TX, Grace Bible Church
Nov. 29 Houston, TX, Grace Bible Church
Nov. 30 Dallas, TX, Stonegate Church
Dec. 1 San Antonio, TX, Trinity Baptist Church
Dec. 2 Russellville, AR, First Baptist Church
Dec. 5 Wake Forest, NC, Southeastern Baptist Theological Seminary
Dec. 6 Greenville, SC, Mitchell Road Presbyterian Church
Dec. 7 Orlando, FL, University Presbyterian Church
Dec. 8 Birmingham, AL, The Church at Brook Hills
Dec. 9 Nashville, TN, Ryman Auditorium
Dec. 10 Nashville, TN, Ryman Auditorium
Dec. 12 Champaign, IL, Virginia Theater
Dec. 15 Danbury, CT, Ives Concert Hall, Western Connecticut State University
About Andrew Peterson
Recording artist, songwriter, producer, filmmaker, publisher and award-winning author of The Wingfeather Saga series, Andrew Peterson is also host of The Rabbit Room, which fosters Christ-centered community and spiritual formation through music, story and art, and recently launched a film and TV production company, Shining Isle Productions, to produce animated film based on his bestselling books. Known for songs like "Dancing In The Minefields," "Be Kind To Yourself," "The Reckoning," "Don't You Want To Thank Someone," "The Silence Of God," "Nothing To Say," "You'll Find Your Way" and more, Peterson has also been named "one of the foremost singer/songwriters around" and has received multiple "best album of the year" nods from critics along with two Dove Award nominations. Taking his hits and fan favorites on the road, Peterson's touring draws capacity crowds at venues around the world, including several sold-out events at the historic Ryman Auditorium in Nashville.
About Scott Mulvahill
Singer, songwriter, bass player Scott Mulvahill toured with Ricky Skaggs' Grammy-winning band Kentucky Thunder for five years and has shared the stage with Alison Krauss, Barry Gibb (Bee Gees), Bruce Hornsby, Brad Paisley, Peter Frampton, Steven Curtis Chapman, Emmylou Harris and more. His songs have received honors or been featured in NPR'S Tiny Desk Contest, the International Songwriting Competition, John Lennon Songwriting Contest and American Songwriter Magazine's 30th Anniversary Contest, and he has had numerous cuts on other artists' albums. He's currently touring in support of his September release, Top Of The Stairs (EP), which was produced by himself, Charlie Peacock (The Civil Wars, The Lone Bellow) Gary Paczosa (Alison Krauss, Sarah Jarosz) and Shani Ghandi (Sarah Jarosz).
About Centricity Music
Centricity is an independent Christian music company based in Franklin, Tenn. Founded in 2005 with a commitment to artist development and stylistic diversity, its artist roster includes Aaron Shust, Andrew Peterson, Caitie Hurst, Carrollton, For All Seasons, Jason Gray, JJ Weeks Band, Jonny Diaz, Jordan Feliz, Lauren Daigle, Neon Feather, North Point InsideOut, Peabod and Unspoken. Providing label and publishing services, Centricity is a family-owned organization, and they like it that way. The committed work of its staff and artists has yielded successes such as Grammy nominations, Billboard Awards, Dove Awards, K-Love Fan Awards, a Gold Album and Gold Singles. For more information on Centricity Music, visit www.centricitymusic.com.
About International Justice Mission
International Justice Mission is a leading international anti-slavery organization working in 17 communities across the developing world to combat slavery, trafficking, and other forms of violence against the poor by rescuing and restoring victims, holding perpetrators accountable, and transforming broken public justice systems
##