Tickets Selling Fast For Andrew Peterson's 18th Annual "Behold The Lamb Of God" Tour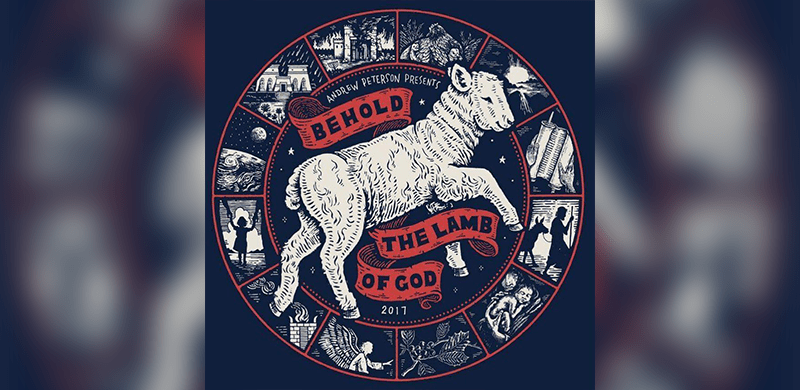 NASHVILLE, TN. (NOV. 27) Anticipation grows for singer-songwriter Andrew Peterson's 18th annual Behold The Lamb Of God Tour, with several shows already sold-out. Heralded as a meaningful Christmas tradition among and beyond the CCM community, the revered musical event begins its eleven-city run November 30, going through December 17. Tickets are available here. For those unable to attend a show, Peterson and his team have created a new opportunity: a December 13 livestream performance.
In its nearly two decades, the tour has received vast acclaim and repeatedly sold out venues across the country, including its staple show at Nashville's Ryman Auditorium. This year, Peterson wanted to bring the show to even more people. With the purchase of a $10 ticket, anyone can receive a livestream link and watch Behold from the comfort of home on December 13 at 7 p.m. Peterson notes that even as the tour has grown over the years, its purpose has remained the same.
"My hope for the audience is the same as it was in the beginning—that they would feel a renewed sense of wonder that God himself put on flesh and dwelt among us," Peterson said.
With emphasis on the camaraderie of those involved in each performance, this year the tour features special guests Jil Phillips, Andy Gullahorn, along with Scott Mulvahill (Nov. 30- Dec. 13) and The Gray Havens (Dec. 14-17). The unique show presents the Christmas story, with a series of songs that move from Old Testament to New.
"To sing these same songs for eighteen years and still be so moved by this story is evidence to me the truth of the Gospel," Peterson reflected. "The older I get, the more I realize how deeply broken I am and how desperate I am for it all to be true. The fact that I get to do it with so many friends with so much shared history makes it that much better."
People can listen to the Christmas show's music on his 2004 album Behold The Lamb of God: The True Tall Tale Of The Coming Of Christ, which features studio and live recordings of the concert.
Peterson is currently recording for his next album, Resurrection Letters, Vol. I, which will come out in spring of 2018.
For tickets and additional information, visit andrew-peterson.com and Andrew's Facebook, Twitter, and Instagram pages.
BEHOLD THE LAMB OF GOD 2017 TOUR DATES:
11/30 Knoxville, TN
12/1 Richmond, VA
12/2 Durham, NC
12/6-7 Houston, TX
12/8 Newton, KS
12/9 Champaign, IL
12/11 Nashville, TN – SOLD OUT
12/13 LIVESTREAM
12/14 Huntsville, AL
12/15 Maitland, FL
12/16 Matthews, NC – SOLD OUT
12/17 High Point, NC – SOLD OUT
##