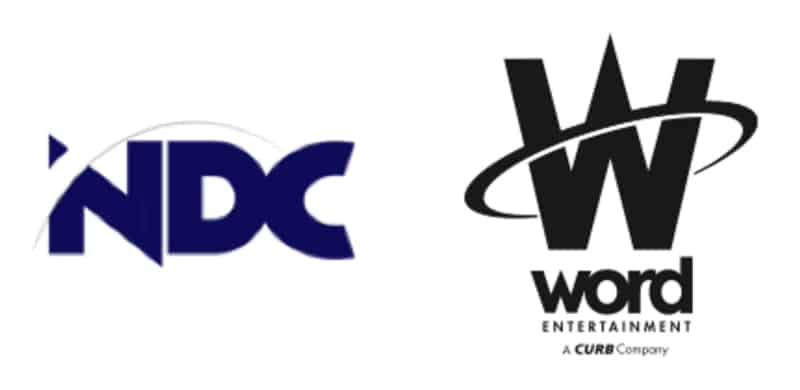 Nashville, Tenn. – (November 11, 2016) – New Day Christian Distributors and Word Entertainment are pleased to announce an expanded distribution relationship. Effective January 2, 2017, all titles from Word Entertainment will be exclusively distributed in the physical format to Christian Retail by New Day. The agreement encompasses Word Entertainment's record and film partners and all artists on the Word and Curb Christian rosters, including: Meredith Andrews, Chris August, Francesca Battistelli, Big Daddy Weave, Blanca, Castro, Everfound, Family Force 5, for KING & COUNTRY, Natalie Grant, Group 1 Crew, Mallary Hope, Love & The Outcome, Dara Maclean, Steven Malcolm, OBB, Plumb, Sarah Reeves, Selah, Sidewalk Prophets, Todd Smith, Stars Go Dim, VERIDIA, We Are Messengers and Zealand Worship.
"The first major label relationship we established after starting New Day in 1981, was with Word Records," shared Dottie Leonard Miller, President & CEO of New Day. "Serving Christian Retail is our entire focus at New Day. To be able to exclusively represent Word Entertainment and Curb Records to Christian Retail, along with products from their distributed labels and film partners, is a career highlight. We are humbled by Mike Curb's and Rod Riley's trust in New Day."
This exclusive distribution arrangement brings together two great, independent, Christian-owned companies. According to Nielsen Music's SoundScan, combined Christian music market share YTD for New Day/Word exceeds 16%.
Rod Riley, President & CEO, Word Entertainment, adds, "I have been a big fan of Dottie, Ed, and the New Day team for many years now, and it is an honor to bring our companies together as we effectively move forward into the future of the music industry. As we sharpen our focus on content creation while continuing to be committed to Christian Retail, this new relationship will strengthen how we are able to serve our artists and our catalog of 65 years."
Today's announcement comes on the heels of New Day signing the TillyMann (Tamela Mann) label for Christian Retail distribution, and extending its exclusive Christian Retail distribution relationships with Reach Records (Lecrae, Andy Mineo, Trip Lee, Tedashii, KB) and Tooth & Nail/BEC/Solid State Records (Kutless, 7eventh Time Down, Disciple, Demon Hunter, David Dunn). New Day will now exclusively represent a historic collection of independent Christian labels and artists under one roof with artists representing all styles of the Christian genre, including: AC, Hip Hop, Rap, Rock, Gospel, Southern Gospel, Jazz, Bluegrass, Country, and Inspirational. Also, for the first time, New Day will offer Word performance tracks, adding to the market leadership of their Daywind line which features over 4,400 titles across genres.
About Word Entertainment:
A leader in the Christian music community for 65 years, Word Entertainment, a Curb company, is a unique, comprehensive faith-based company comprised of multi-faceted artist service departments including recorded music, publishing, film, and live events. Word represents some of the top names in Christian music and is home to 25 Entertainment, Word Films, Word Music Publishing and Word Label Group's Word Records, Word Worship and Fervent Records.
About New Day Christian Distributors:
New Day is celebrating its 35th year in Christian Retail distribution. Along with its new relationship with Word Entertainment, New Day represents Reach Records, Tooth & Nail/BEC/Solid State, Fuel Music (Thousand Foot Krutch, Lacey Sturm, Decyfer Down, Fireflight), Malaco (Mississippi Mass Choir, Greenleaf Soundtrack), BMG (Danny Gokey), Tone Tree (Audrey Assad), Daywind (Greater Vision, Karen Peck & New River, Brian Free & Assurance), Forerunner (Misty Edwards), JDI (Beverly Crawford), Mack Avenue (Kirk Whalum, Jonathan Butler), Fearless (August Burns Red), JJ Heller, the Isaacs, Ellie Holcomb, and more. New Day's services as a one-stop for Capitol Christian, Provident, Integrity, Entertainment One, Crossroads, and others makes New Day the premiere one-stop for Christian music and video products. In addition, New Day has developed extensive toy and gift lines featuring Mattel, Melissa and Doug, Round Two, Kiddieland, Just Play, Ideal, Aroma Wraps, Holy Land Gifts, and many more. Book and Bible suppliers are being added daily to join Harper Collins, Worthy, Tyndale, Howard, and others.
##
Media Contact:
For New Day Christian Distributors: Dani Phillips at publicity@daywind.com