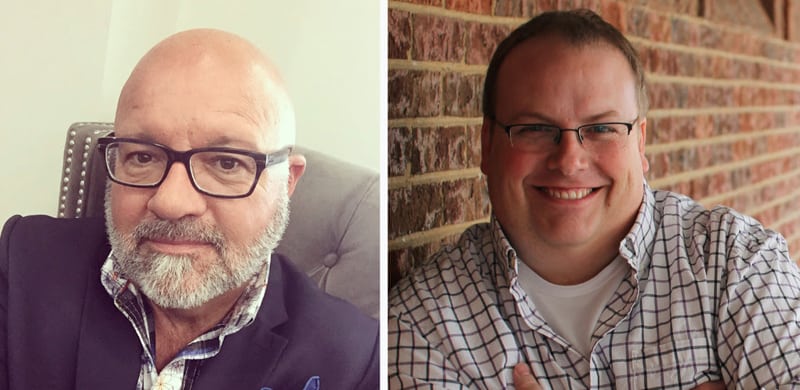 Hendersonville, TN (January 3rd, 2017) – New Day Christian Distributors is pleased to announce the addition of industry veterans Dusty Wells and Kyle Johnson to the New Day sales force. Dusty Wells has been named Director of Sales, while Kyle Johnson will serve as the Director of Inventory and Production. This announcement follows the recent addition of Word Entertainment to New Day's family of exclusive labels and vendors.
Beginning as a buyer for the Christian Supply chain in Portland, Oregon, Dusty Wells has been directly involved in Christian music for over 35 years. He spent the last 23 years of his career at Word Entertainment, working with national account sales, special market projects, marketing, promotions, sales management, road representative and artist and label relations. His deep love for Christian music shines through his work and he claims one of his greatest passions in life is helping others know and grasp the importance of what Christian music can do for someone on their journey.
"I am absolutely thrilled about this new adventure that God is putting me on with New Day. I have been a fan of Dottie Leonard Miller and Ed Leonard for years, and I've always admired and respected New Day and their label, Daywind. So now I'm honored to have the incredible opportunity to join their team and also remain active as the liaison with retail sales and marketing with the transition of Word/Curb as they join forces with New Day," shares Dusty. "It really is going to be a wonderful new season with great opportunities to get music, DVD, and other product out in a great way. I know and understand the power of 'heart' music and New Day, Word, and Curb does as well. I cannot wait to see all of what the future holds as we all partner together to help our customers and artists explore new ways of sharing their music and ministry to so many who need to hear the message of Jesus Christ and His unconditional love for us all."
Kyle Johnson also got his start working in Christian retail. Upon moving to Nashville in 1998, Kyle took a production & inventory job with Word Entertainment. He has also spent time with Michael Smith and Associates, working with artist management and social media marketing, and recently served as Communications Director at ClearView Baptist Church in Franklin, TN.
Kyle comments, "I'm excited to join a company that has such a rich heritage in the Christian marketplace as New Day, and to be back working alongside the Word/Curb label is an even greater thrill. As the music buyer at a local Christian bookstore, I always called New Day for my needs. I look forward to working with this great team as we deliver the powerful message of the Gospel through the medium of music."
"We are so excited to have Dusty Wells and Kyle Johnson as part of the New Day team," shares Ed Leonard, VP of New Day Christian. "With the addition of the Word/Curb catalog and new releases, it is great to have two industry veterans who are familiar with both Word/Curb and New Day to help our wonderful team serve Christian retail with fantastic products.
Effective January 2nd, New Day is the exclusive distributor of all Word Entertainment titles in the physical format to Christian retail, including all back catalog, as well as Word's record and film partners, and artists on Word and Curb's Christian rosters. New Day will kick off this new relationship with first quarter releases from Selah, Family Force 5 and Point of Grace, as well as the release of the film "Priceless" on DVD and Blu-ray.
New Day Christian Distributors is celebrating its 35th year in Christian Retail distribution. Along with its new relationship with Word Entertainment and Curb Records, New Day represents Word Entertainment, Reach Records, Tooth & Nail/BEC/Solid State, TillyMann, Rural Rhythm, Fuel Music, Malaco, BMG, Tone Tree, Daywind, Forerunner, JDI, Mack Avenue, JJ Heller, the Isaacs, Ellie Holcomb, and more. New Day's serves as a one-stop for Capitol Christian, Provident, Integrity, Crossroads, making New Day the premiere one-stop for Christian music and video products. In addition, New Day has developed extensive toy and gift lines featuring Mattel, Melissa and Doug, Round Two, Kiddieland, Playmobil, Just Play, Ideal, Aroma Wraps, Holy Land Gifts, and many more. Book and Bible suppliers are being added daily to join Harper Collins, Worthy, Tyndale, Howard, and others. Its new relationship with Word has brought dvd distribution opportunities including films from Universal, Paramount, Warner Brothers, Word Films, and more. For information on New Day, visit newdaychristian.com.
##
Media Contact:
Dani Phillips
publicity@daywind.com