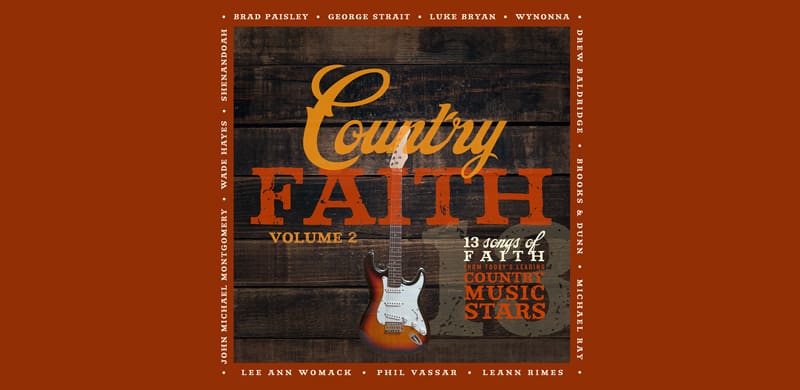 Latest in Series Includes Distribution Through Word Entertainment and Curb Records, Plus a National TV Campaign with Time Life Music and an Exclusive Cracker Barrel Release
(Nashville, Tenn. – Nov. 7, 2016) — The latest in the hit Country Faith music series, Country Faith Volume 2, will release on November 18 to Christian retail through Word Entertainment and to mainstream retail and digital outlets through Curb Records.
Based on the popular book Country Faith penned by award-winning author/journalist Deborah Evans Price, the new music project will feature faith-based country songs by Luke Bryan, Brad Paisley, George Strait, Brooks and Dunn, Wynonna, Wade Hayes, LeAnn Rimes and other bestselling Country artists.
"I'm so excited about this collection of songs on Country Faith Volume 2," says Evans Price. "The album opens with 'Pray About Everything,' Luke Bryan's upbeat celebration of the power of prayer, and the project continues with such compelling songs of faith as Brad Paisley's 'When I Get Where I'm Going,' Wade Hayes' 'What's a Broken Heart for You,' Brooks & Dunn's 'Believe,' and many others. Country artists/songwriters have a unique perspective on faith and God's grace, and I think listeners will find a great deal of comfort and inspiration in these powerful songs."
Rod Riley, President & CEO, Word Entertainment, shares, "The opportunity for Word Entertainment to be part of curating a beautiful collection of songs from some of the biggest and most legendary artists in country music, alongside the passionate brilliance and direction of Deborah Evans Price, results in something that I know is going to positively impact countless lives."
In addition, Time Life Music will feature the Country Faith book in a national TV campaign in January for its new Faith, Hope and Country package featuring Bill Cody as host.
Cracker Barrel, the family restaurant chain, will feature an exclusive Country Faith Volume 2 in all of its 630 locations. In addition to the 13 songs featured on the standard release, the special Cracker Barrel edition of Country Faith Volume 2 will feature two exclusive tracks—American Young's "God Sends a Train" and Mo Pitney's "Give Me Jesus."
The Country Faith Christmas collection, released in late 2015, hit the Top 10 on the iTunes Country Albums chart and was featured in People Country Magazine.
The following is the track listing for Country Faith Volume 2:
1. Luke Bryan "Pray About Everything
2. Michael Ray "Real Men Love Jesus"
3. Wade Hayes "What's a Broken Heart For You
4. Lee Ann Womack "Stubborn" (Psalm 151)
5. George Strait "I Saw God Today"
6. Brad Paisley feat. Dolly Parton "When I Get Where I'm Going"
7. John Michael Montgomery feat. Alison Krauss and Dan Tyminski "The Little Girl"
8. Drew Baldridge "Tractors Don't Roll"
9. Brooks & Dunn "Believe"
10. LeAnn Rimes "I Need You"
11. Phil Vassar "This is God"
12. Wynonna "Live with Jesus"
13) Shenandoah "Hallelujah for the Cross"

Cracker Barrel bonus tracks:
***American Young "God Sends a Train"
***Mo Pitney "Give Me Jesus"
*Country Faith is an established brand "Celebrating the Heart and Soul of Country Music" owned by the Country Faith LLC
About Word Entertainment:
A leader in the Christian music community for 65 years, Word Distribution, a Curb company, is a unique, comprehensive faith-based company comprised of multi-faceted artist service departments including recorded music, publishing, film, and live events. Word represents some of the top names in Christian music, including Meredith Andrews, Chris August, Francesca Battistelli, Big Daddy Weave, Blanca, Castro, Everfound, Family Force 5, for KING & COUNTRY, Group 1 Crew, Love & The Outcome, Dara Maclean, Sidewalk Prophets, Stars Go Dim, VERIDIA, We Are Messengers and Zealand Worship, and is home to 25 Entertainment, Word Films, Word Music Publishing and Word Label Group's Word Records, Word Worship and Fervent Records, along with its outside distribution relationships.
About Curb Records:
Celebrating over 50 years in the entertainment business, Curb Records is one of the world's leading independent music companies. Owned and operated under The Curb Group by Mike Curb since 1962, Curb Records has achieved 433 number one records, over 1,500 hundred Top Ten records and charted over 4,500 total records. Today's roster includes some of the top names in Country, Christian and Pop/Rock music. Curb Records has produced over 100 Billboard awards and achievements and was recently honored as the 2015 Mediabase Gold Label of The Year.
For more information, please visit www.countryfaith.com.
SOCIAL MEDIA:
TweetCheat: @countryfaithus series announces Volume 2 compilation CD to release on Nov. 18th
Hashtag: #CountryFaithVol2
Twitter
Facebook
Instagram
##
Media Contact:
mailto:publicity@aristomedia.com