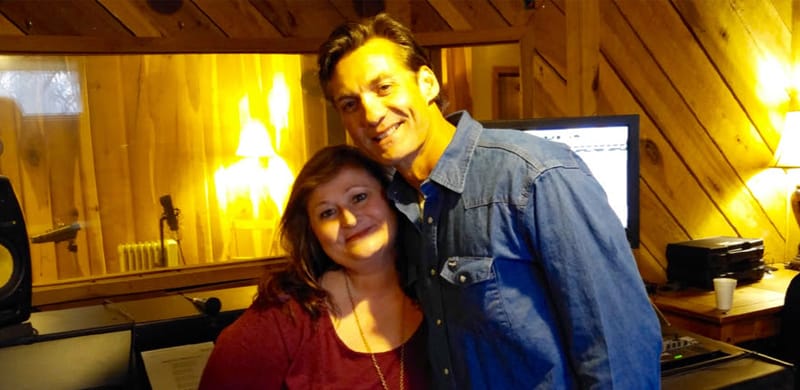 Pictured: Wade Hayes takes a break in the studio with Deborah Evans Price during his recording of "Just As I Am"
Brand Showcasing Today's Top Country Artists Will Offer An Exclusive Edition For Cracker Barrel
NASHVILLE, Tenn. – (18 April 2016) – Word Entertainment/Curb Records announce the release of Country Faith Hymns, the third installment within the Country Faith music series. Debuting two album versions from the applauded multi-faceted brand on May 6, 2016, one edition will feature 12 songs and be available online as well as at Walmart, Barnes & Noble, and other key retail outlets. The other version, offering two additional songs, will be exclusive to all Cracker Barrel stores throughout the U.S. Located in 42 states and 630 retail stores to date, Cracker Barrel is the #1 fast casual restaurant chain in the nation.
Country Faith offers a series of books, CDs, wearable and live events that provide today's top Country music artists a vehicle to share their faith and how their relationship with God informs their journey. To date, the Country Faith brand has been featured in People Magazine, Country Weekly and Billboard, among others, and has sold more than $1.4 million in retail to date. This fall, Country Faith will have feature positioning in a National Time Life Music Television campaign.
Country Faith Hymns features previously recorded faith songs from legends such as Johnny Cash and Hank Williams, Amy Grant with Vince Gill, and Brad Paisley, along with a new recording from Wade Hayes. The album's executive producers are WILDFIRE7, Bob DeMoss, Todd Skrove, Dusty Wells and Deborah Evans Price.
"I've always loved the hymns," Price shares, award-winning author and co-founder of the Country Faith brand. "There's something so comforting and inspiring about these timeless songs. On Country Faith Hymns, you'll hear the most compelling legacy and contemporary voices in Country Music delivering songs that have become part of the soundtrack of our lives. We are thrilled to be partnering with Word Entertainment/Curb Records to bring these treasured hymns to the world. I'm especially excited about Wade Hayes' new recording of 'Just As I Am.' I've been a fan of Wade's for a long time and am so grateful he's sharing this song with us. It moves me every time I listen."
Wade Hayes exclaims, "I am so very excited and proud to be part of the Country Faith Hymns project. 'Just As I Am' has been a favorite of mine since I was a child growing up at Lake View Church of Christ in my hometown in Oklahoma. It seemed like the perfect choice for me to record."
ABOUT COUNTRY FAITH:
Country Faith is a multi-faceted brand that celebrates the heart and soul of Country Music. Launched by award-winning author/columnist Deborah Evans Price to provide country artists with a platform to share their faith, the first Country Faith book featured 56 of today's top country artists sharing their favorite scripture and heartfelt stories of faith. Carrie Underwood, Brad Paisley, Alan Jackson, Josh Turner, Charlie Daniels, Lee Brice, Hunter Hayes, Barbara Mandrell and Miranda Lambert are among the artists featured in Country Faith. The book was accompanied by a companion CD featuring such songs as Paisley's "Those Crazy Christians," Rascal Flatts "Changed," Josh Turner's "Long Black Train" and Underwood's chart-topping "See You Again." The brand expanded in 2015 with Country Faith Christmas, another book featuring more than 30 top Country artists sharing their favorite holiday memories, recipes and childhood photos. The companion Country Faith Christmas CD on Word/Warner was a top-selling seasonal title that landed in the top 10 on iTunes seasonal chart. In addition to the books and music projects, the Country Faith brand also includes a line of jewelry created by Bob Siemon Designs. In 2016 Country Faith will branch out into the live arena with Country Faith Night during the Big Ticket Festival June 22 in Gaylord Michigan.
For more information, please visit www.countryfaith.com.
COUNTRY FAITH HYMNS track listing:
Willie Nelson – "Uncloudy Day"
Johnny Cash – "Were You There (When They Crucified My Lord)"
Amy Grant with Vince Gill – "Rock Of Ages"
Wade Hayes – "Just As I Am"
Brad Paisley – "The Old Rugged Cross"
George Jones – "Softly And Tenderly"
Dolly Parton, Linda Ronstadt and Emmylou Harris – "Farther Along"
Hank Williams – "I Saw The Light"
Alan Jackson – "Precious Memories"
Gene Watson – "Help Me"
Collin Raye with Andrea Thomas "Come Thou Fount Of Every Blessing"
Randy Travis – "Blessed Assurance"
CRACKER BARREL EXCLUSIVE SONGS:
Trace Adkins – "Wayfaring Stranger"
B.J. Thomas – "Amazing Grace"
Country Faith is a solely owned trademark of the Country Faith LLC.
##
Media Contact:
Merge PR | Stacie Vining & Lori Mahon
Stacie@MergePR.com | 615.260.4679
Lori@MergePR.com | 615.579.1266