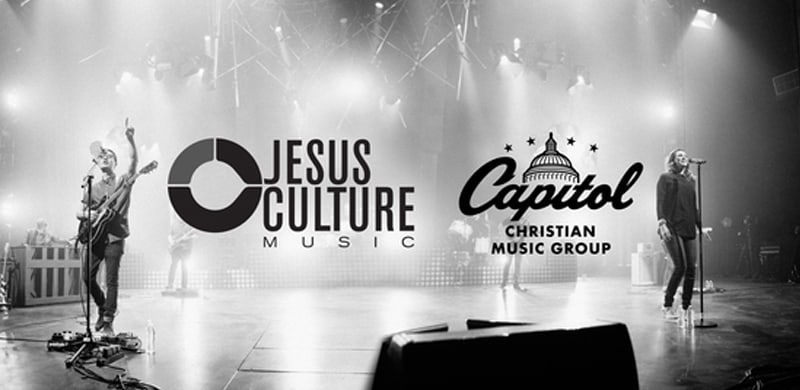 NASHVILLE, TENN. – (9 February 2015) – Capitol Christian Music Group (CCMG) announces a worldwide label and co-publishing partnership with Jesus Culture Music, a ministry and label based in Sacramento, CA and one of the most influential worship movements around the world. Effective April 1, 2015, Jesus Culture Music's entire catalog, which includes 25 albums and 150 songs, will transition into this partnership where CCMG will be responsible for the marketing, promotion, administration and distribution of such copyrights, artists, catalog of product and forthcoming releases.
On April 7, 2015 three new albums will be released through this new partnership including This Is Jesus Culture, a collection of some of the group's most popular songs throughout the years; Jesus Culture Music presents Bryan & Katie Torwalt, a compilation of the duo's most well received songs; and Real Love from Derek Johnson, the debut solo release from the Jesus Culture worship leader. In addition to these new projects the entire Jesus Culture catalog will be re-released.
"It's truly and honor and significant responsibility to come alongside Jesus Culture to represent these influential and important artists, worship leaders and songs," shares Capitol CMG President/CEO Bill Hearn. "The entire Capitol CMG team is inspired by the opportunity to support the vision of Jesus Culture Music and are looking forward to the impact we believe this new partnership will have on culture."
CCMG will collaborate with Jesus Culture Music on the development of their impressive artist roster, plus marketing and promotion of the entire Jesus Culture catalog and any future releases. In addition, Jesus Culture and CCMG will work closely to use marketing and promotion channels that maximize the reach and impact of their music using platforms such as CCMG's online resource and community for worship leaders, WorshipTogether.com, to promote their songs to the church.
Kim Walker-Smith, President of Jesus Culture Music and Jesus Culture Publishing, states, "We are thrilled to begin our global partnership with Capitol CMG. We believe this new relationship will expand our reach to territories we have yet to touch. We are equally as excited to begin our partnership with Capitol CMG Publishing which will introduce new avenues to reach the local church with the songs that are shaping our movement."
Jesus Culture Music is Sacramento, CA-based and led by Senior Team Director Banning Liebscher. Jesus Culture was formed through the momentum of a movement that is focused on equipping a generation to transform society by bringing people into an encounter with God's love through worship and discipleship. Jesus Culture Music albums capture the heart of this movement. Jesus Culture Music has sold more than one million albums worldwide since their debut project in 2005 and garnered more than 3.8 million followers on social media and over 34.5 million views on YouTube.
Jesus Culture Music is a label that contains 12 artists including: Jesus Culture Band, Kim Walker-Smith, Bryan and Katie Torwalt, Chris Quilala, Kristene DiMarco, Derek Johnson, Justin Jarvis, Andrew and Mary Kat Ehrenzeller, Chris McClarney, Skyler Smith and Josh and Amberly Klinkenberg. To date, the Jesus Culture Band has recorded ten albums and released a total of 25 projects on their music label. The latest release from Jesus Culture Band, Unstoppable Love, climbed to No. 2 on the iTunes overall chart and debuted at No. 25 on the Billboard Top 200 chart and No. 1 on the overall Top Christian/Gospel Albums Billboard retail chart.
About Capitol Christian Music Group: Capitol Christian Music Group is the world's leading Christian Music company and market leader in recorded music, music publishing, and distribution. Part of Universal Music's Capitol Music Group, led by Chairman and CEO Steve Barnett, Capitol Christian Music Group operates several divisions including Capitol CMG Label Group (Sparrow Records, ForeFront Records, Credential Recordings, sixstepsrecords, Hillsong), Motown Gospel (in partnership with Motown Records), Capitol CMG Publishing (including Brentwood-Benson Music Publications) and Capitol Christian Distribution. CCMG owned labels are home to artists Chris Tomlin, TobyMac, Jeremy Camp, Hillsong United, Smokie Norful, Tye Tribbett, Britt Nicole, Newsboys, Matt Redman, Colton Dixon, Mandisa, VaShawn Mitchell and many others. Capitol CMG Publishing, in addition to publishing most of the CCMG labels' premier artist/writers, represents many of the leading writers in Christian/Gospel including Ben Glover, Matt Maher, Kirk Franklin, Mark Hall, Chris Stevens, Laura Story, Aaron Lindsey, David Garcia and many more. Key Distribution partners include The Gaither Music Group, Marantha Music, InPop Records, Worthy Book Publishing and Gaiam Vivendi Entertainment. Led by President and CEO Bill Hearn and a strong executive team of long-time Christian and Gospel music veterans, Capitol Christian Music Group is characterized by a passionate commitment to our artists, songwriters, customers, business partners, and one another, as well as a strong spirit of community service.
##
Media Contact:
Merge PR
Lori Mahon, lori@mergepr.com, 615-579-1266
Stacie Vining, stacie@mergepr.com, 615-260-4679