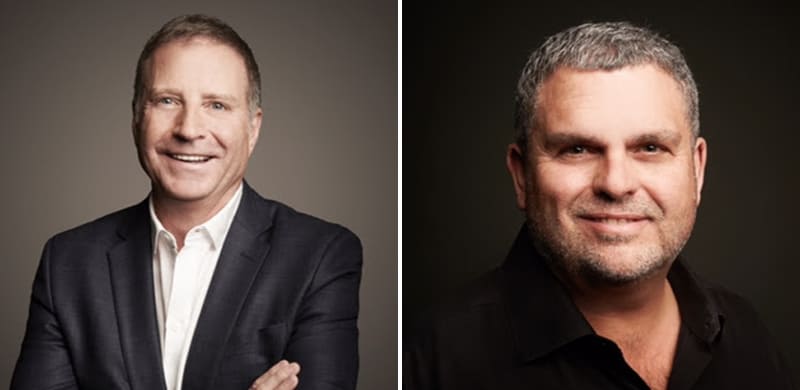 Pictured: Bill Hearn, CEO, Capitol Christian Music Group; Peter York, President of Capitol Christian Music Group
Peter York Promoted to President, Capitol Christian Music Group Oversees Company's Label Group, Publishing and Distribution in Expanded Role
Additional Key Changes and Restructuring Announced by Company CEO Bill Hearn as CCMG Continues its Role as Market Leader and Positions Itself for Future Success
NASHVILLE, TENN. (JUNE 08, 2015) Longtime Christian Music executive Peter York has been promoted to President of Capitol Christian Music Group (CCMG), it was announced today by CCMG CEO Bill Hearn, to whom York will continue to report. In his expanded role, York will add oversight of the creative direction and leadership development of CCMG's Publishing and Distribution divisions to his current responsibilities of managing the company's Label Group, which includes leading Christian Music labels Sparrow, Forefront, sixsteps, Hillsong and Jesus Culture, among others. With his promotion of York, Hearn will intensify his focus on driving the company's strategic direction, business development initiatives and key partner relationships. Hearn will also maintain oversight of the Motown Gospel label, which is led by Ken Pennell, president Gospel Music, CCMG.
Peter York has served with the company for more than 30 years, the last 19 as President of the company's Label Group. His early years with Sparrow Records were spent working directly with label founder Billy Ray Hearn, first in copyright development and A&R, and later rising to Vice President of A&R and partnering with Hearn's son, Bill Hearn, to run the label.
During his time with Sparrow, York played an instrumental role in the creative development of a wide array of artists, including Steven Curtis Chapman, Britt Nicole, Mandisa, Chris Tomlin, TobyMac, Matthew West and dozens of others. He began his career in music more than 40 years ago as a musician, songwriter and producer, playing guitar and recording with Christian Music artists 2nd Chapter Of Acts, Phil Keaggy, and countless others.
In related moves within the company, CCMG's Publishing EVP, Casey McGinty, and its Distribution EVP, Greg Bays, will now report directly to York and continue to direct and manage day-to-day operations within their respective divisions. CCMG Label Group SVP of A&R, Brad O'Donnell, and newly appointed SVP of Marketing, Hudson Plachy, will continue to report to York. As a widely respected leader within the industry, O'Donnell will assume increased responsibility for the Label Group's overall A&R strategy, creative direction and roster development. Plachy, previously CCMG's Vice President of Marketing, has been with the company since 2002 and will now assume expanded responsibilities for guiding all marketing and revenue growth strategies for the Label Group and its roster of more than 25 active artists.
Upon announcing York's promotion, Hearn commented, "There is no music executive in the business more capable than Peter, and our company and I have greatly benefited from his outstanding contributions during our 30 years together. He possesses a unique combination of creative intelligence and commercial understanding, as well as an exceptional ability to develop strong leaders. I'm confident our new structure will increase growth opportunities and long-term stability for CCMG, and make us even more effective in serving our artists, songwriters and business partners as we move forward."
Peter York stated "I'm grateful for the opportunity to lead the implementation of this new structure, which is designed to meet the changing needs of our artists, writers and music fans while putting more emphasis on developing the future leaders within our organization and industry. We plan to operate the Label Group, Publishing and Distribution units even more collaboratively, with seamless connectivity, improved efficiencies and creative synergies, while improving results and positioning the organization for continued success in the future."
Rick Horne, CCMG EVP and CFO, will continue to report to Hearn and partner with York in overseeing the day-to-day operations and financial aspects of the company. Chris Koon has been promoted to SVP of Finance, continuing to report to Horne and expanding responsibilities to include oversight of Royalties and Product Management and Supply Chain, in addition to Accounting and Finance.
CCMG's Senior Vice President of Information Technology, Bonnie Campbell, will leave the company at the end of this year after more than 25 years of service. During this transitional period, AJ Rhodes will serve as acting Director of IT.
About Capitol Christian Music Group:
Capitol Christian Music Group (CCMG) is the world's leading Christian Music company and market leader in recorded music, music publishing, and distribution. Capitol Christian Music Group operates several divisions, including CCMG Label Group (Sparrow Records, ForeFront Records, sixstepsrecords, Hillsong, Jesus Culture), Motown Gospel (in partnership with Motown Records), CCMG Publishing (including Brentwood-Benson Music Publications) and Capitol Christian Distribution. CCMG owned labels are home to artists Chris Tomlin, Amy Grant, TobyMac, Jeremy Camp, Hillsong United, Smokie Norful, Tasha Cobbs, Britt Nicole, Newsboys, Matt Redman, Colton Dixon, Mandisa, Tye Tribbett and many others. Capitol CMG Publishing, in addition to publishing most of the CCMG labels' premier artist/writers, represents many of the leading writers in Christian/Gospel including Ben Glover, Matt Maher, Kirk Franklin, Mark Hall, Chris Stevens, Laura Story, Aaron Lindsey, David Garcia and many more. Key Distribution partners include The Gaither Music Group, Marantha Music, InPop Records, Worthy Book Publishing and Cinedigm Entertainment. Led by CEO Bill Hearn and a strong executive team of long-time Christian and Gospel music veterans, Capitol Christian Music Group is characterized by a passionate commitment to their artists, songwriters, customers, business partners, and one another, as well as a strong spirit of community service.
CCMG is a division of Capitol Music Group (CMG), led by Chairman and CEO Steve Barnett, which is a wholly owned division within Universal Music Group (UMG), the global music leader with strong market positions in recorded music, music publishing, and merchandising.
##
Media Contact:
Merge PR
P.O. Box 1271 | Franklin, TN 37065