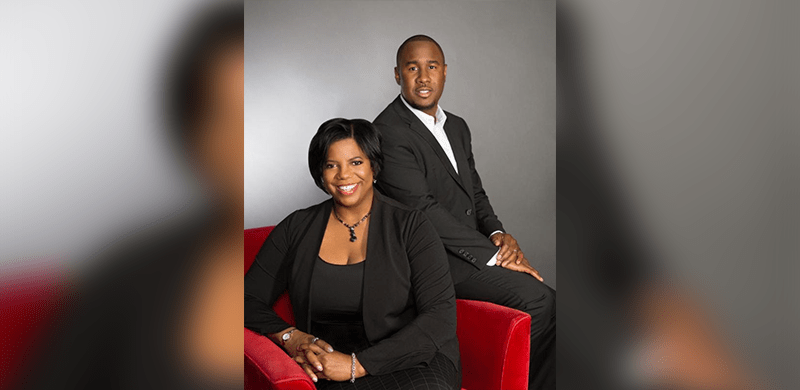 Longtime and highly-regarded CCMG President of Gospel Music Ken Pennell
announces retirement after 20 years as major force within the company and industry
NASHVILLE, February 06, 2018 — Capitol Christian Music Group (CCMG), the market leader in Christian recorded music and music publishing, has promoted Monica Coates and EJ Gaines each to the position of Co-Executive Director of Motown Gospel, it was announced today by CCMG Chairman & CEO Peter York. Coates is also promoted to Vice President of A&R/Creative of Motown Gospel, with her responsibilities expanded to oversee the growth and development of the company's Gospel music publishing assets, and Gaines to Vice President of Marketing at CCMG, bringing his expertise to a broader artist roster. Coates reports to CCMG's Chief Creative Officer Brad O'Donnell and Gaines to CCMG's Chief Marketing Officer Hudson Plachy, and both executives continue to be based at the company's headquarters in Nashville.
The promotions of Coates and Gaines align with a succession plan York had developed last year with CCMG's prior Chairman & CEO William Ray "Bill" Hearn, and was revealed to the CCMG team in November. Hearn passed away in December after a long and courageous battle with cancer.
The primary responsibility for both Coates and Gaines will be to better serve the Motown Gospel roster by tapping into the additional resources available through CCMG's newly revamped organizational structure, but they are also now part of the company's wider A&R and marketing teams. Motown Gospel is the label home to best-selling artists Tasha Cobbs Leonard, Tye Tribbett, Brian Courtney Wilson and many others.
Prior to assuming their new roles, Coates and Gaines were Motown Gospel's Vice President of A&R and Vice President of Marketing respectively, with the two working closely together to build upon the company's artist signing and development strategies. Both executives joined the company in 2016, with Coates directing A&R, Creative and Promotion functions, and Gaines overseeing Commercial Partnerships, Publicity and Events, Digital Marketing and Content Creation/Monetization, Sync and Business Affairs.
Coates and Gaines also worked with the company's Capitol Christian Publishing division to discover, sign and develop songwriters and expand the company's catalog of Gospel writers and producers — which includes Kirk Franklin, Fred Hammond, Tasha Cobbs Leonard, Aaron Lindsey and many others – and its strong catalog of thousands of owned and administered songs, including "Take Me to The King," "Break Every Chain," "You Are Good," "Soon and Very Soon," "Total Praise," "Jesus At The Center," "No Weapon" and "Never Would Have Made It."
CCMG President of Motown Gospel Ken Pennell has also announced he will retire from the company, effective April 1, 2018, after 20 years at the company developing countless superstar Gospel artists – including Smokie Norful, Kierra Sheard and Tasha Cobbs Leonard – and consistently contributing to the company's success throughout his tenure there.
According to CCMG Chairman & CEO Peter York, "Monica and EJ have both contributed so much to the success of Motown Gospel, and these promotions reflect both the outstanding jobs they do and the expansion of their responsibilities within CCMG. Ken and I have worked closely together for two decades and I can't thank him enough for his friendship and contributions to Gospel Music and our company. He will truly be missed, and everyone at CCMG wishes him nothing but the best in his retirement."
Monica Coates is a 25-year veteran of the Gospel Music industry, with a broad range of experience in artist management, promotion, publicity and A&R. Prior to joining Motown Gospel, Coates was Director of Operations at Kirk Franklin's Fo Yo Soul Recordings (affiliated with RCA Records), where she oversaw general management of the label and campaigns for an array of artists that included Franklin, The Walls Group, and Tasha Page-Lockhart.
She began her career as part of Fred Hammond's production house, Face To Face, where she also served as his personal manager. She also spent five years at industry leading Verity Records (now RCA Inspiration) as Senior Director of A&R working with best-selling artists Donnie McClurkin and Hezekiah Walker among many others. Coates' first book, The Beginner's Guide To The Gospel Music Industry, was published in 2009.
Prior to accepting his Motown Gospel role, EJ Gaines was an entertainment attorney and artist manager, helping to guide the careers of numerous GRAMMY Award-winning and chart-topping artists, including Mary Mary, Natalie Grant, Donald Lawrence, William McDowell, and Jonathan McReynolds. He began his career at Jive Records and Verity Records, before becoming an executive assistant to platinum-selling Gospel artist Donnie McClurkin. Gaines graduated from St. John's University School of Law and served as an associate at Carter, Ledyard & Milburn LLP, later launching the entertainment division at Waterford Law Group, PLLC in 2013.
##